Menors Ferry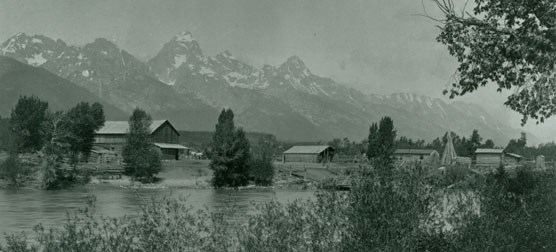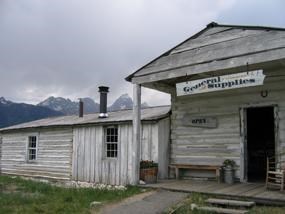 Menors Ferry General Store
Bill Menor traveled from Ohio to Montana before settling in 1892 on the Snake River "where the river was altogether in one place." He found that the river flow near present-day Moose narrowed to a single channel that could be crossed more easily than the wide, braided channels that comprise most of the Snake River. During the next decade, he built his cabin one room at a time. His brother, Holiday, settled on the other side of the Snake River and operated a limekiln.
Bill painted the general store with whitewash from Holiday's limekiln. In the early 1900s, the store and ferry drew homesteaders and dudes alike, ordering supplies and crossing the river. Bill also operated a smokehouse and blacksmith shop, raised vegetables supplying produce to the local dude ranches, and served as postmaster. In 1918, he sold his homestead and ferry operation to Maud Noble. Today, period furnishings fill the cabin, and the storekeeper still sells period goods to visitors who venture to the store. Grand Teton Association manages the store; open seven days a week during the peak summer season.
How to get there: Drive north from Jackson to Moose Junction. Turn left onto the Teton Park Road. Drive through the entrance station and then take a right into the Menor's Ferry Historic District. Park in the large parking lot and follow the paved path leaving from far side of the parking lot. Shop at the general store or join a ranger for a guided walk through the district.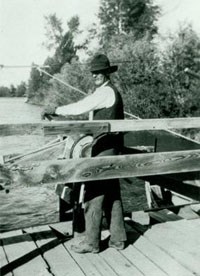 Menor's Ferry
Bill Menor recognized the single channel of the Snake River offered an ideal crossing point, one of only three crossing points in the valley. His "reaction ferry" design dates back to ancient times, using the river current to propel the boat. During winter when the river was low, he would shuttle people across in a cable car. The ferry operated until 1927 when the State of Wyoming built a bridge. Today, visitors can enjoy a ride on a replica ferry that operates in the late summer months (dates and hours vary).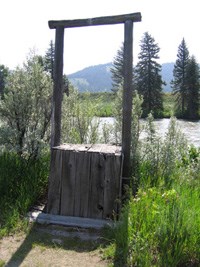 Modern Living
Bill Menor lacked modern-day conveniences such as refrigeration, grocery stores or running water. His ingenuity allowed him to survive in Jackson Hole. Today, these buildings still stand.
Well: Access to the Snake River was difficult and dangerous because of the steep bank, fluctuating river level, snow and ice. Bill Menor dug a well next to the river to filter muddy water during spring runoff and provide safe access. This well was rehabilitated in 2010.
Storehouse: Bill Menor safeguarded food from animals and the elements in his storehouse. Under the storehouse, Menor preserved root crops with ice he cut during winter.
Smokehouse: Before refrigeration, meat spoiled quickly. Bill Menor cured game and livestock in his smokehouse to keep the meat from spoiling. Before smoking, he salted the meat to preserve it.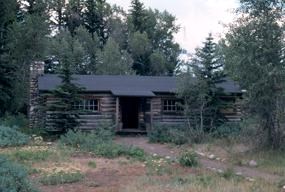 Maud Noble Cabin
On July 26, 1923, Maud Noble hosted a landmark meeting in her cabin. Yellowstone National Park Superintendent Horace Albright joined a small group of local businessmen and ranchers. They launched a plan that planted the seed for the creation of Grand Teton National Park.
Maud Noble was the daughter of a prominent Philadelphia family, who first visited Jackson Hole in 1915 looking for adventure. She built her cabin the following year on Cottonwood Creek and moved it to Bill Menor's homestead in 1918 when she bought his ferry operation. Today, the cabin welcomes visitors with exhibits on the history of the park.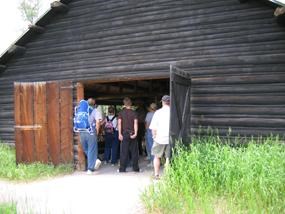 Transportation Barn
For fur trappers, homesteaders and dudes, travel was challenging. The transportation barn houses a collection of wagons and other methods of early travel. This barn stands in the approximate location where Bill Menor's barn stood in the early 1900s.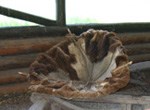 Bullboat: Early 19th-century mountain men used bullboats to transport furs and cargo on water. These men stretched bison hides, hair side out, over a willow frame, a skill learned from American Indians. The hair was left on the hide to prevent the boat from spinning and multiple boats were tied together using the tails. This bullboat is a replica.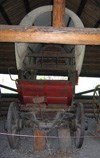 Covered Wagon: In 1888, Robert Miller became the first homesteader to drive his wagon over the steep and treacherous Teton Pass from Idaho into Jackson Hole. Homesteaders packed their possessions into sturdy wagons such as this one and traveled for months to reach their new homes.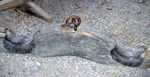 Yoke: This oxen yoke distributed heavy loads across draft animals' shoulders and fastened to a U-shaped oxbow passing under the animal's neck. A swivel hitched the animals to a plow or wagon.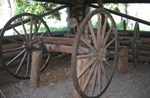 Wagon Carriage: A wagon carriage could be separated from its bed allowing it to be used in a variety of ways. The horizontal frame supported a wagon bed or logs for transport.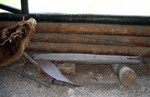 Plow: William Beard—who homesteaded with his family in Teton Basin, Idaho—crafted this plow by hand sometime after 1865. He used his plow to break up the ground, bury weeds and crop stubble, while also aerating soil and bringing fresh nutrients to the surface.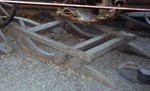 Travois: Men used a double hitch travois at Elk Ranch to drag logs or poles for building cabins and buck-and-rail fences. Draft animals pulled this travois.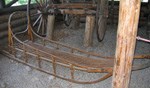 Dog sled: Jackson Hole homesteader Geraldine Lucas used an Alaskan dog sled to carry moderate loads and visit her neighbors in the early 1900s. Her sled allowed her to travel over snow easily in the harsh winter.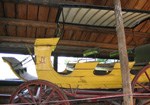 Coach: Visitors touring Yellowstone National Park prior to 1916 rode in coaches reminiscent of the settlers' wagons. These coaches emphasized comfort rather than utility with padded seats, canopies and leather straps for spring. Later, two nearby dude ranches, the JY and the Bar BC, purchased them to transport their guests.
Last updated: June 16, 2015