Bar BC Audio Tour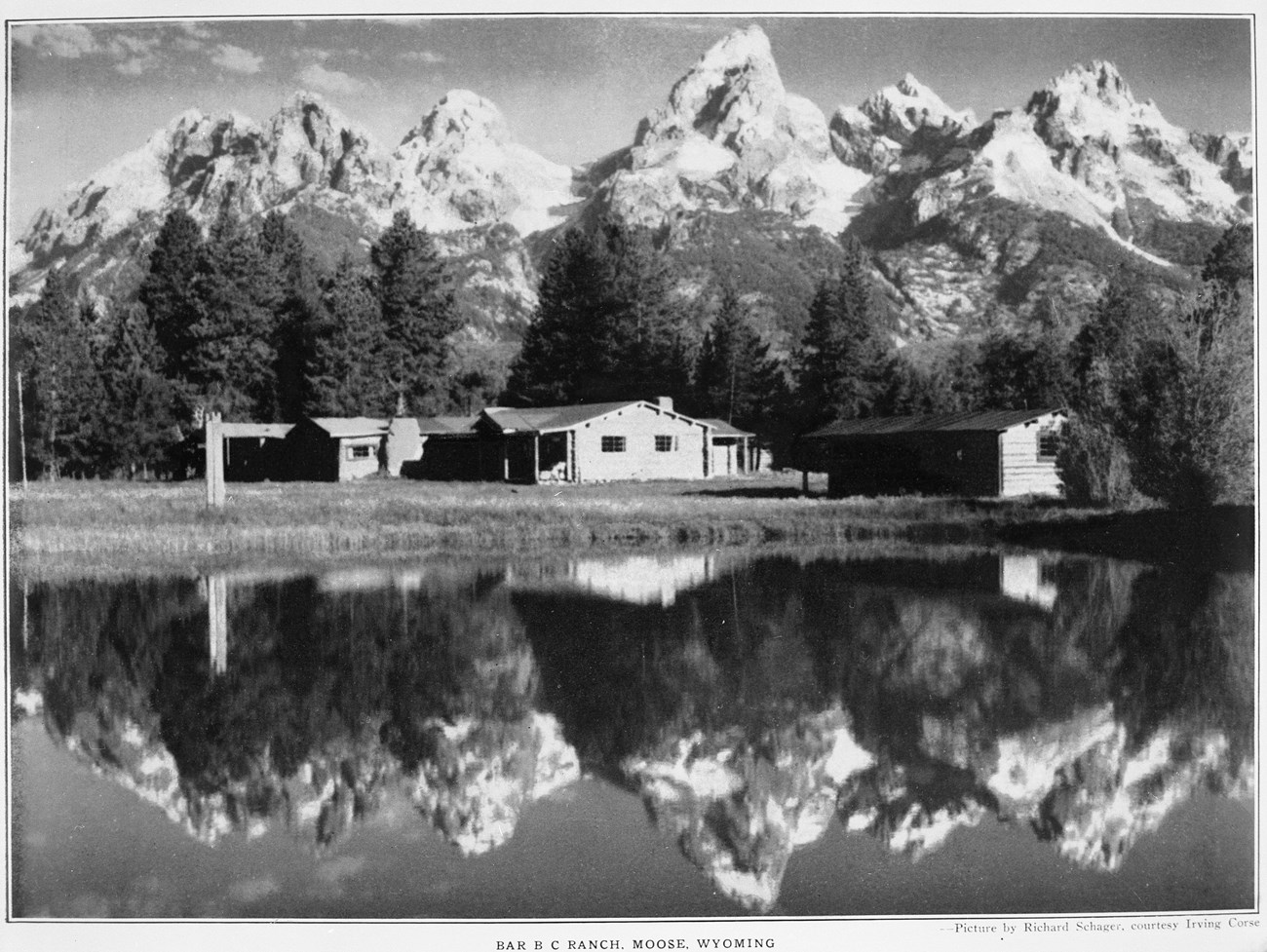 This audio tour provides a glimpse into the Bar BC's past, focusing on the ranch's early days in the 1910s and 20s. Learn about this iconic dude ranch, and listen to excerpts from the writings of Struthers Burt, who co-founded the ranch with Horace Carncross, and Burt's son Nathaniel.
Listen in the
park app
, or follow along on the map as you explore the tour online.
If you do plan to visit the Bar BC site, be aware that the road is rough and high clearance is advised. Please park at the gate above the site and walk the last few hundred feet down to the ranch itself. Watch your footing, as there are loose rocks and uneven ground. Enjoy your visit!
1. Approaching the Bar BC

The approach to the Bar BC creates quite a sense of anticipation and arrival, whether you're traveling by car or by wagon.
2. Millionaires and Poets

The Bar BC hosted everyone from artists and writers to Rockefellers. Listen to find out who else!
3. Saddle Up

Then as now, visitors to Jackson Hole loved to go on trail rides to experience the landscape. See what "dude wrangler" Struthers Burt had to say about the riding skills of his dudes.
4. A Slower Pace of Life

Many dudes appreciated their Western vacations as an escape from the stresses and hectic pace of their daily lives. Sitting on a corral fence was one of Struthers Burt's favorite places to pass the time.
5. Journeying to the Bar BC

In 1920, it took over a week of travel by train and wagon to get to the Tetons and the Bar BC. Listen to hear what that was like.
6. The Dance Cabin

The Bar BC held regular parties to entertain both staff, guests, and neighbors—from costume parties to square dances. In an area with so few people, a party was an event worth traveling for.
7. The Swimming Pool

Though many things change over the years, some stay the same. Then and now, visitors to the Tetons have enjoyed a cool swimming hole on a hot day. The Bar BC swimming pool is empty now, but listen to find out where it once was.
8. Preserving a Legacy

Learn about ongoing historic preservation efforts to stabilize the main cabin and other buildings at the site.
Last updated: October 23, 2019