News Release
Park continues efforts to eliminate unsafe roadside parking at Laurel Falls Trailhead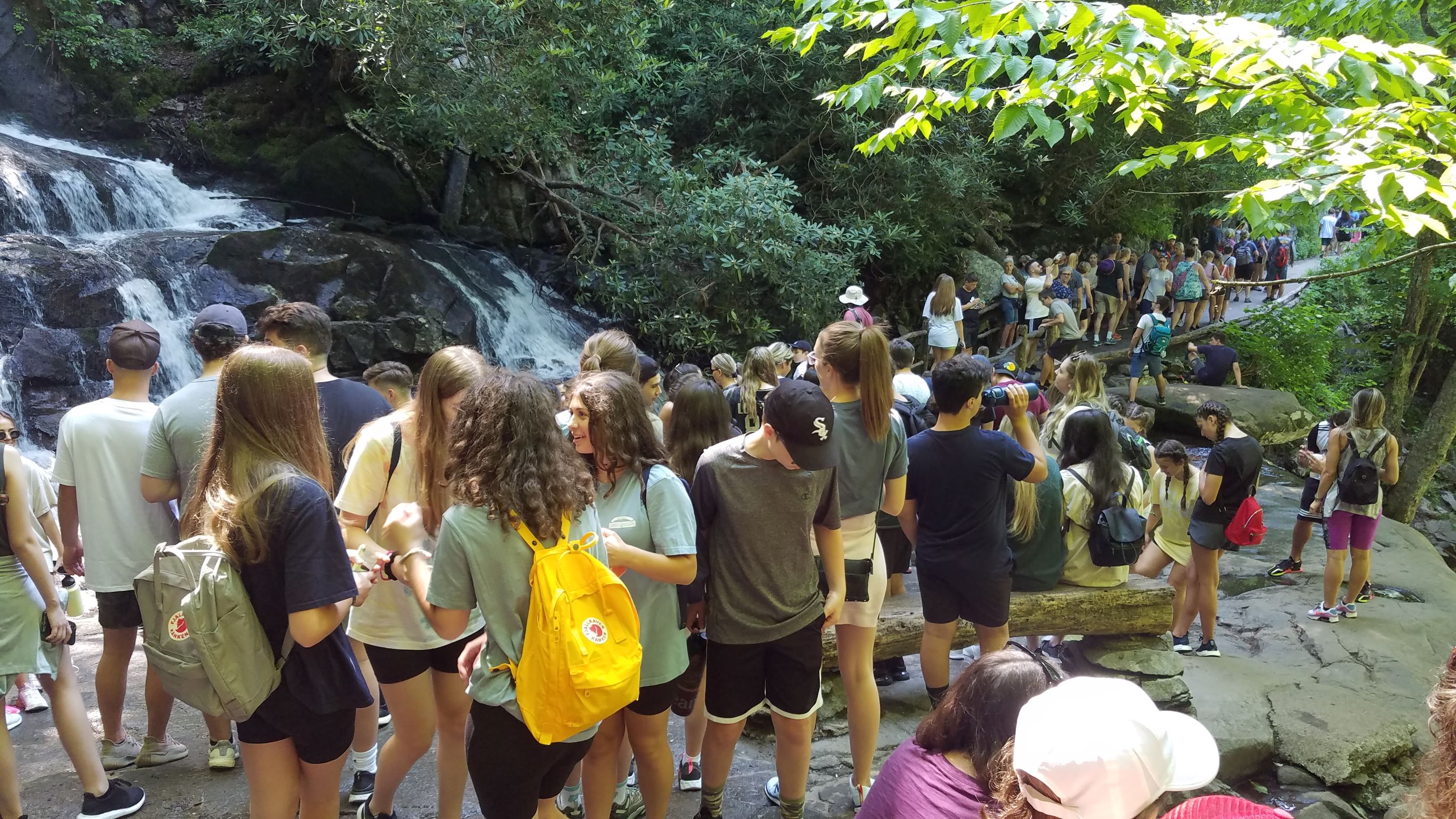 News Release Date:
June 8, 2022
Contact: Dana Soehn, 865-436-1207
Great Smoky Mountains National Park staff will continue efforts to eliminate unsafe roadside parking at Laurel Falls Trailhead. Temporary roadside barriers will be re-established during the busy summer season through fall, beginning Thursday, June 9 through Sunday, October 30, 2022. Unofficial parking will be blocked with temporary barriers, such as traffic cones, during this time. Visitor use management strategies such as permanent roadside parking barriers, parking reservation systems, and shuttle systems continue to be considered as a part of the Laurel Falls Trail Management Plan Environmental Assessment (EA).
Laurel Falls Trail continues to be one of the most popular trails in the park, drawing a high level of use that has resulted in extreme congestion, crowding at the falls, and unsafe conditions along Little River Road. Vehicles parked along the roadside obstruct the flow of traffic and create blind spots for motorists, resulting in a significant safety hazard for visitors walking to or from their vehicles. Roadside parking also impacts adjacent habitats, damages road edges, and causes erosion.
Data collected at Laurel Falls trailhead show that there are frequently more than 100 cars parking outside of official parking areas, typically along the road shoulder. Visitors planning to hike to Laurel Falls should come prepared with alternative destinations in case they do not find parking available at the site. Avoiding arriving during peak visitation periods, usually between 10:00 a.m. and 3:00 p.m., can also help improve chances of obtaining a safe parking space within designated parking areas.
With more than 800 miles of trails across the park, visitors are encouraged to pre-plan to choose a less congested area of the park to visit during peak time periods. Backcountry Office staff are available 7 days a week to provide trip planning guidance in person and via phone at (865) 436-1297. Visitors may also receive in-person guidance at Sugarlands and Oconaluftee Visitor Centers. For more information about congestion monitoring in the park, please visit https://www.nps.gov/grsm/learn/management/ves.htm.
 
2021 Laurel Falls Trail Congestion Management Pilot Background:
From Sept. 7 through Oct. 3, 2021, park officials implemented a pilot project aimed to evaluate various management strategies to improve visitor safety, relieve congestion, better protect park resources, and enhance the visitor experience on Laurel Falls Trail. The 1.3-mile trail is one of the most popular trails in the park with nearly 300,000 visits in 2021.
During the pilot project, trailhead parking was provided by reservation only and no parking was permitted in undesignated areas along Little River Road. Parking reservations, were available for two-hour time blocks, were made online at www.recreation.gov for a fee of $14. The average length of stay for reservation holders during the pilot was 104 minutes, which was within the allowable 2-hour reservation block. Additionally, Rocky Top Tours provided shuttle access to the trailhead from nearby, Gatlinburg, Tenn. On average, shuttles were 30% full for an average daily ridership of 83 people.
Overall, results were positive with 91% of visitor feedback (through comment forms and email messages) expressing support for the pilot project. Crowding at the falls as well as litter in the parking lot and along the trail were both down during the pilot project. During the pilot, an average of ½ of a grocery bag of trash was collected per 6-hour volunteer shift, down from the 2.2 bag average prior to the pilot.
The Laurel Falls Trail Management Plan EA will consider management strategies such as those employed during the pilot project. Park managers plan to hold a public scoping period for the EA later this year to be followed by the release of the EA for public comment. Specific dates for these public comment periods will be announced in future news releases.
Last updated: June 14, 2022