Current Conditions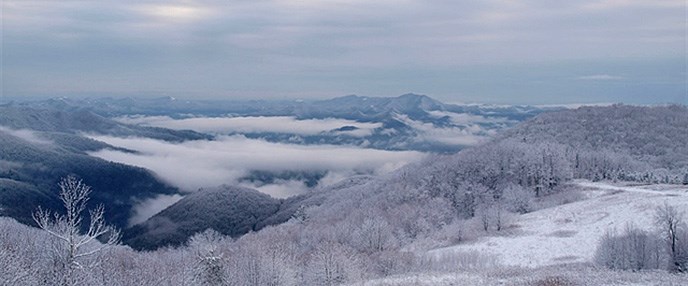 Road, Trail, and Facility Closures and Warnings
Coronavirus-(COVID-19)
Following guidance from the White House, Centers for Disease Control and Prevention (CDC), and state and local public health authorities, Great Smoky Mountains National Park is increasing recreational access and services through a phased approach that aligns with local, state, and national opening plans.
Park managers have implemented an Adaptive Operations Plan with five operational phases. The park's plan is designed to be adaptive to regional conditions by increasing or decreasing the scope of park operations as appropriate. Each operational phase will include a two-week assessment period before moving on to the next phase.
NOTE: Check this page often for the latest updates on open facilities and access. All openings are based on available staffing. Temporary closures may occur on short notice.

Big Creek Road
Cades Cove Loop Road (will open daily at 8:00 a.m. No closures for bicycles only)
Cherokee Orchard Road
Clingmans Dome Road
Cosby Road
Deep Creek Road
Foothills Parkway
Gatlinburg Bypass
Greenbrier Road (Due to roadwork, open to Ramsey Cascades Trailhead only)
Lakeview Drive
Laurel Creek Road
Little River Road
Newfound Gap Road/Highway 441
Roring Fork Motor Nature Trail
Tom Branch Road
Tow String Road
Tremont Road
Upper Tremont Road
Wear Cove Gap Road
Clingmans Dome
Newfound Gap
Restrooms near Cable Mill in Cades Cove
Restrooms near Oconaluftee Visitor Center
Restrooms near Sugarlands Visitor Center
Abram Falls, Alum Cave, and Rainbow Falls Trailheads
Restrooms at open picnic areas
Big Creek
Cades Cove
Chimney Tops
Collins Creek and Pavilion
Cosby and Pavilion
Deep Creek and Pavilion
Metcalf Bottoms and Pavilion
**Note that pavilions
must
be reserved through
Recreation.gov
All park visitor centers and campgrounds remain closed at this time.
The following roads remain closed for motorists, but are open for pedestrians and cyclists. Please park responsibly in public areas when accessing these locations:
Abrams Creek Road
Balsam Mountain Road
Cataloochee Road
Elkmont Road
Forge Creek Road
Heintooga Round Bottom Road
Highway 284
Little Greenbrier Road
Rich Mountain Road
Straight Fork Road
Twentymile Road
All trails and backcountry campsites & shelters will open with reduced capacity limits. Some trailheads will not be accessible due to road access. AT Thru-hiker Permits will not be issued.
LeConte Lodge, Sugarlands Riding Stables, Cades Cove Riding Stables, Cades Cove Campstore, and Smokemont Riding Stables. Smoky Mountain Riding Stables will remain closed.
Special Park Use Permits are allowed per standard guidance which allows for groups up to 25 at outdoor locations, or as defined by the capacity of the facility, for periods up to 60 minutes limited to small groups, up to 10 people, at outdoor locations only for up to 30 minutes.
Updates about NPS operations will be posted on www.nps.gov/coronavirus.
Road, trail, and facility closures may occur due to severe weather events such as winter storms, floods, and tornados. Backcountry campsites, shelters, and trails that are frequented by black bears may have warnings posted or be closed. Check current closures before coming to the park.
For updated road information please call (865) 436-1200. Once you hear a voice, dial extension 631 for road information.
Follow road status updates on Twitter. Updates are available for Newfound Gap Road (US-441), Little River Road, Laurel Creek Road, and Cades Cove Loop Road.

WARNING: Please be advised that the Metcalf entrance road and bridge is for passenger vehicles only, NO large campers.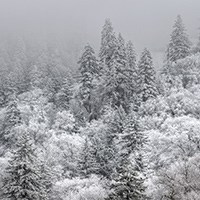 Weather Forecasts
Current weather forecasts are available by phone at (865) 436-1200 extension 630 or online from the National Weather Service:
Gatlinburg, TN forecast
Cherokee, NC forecast
Temperature and precipitation data for past 24 hours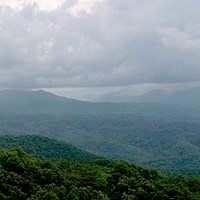 WebCams
Two webcams provide a current view of the park and information about air quality conditions. Images are updated every 15 minutes.
Look Rock (located on the western end of the park)
Purchase Knob (located on the eastern end of the park)
Twin Creeks (PHENOCAM-located on the Northern end of the park)
LeConte Creek (PHENOCAM-located on the Northern end of the park)
Newfound Gap (View of Southeast end of park)
Clingmans Dome (Looking West)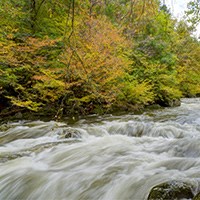 River Levels and Flow
The United States Geological Survey (USGS) maintains water gages that measure flow, river height, and temperature at Little River near Townsend, TN and in Cataloochee Creek in North Carolina. Note that on the discharge chart, the average streamflow is represented by an orange triangle, so that you can compare today's flow to the historic average.
Little River conditions
Cataloochee Creek conditions
Last updated: May 30, 2020