Programs for the Public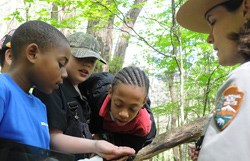 Explore the park with a ranger!
Ranger-led programs are offered spring through fall. Use the calendar below to find information about the park's ranger-guided events, volunteer opportunities, and more! The spring schedule of events is typically posted in mid-March; the summer schedule in early June; and the fall schedule in early September. Due to COVID-19, ranger-guided programs and special events may be cancelled or postponed. Check at visitor centers for current offerings.
In addition to the programs listed below, daily milling demonstrations are offered spring through fall at the park's historic Mingus Mill and Cable Mill.
.
Other ways to explore the park
The park has several partner organizations that offer a wide variety of programs, including guided hikes, summer camps, family adventures, naturalist workshops, and programs on synchronous fireflies, butterflies, wildflowers, salamanders, elk, bears, tracking, the Cherokee, and so much more! See what adventures await you!
Last updated: October 28, 2022