Climate response of Shortleaf pines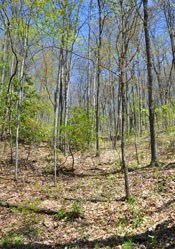 3. Climate Response of Shortleaf Pine Trees in Great Smoky Mountains. MS Thesis. Christine Biermann and Henri Grissino-Mayer, 2008-2009.
What scientific questions did researchers ask? How do temperature, precipitation, and fire help shortleaf pines grow in different parts of the park?
How did they collect data? The scientists hiked into the forest to collect yellow pine cores at four places in the western end of Great Smoky Mountains National Park: (1) along Gregory Ridge Trail, (2) Shaw Grave Gap, (3) slopes near Maynard Creek, and (4) along Cooper Road Trail.
What did researchers find? Temperature and precipitation both affect shortleaf pine growth, but no single climate variable seems to explain why these yellow pines grow at different rates. Yellow pines go dormant (lose their leaves and stop photosynthesizing to make food) as winter comes, so it could be that warm Octobers keep trees from going dormant longer, thus making their growing season longer and producing wider growth rings. If a warm November follows, the tree may stay active long past its usual date. With less sunlight to convert into energy, this longer period of activity might force the tree to use up stored energy that it would have used to grow next year. We could see this in narrower growth rings in the year following the warm fall season.
If you haven't already, read about fire research in project 1, project 2, project 4, or project 5. Or return to the list of all fire research projects in the Partner Profile.

Return to Wildland Fire main page.
Last updated: November 12, 2015