Fire History and Age Structure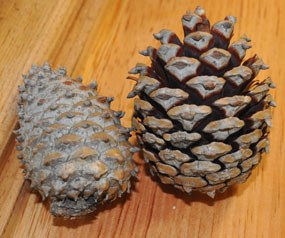 1. Fire History and Age Structure of Table Mountain Pine (Pinus pungens) in the Southern Appalachian Mountains. Michael Armbrister and Henri Grissino-Mayer, 2000–2002.
What scientific questions did the researchers ask? What is the fire history of Table Mountain pine (Pinus pungens) in the park? How old are the Table Mountain pines in the park?
This was the first of what would be many investigations into tree rings, fire history, and climate research in the park. Table Mountain pine is one species that is fire-dependent because it needs the heat of fire to open its cones. When a plant depends on some sudden change in the environment—such as fire, rain, or a sudden heat wave—to release its seeds or start to bloom, we call it serotinous, which means "late developing." Really it's not "late," but this term helps us remember that these plants "wait" for something outside to happen before they begin to change inside.
What did researchers find? At a site in Cherokee Orchard, which is near Gatlinburg, the researchers didn't see any trees with evidence of scars from past fire, and didn't find any Table Mountain pine regeneration off-trail. What they did find were stands of healthy fire-intolerant red maple, which was flourishing since fire exclusion. The researchers did see signs of fire at Bull Head Mountain, Sugarland Mountain, and Bote Mountain sites, and collected cross-sections from stumps or snags to analyze the fire histories of the sites. A site along the Anthony Creek Trail was unique because it is very moist but has some evidence of fire in the past; it also was unique because there was no trace of southern pine beetle infestation. Usually, fire is common only in drier areas.
Overall, based on the ages of the trees and the fire history they found in the tree rings, the study revealed that without fire the forest is changing. Fire-intolerant species (red maple and eastern hemlock, especially) are thriving in the understory because there has been no fire since the 1930s. Over time, the entire forest may change from a xeric (dry) forest type, in which fire and fire-dependent plant and animal species are common, to a mesic (medium-wet) forest type. Once the tree species change, the moisture in the soil will change, and fire will be much harder to reintroduce. This matters because native species that have been here for thousands of years (at least!) could disappear entirely. Already we have seen the Red-cockaded woodpecker disappear, because its preferred tree, the long-leaf pine, couldn't reproduce without fire.
If you haven't already, read about fire research in project 2, project 3, project 4, or project 5. Or return to the list of all fire research projects in the Partner Profile.

Return to Wildland Fire main page.
Last updated: November 12, 2015