Missing species!
We hear a lot about plants and animals in peril: species at risk from extinction, species whose habitat we are changing. We don't hear as much about species that we have already lost: plants and animals that are missing, either because we just don't know where to look for them, or because they are extinct and have disappeared from our park--or the world--for good.
As part of a "Park Investigators File: Missing Species" project, students from Pi Beta Phi Elementary & Middle School in Tennessee and Robbinsville High School in North Carolina created artist renditions of these missing species.
Peruse the profiles below to remember species missing from our skies, forests, riparian areas, and food webs.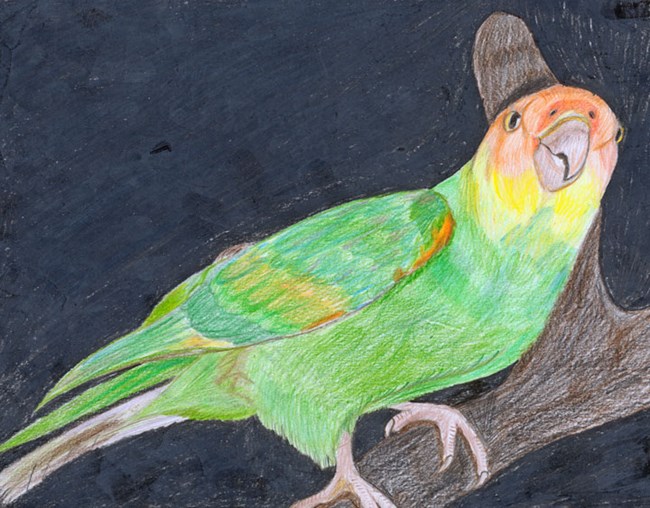 Missing from our skies: Carolina parakeet (Conuropsis carolinensis)
Status: Extinct
Last seen in park: Early 20th century
Species story: The radiant Carolina parakeet used to inhabit the park's low, forested river valleys. These birds ate sycamore seeds and, as the area became more settled, farm crops. Farmers defended their crops by shooting the birds, and eventually the bird became extinct.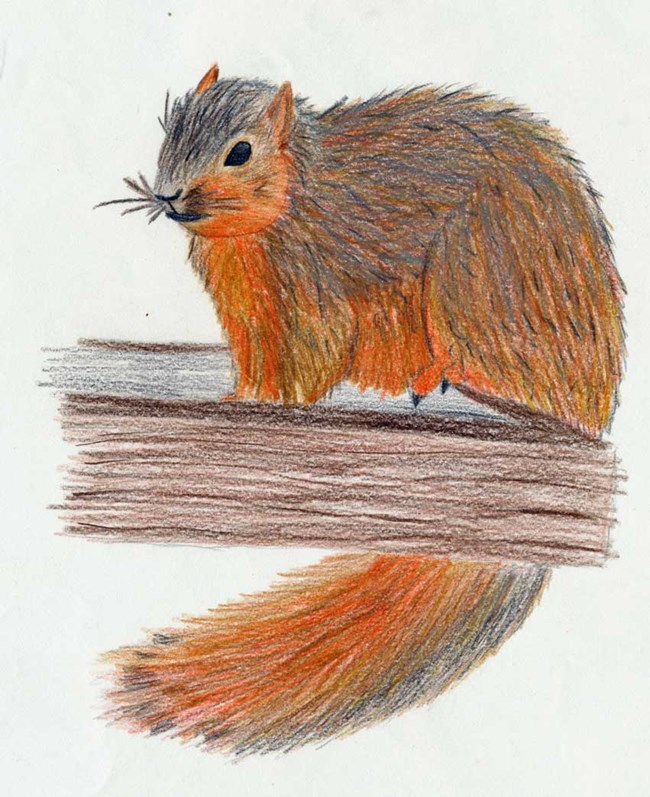 Missing from our forests: Fox squirrel (Sciurus niger)
Status: Missing
Last seen in park: Unknown; when fire was more frequent
Species story: This large squirrel has a striking reddish coat. It lived in these mountains when fire regularly cleared the forest understory to create an open habitat. After decades of fire suppression, the open, uncluttered forest and this animal disappeared. Sometimes people mistake grey squirrels for fox squirrels in the fall, when the rusty residue from ripe walnuts stains their fur red.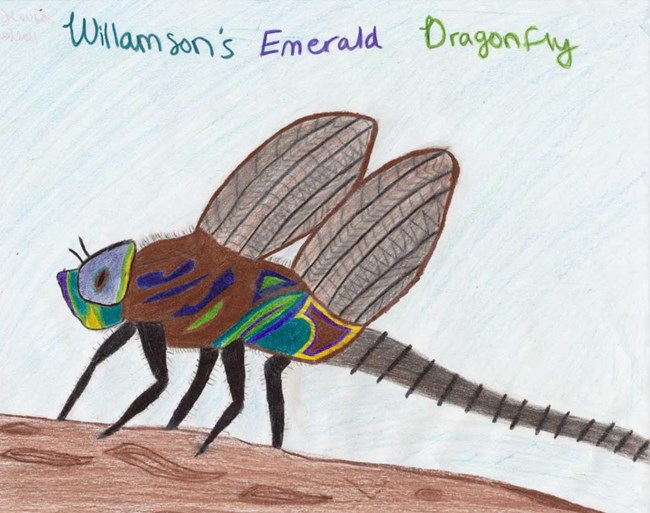 Missing from our streams, wetlands, & riparian areas: Williamson's emerald dragonfly (Somatochlora williamsoni)
Status: Missing
Last seen in park: 1940s
Species story: Scientists captured this beautiful dragonfly as it buzzed through orchards just above Twin Creeks (now a Science Center on Cherokee Orchard Road). It has not been seen since the 1940s despite repeated searches. One reason may be habitat change from orchards and fields to dense forest.
See more species missing from our streams, wetlands, & riparian areas!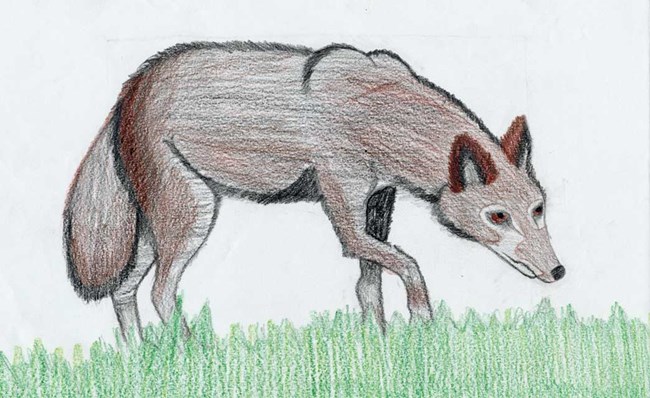 Missing from our food web: Red wolf (Canis rufus)
Status: Critically endangered worldwide, Federally endangered, Locally extinct
Last seen in park: 1980 in the wild; 1999 in reintroduction program
Species story: The red wolf was hunted to local extinction throughout the Southeast United States. In 1991 the National Park Service and U.S. Fish and Wildlife Service reintroduced red wolves to Cades Cove. The pack didn't establish itself in the park, and the effort was stopped in 1999. Today red wolves live only in small areas of North Carolina, South Carolina, Mississippi, and Florida, where they have been deliberately released as part of reintroduction programs. Today visitors may see the wolf's smaller cousin, the coyote, in the Smoky Mountains, where it is a relative new-comer.
Last updated: July 13, 2015