Experience the Night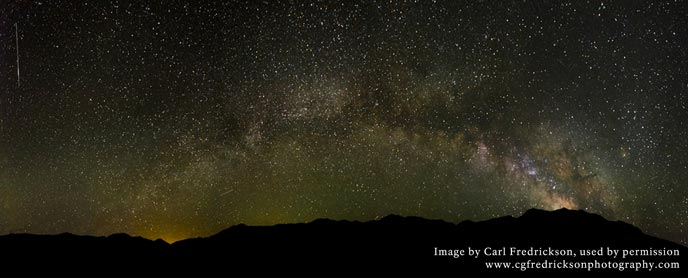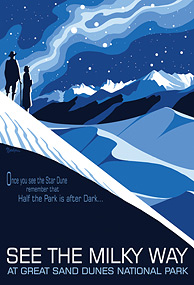 Half the park is after dark! Night at Great Sand Dunes can include dunes exploration under a bright full moon, viewing thousands of stars on a clear moonless night, listening for owls along the foothills, or viewing migrating amphibians on a wet night.
With a combination of dry air, little light pollution, and high elevation, Great Sand Dunes National Park and Preserve is an excellent and easily accessible dark sky viewing location!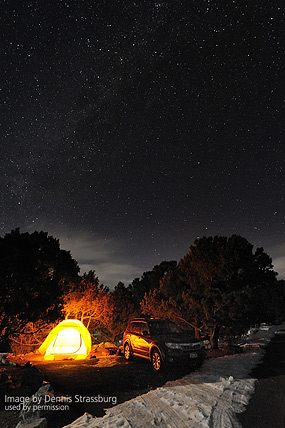 Planning to Experience the Night
To see the most stars, plan your visit for moonless nights, or nights with a late moonrise. View a moon calendar for the month you plan to visit.


Plan your visit on the full moon for a surreal walk on the dunes with no need for a flashlight.


Watch the weather forecast to time your visit for nights with little chance of rain.


When exploring the dunes on dark nights, make sure to plan in advance how you will find your vehicle after you return, as the parking lot/trail access is not obvious in the dark.


Minimize your use of lights. Shining a bright flashlight will diminish your night vision for up to 30 minutes, limiting your view of the night sky and wildlife. Use a red light if needed.


Keep an eye out for the night-life of the dunes, including camel crickets, kangaroo rats, toads, coyotes, bobcats, and owls. Never touch wildlife, and remember that their nocturnal eyes are highly sensitive to light. Use only a red light if needed.


Don't just depend on your eyes to experience the night. Feel the soft night breezes; listen for the call of owls, the howling of distant coyotes, the call of frogs and toads, the rustle of creatures in the forest, and the drum of kangaroo rats thumping warnings to each other; and smell the fresh scent of piñon pine and juniper. You may notice that your senses grow sharper as you spend more time in dark and quiet locations.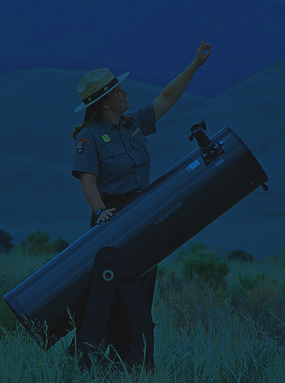 Night Programs
Summer night programs are a good way to experience and understand the night sky and nocturnal ecology. Check the program schedule during summer months to see what evening programs are scheduled during your visit.

Get free star charts and sun/moon calendars at the Visitor Center. Additional items are available at the Visitor Center bookstore, including star guides, flashlights and red light star chart readers.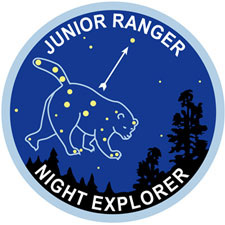 Junior Ranger Night Explorer
Kids ages 5-12 can be become a Junior Ranger Night Explorer and earn a Night Explorer patch by completing an activity booklet. Activities are divided into several age levels. Get your free booklet at the Visitor Center!
Last updated: April 6, 2017