Weather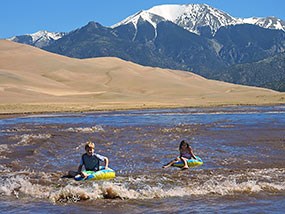 Weather in Each Season
see also Conditions to Expect Each Month of the Year

Spring can sometimes bring high winds, mainly in the afternoon. Temperatures may vary widely: highs may reach into the 60s F, or only into the 30s F with snow and an even colder windchill. Lows can also vary from the 40s F to the 20s F. March and April are the snowiest months of the year, but that is typically interspersed with warmer days in the 50s F to 60s F. In later spring when Medano Creek is flowing, snow or high winds are still possible...or there may be calm, sunny, swimsuit weather. Be prepared for any conditions in spring! Check Medano Creek conditions and forecast flow.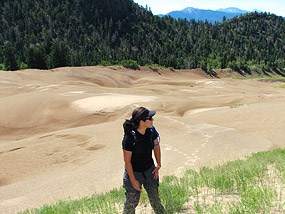 In summer, daytime high temperatures average 75-80 degrees F. However, sand surface temperatures can soar to 150 degrees F on sunny summer afternoons. Plan to explore mountain areas of the park and preserve during summer afternoons. Summer nights are surprisingly cool, thanks to our elevation of 8200' above sea level. Even in summer, warm layered clothing is recommended, as lows may drop into the 40s. After dark, a jacket or a blanket may be needed. Afternoon thundershowers are common in July and August with associated cool winds, heavy rain and lightning. Be prepared to leave the dunes promptly if thunderstorms threaten: lightning strikes are common and can be fatal.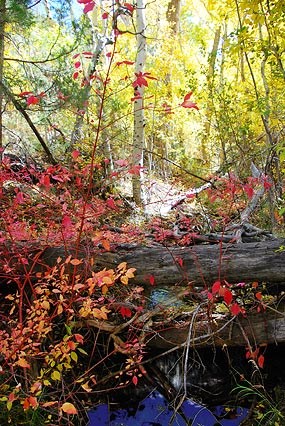 Fall
weather is generally pleasant, with mild days and chilly nights. Highs average in the 60s - 70s F, with chilly nights in the 20s - 30s F. Be prepared, though, for the occasional cold fall storm, bringing icy rain or even snow.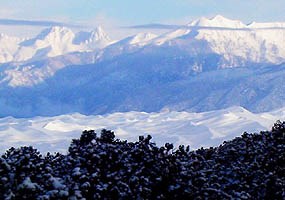 Cold temperatures are the norm in
winter
, although sunshine is generally abundant, and the dry air doesn't feel nearly as cold as more humid eastern winters. Average highs are in the teens-30s F, with lows averaging minus 15 F to minus 5 F in the coldest part of winter. Snow may fall and blizzards occasionally occur, so bring warm, layered clothing and sturdy footwear. Check the forecast above before visiting.


Last updated: July 28, 2022