Piñon Flats Campground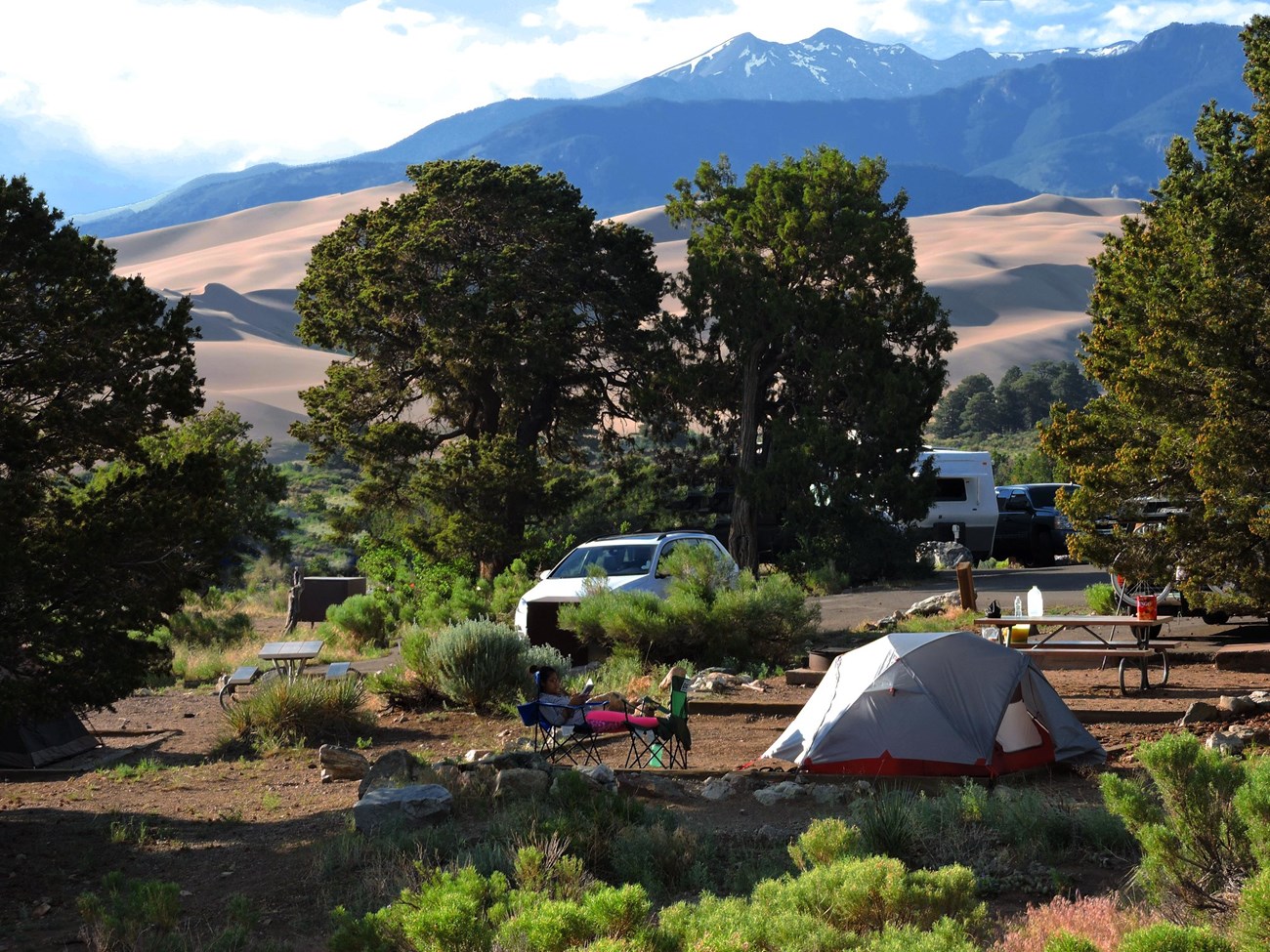 Piñon Flats is a National Park Service campground located one mile north of the Visitor Center, open April through October. All sites are by reservation on recreation.gov. Individual sites can be reserved up to 6 months in advance, and group sites can be reserved up to 1 year in advance.
Campsites book up quickly for the summer season. If all sites are reserved for your dates, consider alternative camping options.
Campground Amenities and Regulations
Restrooms with sinks, flush toilets, dishwashing sink, and potable water spigots are available in all three loops. There are no showers in the campground, but there are outdoor rinse showers at the Dunes Parking Lot in summer months. Shower facilities are available at some Area Campgrounds.

Individual campsites have a maximum capacity of 8 people, 2 tents, and 2 vehicles (including towed vehicles/trailers).

There are no hookups; view Area Campgrounds for options with hookups.

There is a fire grate and picnic table at each individual site, with multiple grates and tables at group sites.

Some sites have trees with moderate shade, while others are more out in the open with small trees.

Each site has a bear locker 42"x29"x26".
All tents must fit on the tent pad, and all vehicles must fit in the site's driveway. Please be aware that each site is unique and may not accommodate 2 tents of any size or 2 vehicles. As you make your reservation on recreation.gov, dimensions and photos are listed on each site.
Hammocks are prohibited due to the potential for tree damage.
Arrive anytime after 2pm. Checkout time is 1:00pm
Quiet hours are from 10 pm to 6 am, and generator hours are 8am to10am, 12pm to 2pm, and 5pm to 7pm.
During the peak flow of

Medano Creek

in early summer, expect all campsites to be reserved well in advance. On weekends during peak flow, expect long lines of traffic, overflowing parking lots, and most campgrounds within 20 miles to be full. For a better experience in early summer, plan your visit on weekdays.
Trash dumpster and recycling stations are only available at the Amphitheater parking area (near the main entrance of the campground). All trash must be properly deposed of.

A few sites have driveways that can fit RVs up to 35 feet in length. Check the driveway length and width when making your reservation. Any longer vehicle will not be able to turn corners; please check with Area Campgrounds for options.
Individual Campsites (up to 8 people)
All campsites must be reserved through Recreation.gov, or contact them by phone at 1(877) 444-6777. Reservations can be made from 6 months in advance to the day of your visit.
88 sites, tents and/or RVs up to 25 feet (no hook-ups available)
8 people, 2 tents, 2 vehicles maximum per site. Not all sites fit 2 tents or 2 vehicles.
Group Campsites (15-40 people)
Reserve larger group sites up to one year in advance for any dates April 1st - October 31st through Recreation.gov or contact them by phone at 1(877) 444-6777.
Three group sites - click on each group site for a photo:
Tents only

-

RVs, pop-ups, and trailers do not fit and are not permitted in group tent camping sites.
Must be reserved at least four days in advance.
Sites A and B fit 10 vehicles each; Site C fits 7 vehicles.
Check in anytime after 2pm. Check-out time is 1:00pm.
Groups of 40 - 110 people can reserve more than one group site (if available). The group must follow the occupancy restrictions of each site they reserve, and must pay for each individual site. For example, a group of 80 people may reserve both sites A and B, while a group of 110 will need to reserve sites A, B, and C.
All group sites share the same restroom facilities located near group site C.
Trash dumpster and recycling stations are only available at the Amphitheater parking area (near the main entrance of the campground). All trash must be properly disposed.
Map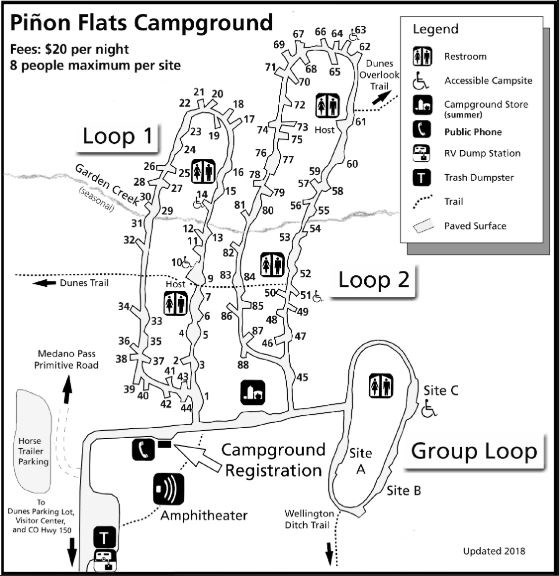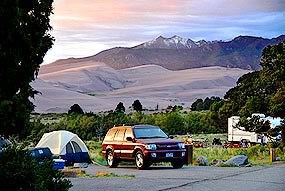 Area Campgrounds
Other area campgrounds may be available.
RVs and Trailers
Some sites in Loop 1 and Loop 2 can accommodate RVs or camping trailers up to 35 feet in length. However, there are no electrical, sewer, or water hookups. A dump station and water hoses are available in warmer months near the campground. Drivers with RVs longer than 35 feet will find it difficult to turn corners or clear tree branches, and should consider other area campgrounds. RVs, trailers, and pop-ups will not fit and are not permitted in the group tent camping sites. Link to find driveway lengths for Loops 1 and 2 sites and make a reservation on recreation.gov.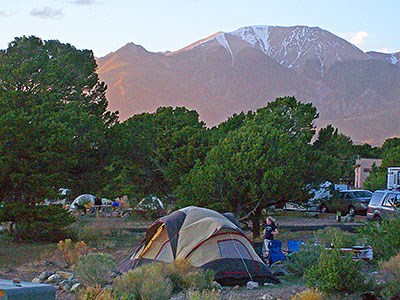 Trees
Some campsites have a few small trees and open views; most have medium sized pinon trees with some shade. A photo of each site is available when making reservations on recreation.gov.

The use of hammocks is prohibited in Piñon Flats Campground. Hammocks can damage trees, leaving them vulnerable to disease.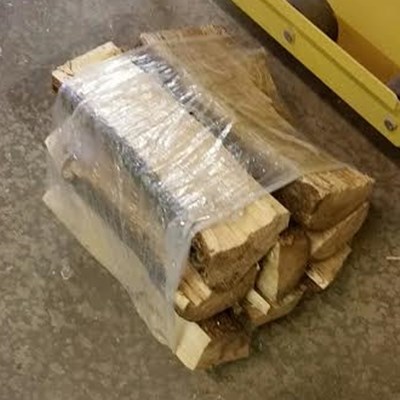 Food, Firewood and Supplies
Drinks, snacks, convenience foods, camping supplies and firewood may be available at a Campground Store located between Loop 1 and 2. These supplies are also available at the Oasis Store, located just outside the park entrance. Regional grocery stores have a full selection of groceries and fresh foods. Local restaurants are also available.
New to camping and unsure what to bring?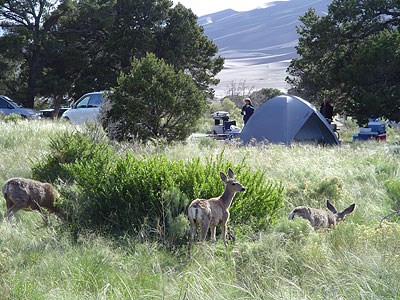 Firewood Guidelines
Wildlife depends on dead and down wood for their survival in this high elevation desert. Insects and rodents feed on the wood, and birds and larger animals feed on them. Firewood collection is prohibited in Great Sand Dunes National Park.
Please do not bring firewood from outside the San Luis Valley. Help protect our public lands by buying local firewood in or near your destination campground. Firewood can spread insect pests and diseases that kill native trees. See more information on forest damage caused by firewood transport (poster, 1MB).
Regionally harvested firewood may be available at the Campground Store in Piñon Flats Campground during the busy warmer months; and at the Oasis Store just outside the main park entrance.
Pets
Pets are welcome in the campground, but must not be left unattended. Please keep pets leashed and under control at all times, and clean up after them.
Bears
Black bears are potential visitors in the campground area. Safeguard yourselves and the bears by storing all food and aromatic items in the bearproof lockers provided at each site. Try to minimize food odors in your site and vehicle. Do not leave food, coolers, or trash in unattended sites.
Other Wildlife
Please do not feed wildlife. All animals within the park, including birds, are protected by law. Feeding wildlife is dangerous for you and unhealthy for them. Visit the park's safety page to see what animals and insects frequent the area.
Protecting Your Campsite and Other Campers
All camping equipment must fit within established tent pad and campsite to minimize ground disturbance and impacts to vegetation and wildlife habitat.

Vehicles must be parked on pavement with a limit of two per site. Please contact the campground hosts for alternate parking if you have more than two vehicles.
Trash should be taken to the dumpster located near the amphitheater. To protect yourself, your property, and the park's bears, do not leave it in your site. Quiet hours are from 10 pm to 6 am, and generator hours are 8-10am, 12-2pm, and 5-7pm. Please be courteous.
Questions or need changes to your reservation?
Please contact recreation.gov at 1-877-444-6777 or visit their page on Piñon Flats Campground.
Questions about the campground?
Please call the Great Sand Dunes Visitor Center at 719-378-6395 or email a ranger.
Last updated: August 30, 2023