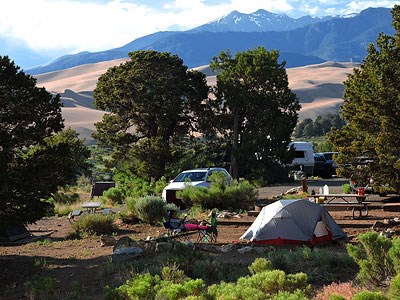 Overview
Piñon Flats is a National Park Service campground located one mile north of the Visitor Center. It is open April through October each year. (Also view Area Campgrounds, Medano Pass Primitive Road 4WD Camping, or Backpacking Options.)
Restrooms with sinks, flush toilets, dishwashing sink, and water spigots are available in all three loops. No hookups; view area campgrounds for nearby options with hookups.

Loop 1: 44 first-come, first-served sites - $20 per night

Loop 2: 44 reservable sites - $20 per night. Reserve through recreation.gov up to 6 months in advance, but at least 4 days in advance, for summer season dates May 3 through September 20, 2017. Loop 2 is first-come, first-served April 1 - May 2 and September 21 - October 31, 2017.

Loop 3: Three Group Sites (A, B, and C) - $65-$80 per night. Reserve on recreation.gov up to a year in advance for 2017 season dates April through October.

Fire grate(s) and picnic table(s) at each site

Some sites have large cottonwood or conifer trees for shade, while others are more out in the open with smaller piñon trees

A few sites can fit RVs up to 35 feet in length

Individual campsites have a maximum capacity of 8 people, 2 tents, and 2 vehicles (including towedvehicles/trailers). All tents must fit on the tent pad, and all vehicles must fit in the site's driveway. Please be aware that each site is unique and may not accommodate 2 tents of any size or 2 vehicles. A few sites may fit up to three smaller tents.

A 50% discount applies to senior pass and access pass holders.

When

Medano Creek

is flowing well in late May and early June, expect Loop 2 sites to be fully reserved and Loop 1 sites to be full by 11am every day of the week. On late May and early June weekends during peak flow, expect long lines of traffic, overflowing parking lots, and most campgrounds within 20 miles to be full. For a better experience in early summer, plan your visit on weekdays.
Map of Campground (.pdf file, 283kb)
Reserve Campsites at Piñon Flats through the National Recreation Reservation
System or contact them by phone at 1(877) 444-6777.
For reservations or questions about your reservation, please contact the National Reservation System. For specific questions about the campground, please call the Great Sand Dunes Visitor Center at 719-378-6395, or send an email.