Plan Your Visit
Enjoy your visit at Great Falls Park!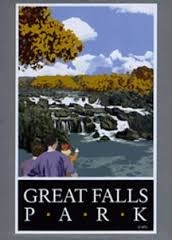 Explore one of the nation's first canals, see the Great Falls of the Potomac, or enjoy a hike along Mather Gorge's dramatic clifftops. You can do all of these things and more at Great Falls Park. These pages have information that will help you plan your trip.
Park hours are 7 a.m. until dark, every day. The three falls overlooks are located within a five to ten minute walk from the visitor center and parking lots. Trail maps are available at the visitor center and entrance station.
Expect high crowds and delays entering the park on weekends and holidays when weather is nice. Please come early. Vehicle line to enter park begins around 10:30 am or 11:00 am. Wait time can be as much as 45 minutes to one hour. To expedite entrance payment, please have payment method ready before you reach the window. Cash payments are preferred, and help move vehicles and people into the park faster.


The Things to Do section includes:
Things to Know Before You Come includes:


Last updated: July 6, 2019