Things To Do
Bird Day: Sunday, June 17, 2018
8:00 am - Guided Bird Walk - Meet at Visitor Center Courtyard
Enjoy a guided bird walk with knowledgeable bird guides on an easy and fascinating walk around Great Falls Park. The leisurely walk lasts until 11:00 am, but you may leave earlier if you need to.
Meet at the Visitor Center Courtyard, lower level, near the main restrooms and snack bar area. Dress for the weather, wear comfortable walking shoes, and bring drinking water, binoculars, and a camera. Last Sunday's Bird Walk resulted in 48 species being spotted.
10:00 am - 2:00 pm - Meet the Birds of Prey - Visitor Center
Join Secret Garden Birds and Bees as we celebrate Year of the Bird with the National Park Service at Great Falls Park. Meet our Great Horned Owl, Finney, our Barred Owl, Scarlett, and our Red-tailed Hawk, Midge.

Learn about the amazing journeys that Osprey and Broad-Winged Hawks must make to their winter homes each year, find out which owls come down from the far north to spend their winters in our relatively warm climate, and discover that some "migratory birds" don't migrate at all.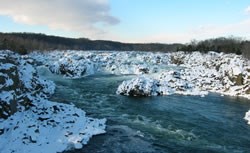 Nearly a half million people come to Great Falls Park each year. The park offers many recreational opportunities, from a picnic with family and friends, to a hike along the Potomac River. This section will highlight the many activities available here.
Safety is an important consideration at Great Falls. Remember that swimming and wading in the Potomac are prohibited. Use caution while hiking near the river and cliffs.


Last updated: June 14, 2018