Basic Information
Enjoy your visit at Great Falls Park!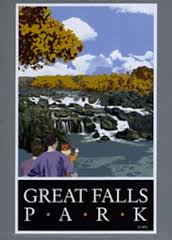 Explore one of the nation's first canals, see the Great Falls of the Potomac, enjoy a hike along Mather Gorge's dramatic clifftops, and explore the museum exhibits and park film in the visitor center. You can do all of these things and more at Great Falls Park. These pages have information that will help you plan your trip.
Park hours are 7 a.m. until dark, every day. The three falls overlooks are located within a five to ten minute walk from the visitor center and parking lots. Trail maps are available at the visitor center and entrance station.
Expect high crowds and delays entering the park on weekends and holidays when weather is nice. Please come early. Vehicle line to enter park begins around 10:30 am or 11:00 am. Wait time can be as much as 45 minutes to one hour. To expedite entrance payment, please have payment method ready before you reach the window. Exact change is preferred and helps shorten the entrance line by moving vehicles into the park more quickly.
The Things to Do section includes:
Things to Know Before You Come includes:

Great Falls Park is a unique destination in the Washington D.C. area. Here, you will find information to help you plan your visit to the park.
Some things to keep in mind while planning your trip:
The busiest times are on nice weekend afternoons. There is usually a line to enter the park on those days.

Great Falls is open from 7 a.m. until dark daily.

Dogs and other pets are welcome, but must be on a six foot leash and under physical control at all times. Remember to clean up after your pet.

Ranger programs are offered on most days. Check with the Visitor Center for details.

Alcohol is not permitted in the park.

Swimming and wading are not allowed in the park.

Picnic tables and grills are available on a first come, first serve basis. No reservations are needed for picnics.

There is an entrance fee to enter the park. More information.
The snack bar is open seasonally. For current hours, click here. There are no vending machines in the park.

One wheelchair is available for loan on a first-come, first-serve basis at the Visitor Center. There is no cost to use the wheelchair.
Last updated: January 10, 2020