Pets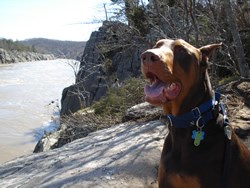 Leashed pets are welcome on all park trails, parking lots, falls overlooks, and picnic areas. There are no off-leash areas in Great Falls Park. Owners must have physical control of the animal, using a six foot leash, at all times. Electronic or 'shock' collars are not acceptable substitutes for a leash. With the exception of service dogs, pets are not permitted in the visitor center or on ranger-led programs.

The leash law is in effect to protect pets and people. Be aware of dangerous currents in the Potomac, cliffs, venomous snakes, and the safety and comfort of other visitors and keep your pet on a leash at all times. Loose dogs can become prey for the coyotes that live in the park.
An off leash dog park is available in Reston, about fifteen minutes from Great Falls Park. Other off leash parks are located in Herndon, Arlington, Alexandria city, and Vienna.
Fairfax County parks, including Riverbend Park and the Cross County Trail, require all pets to be on a six foot leash at all times.
During the warmer months, remember not to leave your pet unattended in a car. Temperatures in closed vehicles can be fatal to pets.


Last updated: July 6, 2019