Pets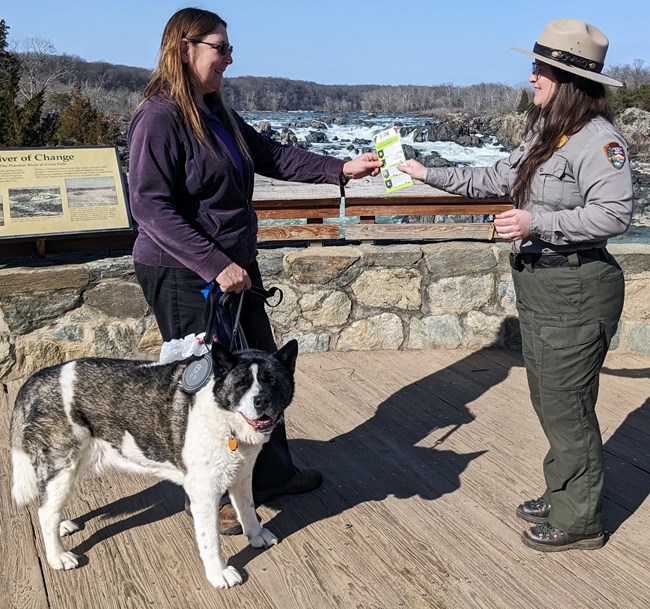 Pet Safety
Leashed pets are welcome on all park trails, parking lots, falls overlooks, and picnic areas. There are no off-leash areas in Great Falls Park. Owners must have physical control of the animal, using a six foot leash, at all times. Electronic or 'shock' collars are not acceptable substitutes for a leash. With the exception of service dogs, pets are not permitted in the visitor center building, in the restrooms, or on ranger-led programs.

Pets are prohibited from entering the Potomac River from any lands at Great Falls Park or managed by the George Washington Memorial Parkway.

Pet owners must bag and properly dispose of pet waste in the park trash cans.

Be prepared and ensure your pet can safely attend all activities on your itinerary. Pets should not be left unattended in a vehicle, especially in the summer. High temperatures in a car can be a serious threat to pets. Instead, consider leaving them at home in the comfort of air conditioning.

Hot to touch? Too hot for paws! The summer heat can be dangerous for a pet's paws. Avoid walking your pet in the heat of the day. Follow the five-second rule: place the back of your hand on the pavement; if you cannot hold it for five seconds, it's too hot to walk your pet.

Know where you can get your pet water while visiting the park. Currently, drinking water can be found at the water bottle filling station in the courtyard of the Visitor Center or in the sinks of the public restrooms. If you are hungry or thirsty while you are exploring, your pet probably is too. Always carry extra food and water for your pet and speak to a park ranger if you need help locating the closest drinking water.
Become a Great Falls Park
B

.

A

.

R

.K. Ranger
Know the
B

.

A

.

R

.K. Ranger Code for a Safe Visit!

For many, pets are an important member of our families. If you are planning to bring a furry family member on your trip to Great Falls Park, make sure you are prepared and are following the B.A.R.K. Ranger Code. The code helps protect you, your pet, and the park while you are here. If the activities you have planned for your visit do not allow for pets, such as guided Ranger Programs, or are unsafe, such as very hot and humid days, consider leaving them at home.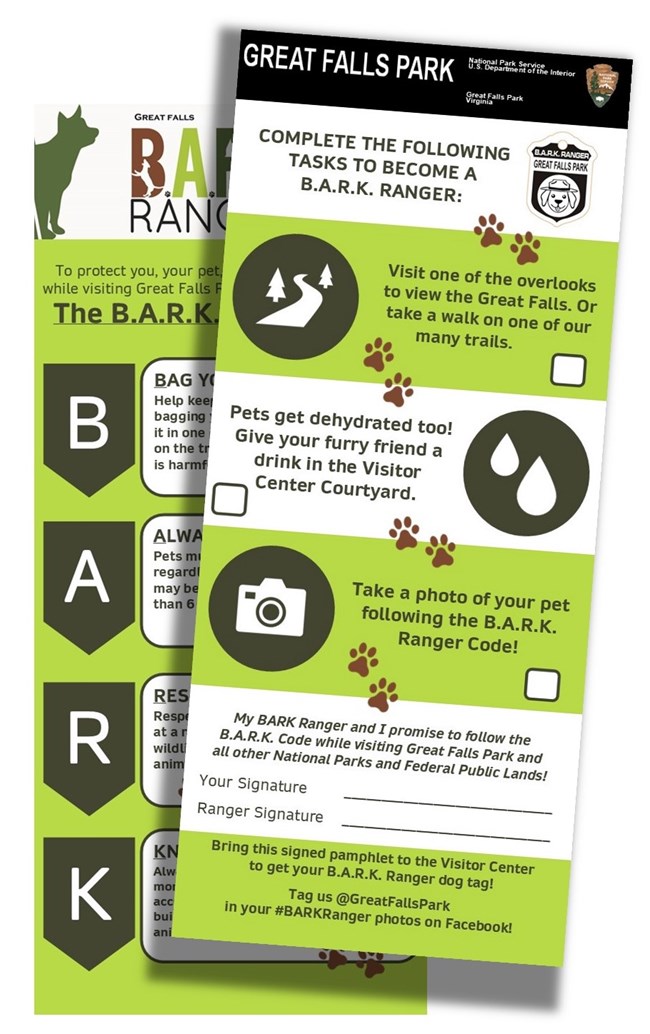 Bag your pet's waste
Help keep Great Falls Park clean by bagging your pet's waste and throwing it away in the garbage cans provided. Pet feces are not a natural fertilizer and can spread diseases to park wildlife, introduce non-native plant seeds, and can pollute waterways. Additionally, stepping in poop left behind by pet owners can be an unpleasant experience for other visitors!
A
lways leash your pet
Pets must be restrained on a leash not more than six feet long when in Great Falls Park (even if your pet is well behaved). Unleashed pets can stress or injure wildlife, scare other visitors, and are more likely to have a dangerous encounter. Keep your pet, wildlife, and other people safe by using a leash. Leashed pets cannot be left unattended.Some people, especially children, are frightened of dogs. At times, highly visited areas of Great Falls Park can be very crowded. Make sure your leashed pet is well behaved around other people. You are helping to protect the experience of other visitors.
R
espect wildlife
Today, Great Falls Park is a refuge for many animals otherwise pressured by human activities. The park is home to over 150 resident and transient
bird species
, over 50
mammal species
, over 20
reptile
and amphibian species (including the venomous
Copperhead
snake), over 40 fish species, as well as an unknown number of insects, spiders, and other invertebrates. A respectful pet keeps clear of wildlife, stays on trails and out of wildlife's natural habitats.
K
now where you can go
Always stay on the trails. Some trails are more difficult than others for pets so plan accordingly. Pets are prohibited from entering the Potomac River. Pets are not allowed in park buildings or restrooms, with an exception for service animals.
Service Animals
Dogs classified as service animals are individually trained to perform a specific task that assists a person with a disability. Service dogs are legally permitted anywhere that visitors can go. Emotional support, therapy, and companion animals, as well as service animals in training, are not service animals and must abide by all pet regulations. Additional information about service animals available at: Service Animals in National Parks (U.S. National Park Service) (nps.gov)


Last updated: June 1, 2023