Safety
Staying safe at Grand Canyon National Park starts with YOU.
For emergencies dial 911.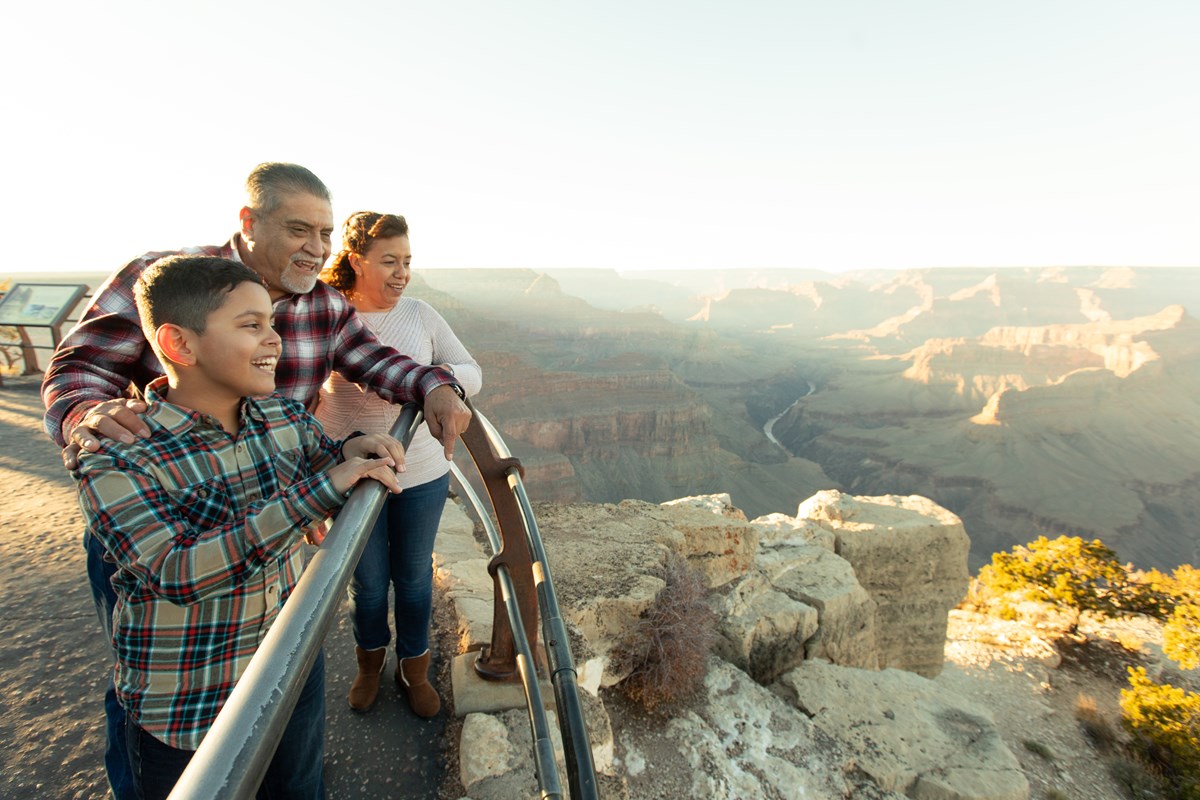 View Grand Canyon Safely
Grand Canyon National Park rangers are encouraging visitors to have a safe and memorable vacation to one of the Seven Wonders of the World. A trip to Grand Canyon can be both fun and safe by keeping these few tips in mind.
Stay on designated trails and walkways and always keep a safe distance if at least six feet (2 m) from the edge of the rim.
In areas where there is a railing or fence, do not climb over the barrier.
Keep an eye on all of the people in your group, especially small children. Make sure that your travel companions have both feet firmly planted on pavement or developed trails at all times.
Know where the edge is. Watch foot placement and look for trip hazards.
Do not run, jump, or perform physical stunts when near the rim.
Do not back up without first looking where you are going
Never Throw Anything Over the Edge
Never throw rocks, coins, trash, or anything else over the edge.
Objects tossed over the edge or dislodged by walking off trail can injure hikers and wildlife below.
Weather
Summer
Summer temperatures on the South Rim, at 7000 feet (2135 m), are relatively pleasant with high temperatures generally in the 80s (27-32°C)

Summer temperatures within Grand Canyon typically warm to over 100 degrees (>38°C)

at the river near Phantom Ranch (2400 feet/762m). Learn more about Summer Hiking Safety...
Summer thunderstorms (July through September) provide beauty, excitement, and much needed water to Grand Canyon, but they also bring risk. Dangerous, potentially deadly, lightning accompanies thunderstorms. Lightning has killed and injured visitors to the park. Learn more about lightning danger...
North Rim summer high temperatures are typically cooler than the South Rim due to increased elevation (8000 feet/ 2440 m), with highs typically ranging in the 70s (21-26°C).
Winter
Winter weather varies greatly and changes suddenly, learn more about Winter visits to Grand Canyon...
Be prepared with layered clothing for cold, rain, wind, and snow.
Trails and walkways may be icy. Learn more about Winter hiking safety ...
Over-the-shoe traction devices recommended for your safety.
Elevation
Elevations are 7,000 feet (2,135 m) on the South Rim and 8,000 feet (2,438 m) on the North Rim. Arizona's dry climate may affect you differently than your home environment. To reduce risk of sunburn, dehydration, naseua, shortness of breath, and exhaustion:
Use sunblock and reapply throughout the day
Stay hydrated by drinking water or electrolyte drinks
Take your time while visiting overlooks and hiking
Rest often in the shade
Seeing Wildlife
While it may seem like a national park is like wildlife sanctuary, we're a whole different animal! Keep a long distance from wildlife to maintain the safety of you, your family, your pets, and the wildlife you have come to appreciate.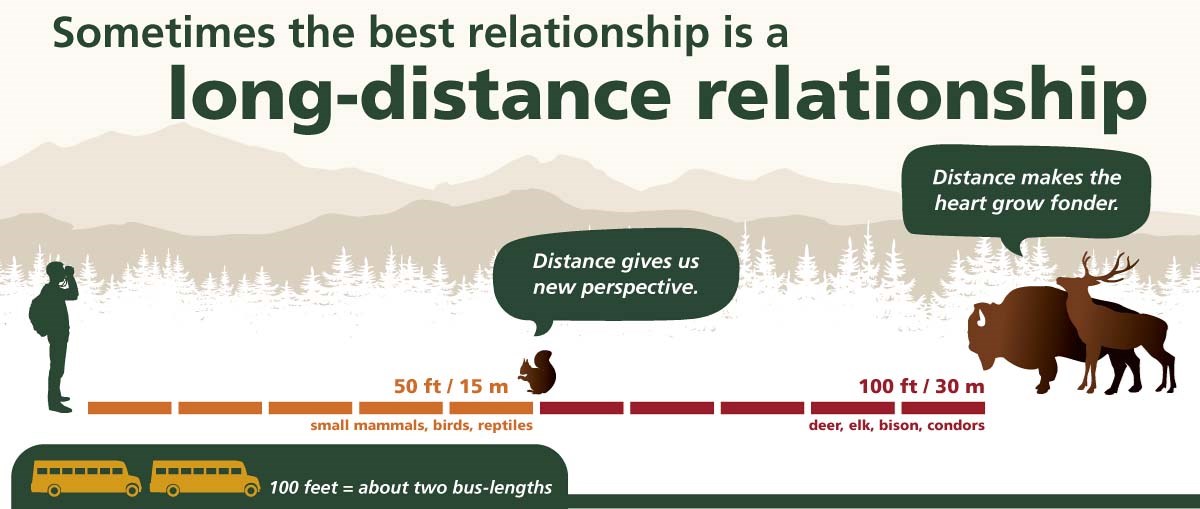 How close is too close?
Stay at least 100 feet (30 meters) or about two bus lengths away from elk, deer, bighorn sheep, California Condors, and mountain lions.
Keep at least 50 feet (15 meters) or about one bus-length away from other smaller wildlife like squirrels, birds, and reptiles.
Stay safe and never assume you are the one that can get away with a close encounter.
What if an animal approaches me?
Wildlife may not know better, but YOU do. Although it may feel flattering, if any kind of wildlife approaches you, back away and maintain that safe distance.
It's your responsibility and your safety —help us keep wildlife wild.
Can I feed the animals?
Feeding animals is prohibited. This is for their safety as well as yours.
Wildlife will quickly become persistent pests to you when fed.
Make sure to dispose of your trash properly, even the scent left over in an empty cooler can attract a wild animal.
Learn more about
wildlife viewing and safety
and
how to see wildlife and take great photos
.
Your Vehicle
Bring an extra set of car keys;it could be a long wait for a locksmith.
Automobile mechanic available on the South Rim, but only for minor repairs. Towing to the nearest cities, Flagstaff or Williams AZ, for major repairs is likely.
Distances are deceiving in this part of the country. It may look like you can visit three parks in one day, but reality is often different.
Keep your gas tank full. The next gas station may be quite a distance down the road.
Carry water in your car, particularly during summer months.
Winter Driving Conditions
Snow and ice present potentially hazardous driving conditions and can temporarily close park roads.
Check in at visitor centers or call 928-628-7496 before driving to the park.
Please slow down and drive carefully while exploring Grand Canyon in winter.
No Collecting
Grand Canyon National Park—a World Heritage Site—belongs to everyone. Please leave everything where you find it; including rocks, plants, firewood, and artifacts.
Last updated: August 24, 2019