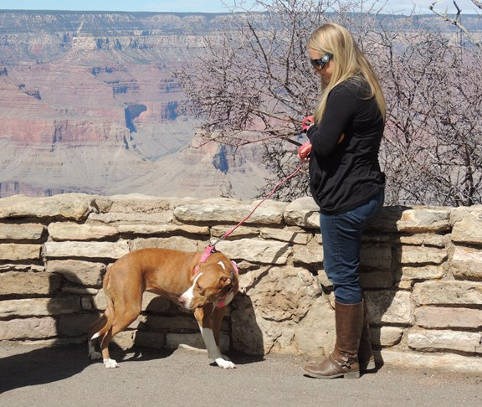 Pets in Grand Canyon National Park
Grand Canyon National Park was established to preserve an amazing variety of landscapes, plants and wildlife and to provide a place for people to enjoy wilderness. How do pets fit in with this mandate?
Pets can harass or harm wild animals by making noise, chasing them or catching them.

Pets can intimidate and disturb other visitors by making noise or scaring wildlife away.

Pets can damage the ground and plants by digging or rolling.

Pets can attract predators such as cougars or coyotes looking for easy meals.
Where can I visit with my pet?
To help everyone enjoy the park and for the safety of you, your pet, and park wildlife, the following regulations apply in Grand Canyon National Park. Rules differ on neighboring national forest and state land.
Pets must be leashed (up to 6 feet) at all times.

On the South Rim, leashed pets are allowed on trails above the rim, Mather Campground, Desert View Campground, Trailer Village, and throughout developed areas.

Yavapai Lodge is the only in-park lodge that has pet friendly rooms.

Pets may also be boarded at the South Rim Kennel.

Pets are not permitted:

Below the rim (inner canyon trails).

On park shuttle buses.

On the North Rim, leashed pets are only allowed on the bridle trail (greenway) that connects the North Kaibab Trail, and the portion of the Arizona Trail north to the park entrance station. There is no Kennel on the North Rim.

At Tuweep, leashed pets are only allowed on established roads and the campground.

---

To ensure you and your pets have a great visit check out the following tips:
Do not leave pets tied or unattended outside or in your vehicle.
Pet excrement must be immediately collected and disposed of in the nearest trash can.
During the summer, high temperatures and elevation can affect your pet, ensure your pet has enough water, snacks, and paw protection from the hot rim pavement.