Desert View - Ranger Programs & Cultural Demonstrations

All outdoor programs are subject to cancellation due to inclement weather or when
lightning danger
is present.
Note:
Children must be accompanied by an adult on all programs.
All programs are free of charge.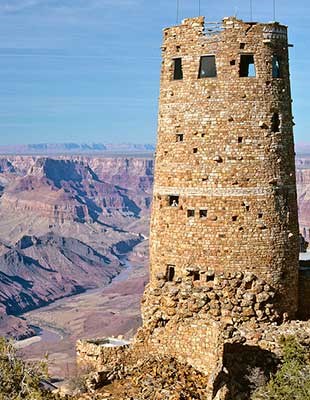 Desert View Cultural Demonstrator Series
Desert View Watchtower: 9 am – 4 pm

---
More about
Visiting Desert View
Saturday, and Sunday, July 13, and 14, 2019
Curtis Naseyowma
- Hopi Carver
Greg Naseyowma
- Hopi Sliversmith
-
Tuesday, Wednesday and Thursday, July 16, 17, and 18, 2019
Jimmy Yawakia
- Zuni Fetish Carver
Duran Gasper
- Zuni Inlay Jewelry
Eric Lasiloo
- Zuni Fetish Carver
Saturday, and Sunday, July 20, and 21, 2019
Charlotte Tsalate
- Zuni Petit Point Jewelry
Eldrick Seoutewa
- Zuni Channel Inlay Jewelry
Desert View Watchtower, where the cultural demonstrations take place, is located 25 miles (41 km) east of Grand Canyon Village on Highway 64/Desert View Drive.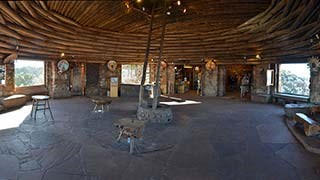 Visit Desert View Watchtower
The Watchtower is the official visitor contact station at Desert View.
Climb 85 steps for a 360° view from the observation deck 70 ft (21 m) above.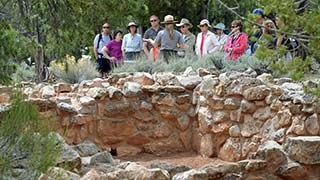 Ranger-led Tusayan Ruins Tour
Tour meets at Tusayan Museum daily at 11 am and 2 pm (20 minute program)
A self-guided tour booklet is also available at the ruin.
Explore an 800-year-old ancestral Puebloan site on this free 20-minute park ranger program. Learn about the people who called this place home long ago. Tusayan Ruin and Museum is located 3 miles (5 km) west of Desert View.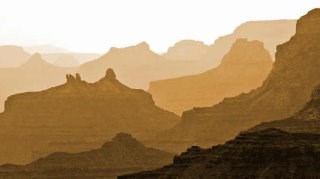 Sunset Talk
During the summer of 2019, enjoy a park ranger program with a beautiful sunset backdrop. Meet at Desert View Amphitheater, daily at 6:30 pm. Dress warmly for this outdoor event on wooden benches. (45 minute program)

Topics may include: Grand Canyon human history, Geology, California condors, the 1956 mid-air collision, bats and other night creatures, and, ranger's choice.
Sunset Talk Schedule: July 13 through July 20, 2019
All outdoor programs are subject to cancellation due to inclement weather or when lightning danger is present.

Saturday, July 13
Life on the Edge
Explore the fascinating story of the survival of the California Condor and the challenges that still threaten them today.
Meet at Desert View Amphitheater - 6:30 pm

Sunday, July 14
Dry Land and Parched Tongues
Explore Grand Canyon's water resources, and the precarious plumbing that keeps this place running.
Meet at Desert View Amphitheater - 6:30 pm

Monday, July 15
A Centennial Journey
Explore Grand Canyon's journey to becoming a National Park and the 100 years of stewardship that followed.
Meet at Desert View Amphitheater - 6:30 pm

Tuesday, July 16
Navajo Heroes
A story of an important piece of American history - how the Navajo language helped the United States win World War II.
Meet at Desert View Amphitheater - 6:30 pm

Wednesday, July 17
Inside the Golden Hour
Explore how the world of Grand Canyon transforms as the sun goes down.
Meet at Desert View Amphitheater - 6:30 pm

Thursday, July 18
Teetering on the Rim
Come discover how plants have adapted to life on the edge.
Meet at Desert View Amphitheater - 6:30 pm

Friday, July 19
Things That Go Bump in the Night
Learn about the animals on the night shift at the Grand Canyon.
Meet at Desert View Amphitheater - 6:30 pm

Saturday, July 20
Dry Land and Parched Tongues
Explore Grand Canyon's water resources, and the precarious plumbing that keeps this place running.
Meet at Desert View Amphitheater - 6:30 pm
Last updated: July 12, 2019