Cultural Demonstrations and Ranger Programs

Desert View is a small settlement on the South Rim located 23 miles/ 37 km east of Grand Canyon Village, and near the eastern edge of Grand Canyon. The East Entrance to the park is located here.

Arizona State Route 64, also known as Desert View Drive, is a 23 mile (37 km) scenic road that connects Desert View with Grand Canyon Village. Desert View Drive is open to all vehicles throughout the year.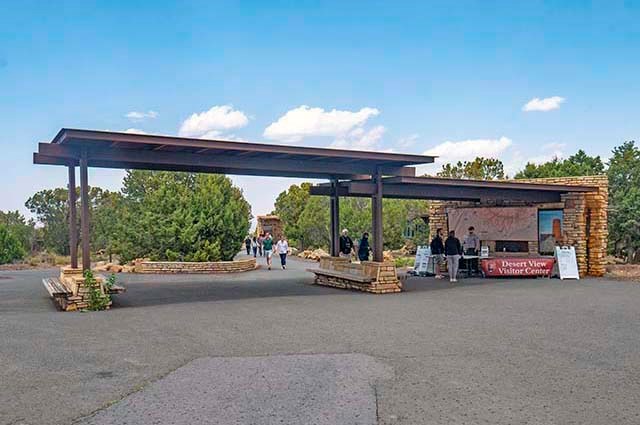 Desert View Visitor Center
An outdoor information desk, staffed by park rangers from 9 am to 4 pm daily (as staffing permits) is located under the large shade structure, just beyond the north end of the main paking lot.

Cultural demonstrations take place at Desert View from 9 am to 4 pm, every Thursday and Friday through September 2, 2022. Ask at the Visitor Center for their current location.- View the entire schedule >

The program provides an opportunity for visitors to interact with Tribal artisans from Grand Canyon's Traditionally Associated Tribes, and for them to share their history, knowledge and skills.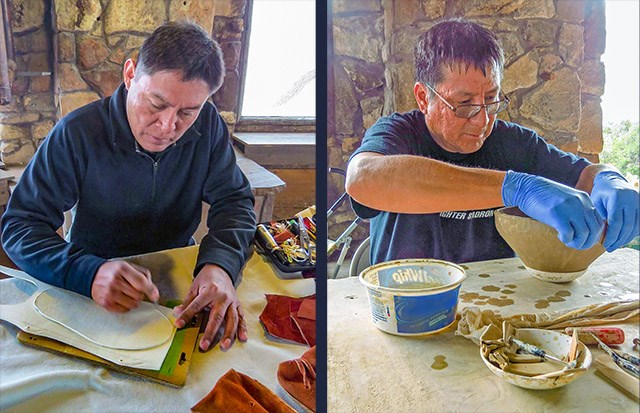 Cultural Demonstrations
On June 30, and July 1, 2022, meet Bill Thomas Jr. - Navajo Moccasin Maker, and Damon Tso - Navajo Potter. Ask at the Visitor Center for their location.

Bill Thomas Jr., began making moccasins about 15 years ago. He learned the craft from his family who tanned and dyed the hides by hand.

Damon Tso has been making clay pots for 18 years. He uses clay he gathers himself from the land and fires his pots in traditional manner, using wood for the heat source instead of a kiln.
Cultural Demonstrator Summer 2022 Schedule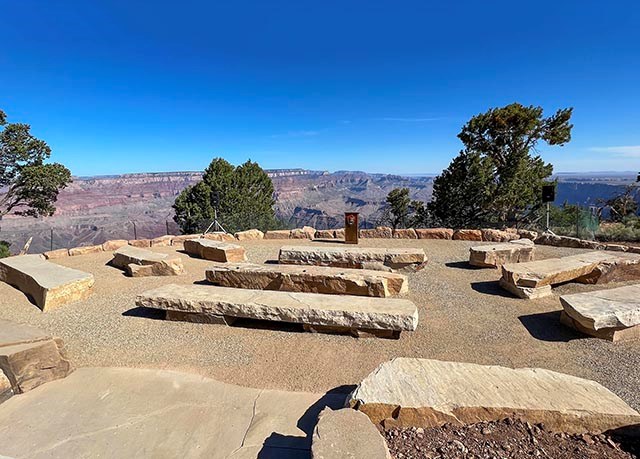 Ranger Programs
Sunset Ranger Talks will resume this summer when amphitheater site construction has been completed.

All outdoor ranger programs are subject to cancellation due to inclement weather or when lightning danger is present.

Note: Children must be accompanied by an adult on all programs.

All programs are free of charge.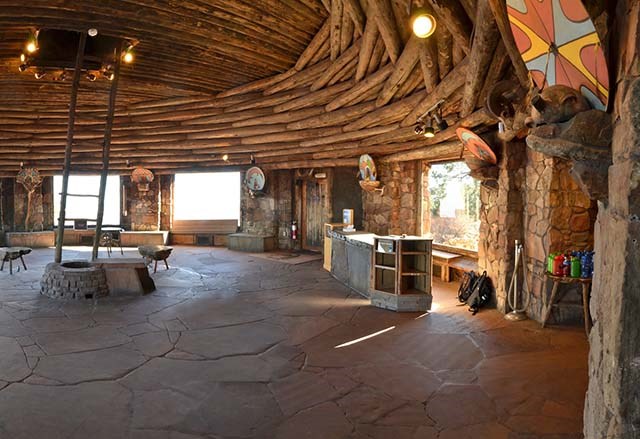 Desert View Watchtower
At this time, only the ground level, Kiva Room and the Grand Canyon Conservancy Park Store are open. Hours: 9 am to 5 pm daily.
The tower itself remains closed at this time.
Guided Tours of the Watchtower may be offered later this summer.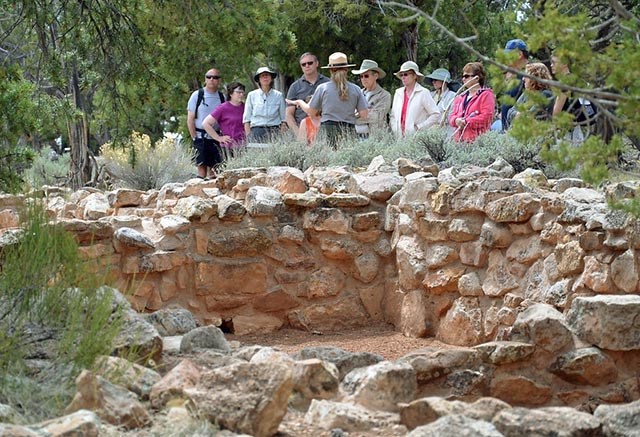 Tusayan Pueblo Site
This summer, the Tusayan Pueblo site and self-guiding trail are open on weekends: Friday, Saturday and Sunday (and Mondays of holiday weekends) between 9 am and 4 pm.
800-year-old Ancestral Puebloan site.
Ask at the site.about ranger-led tours.

The Museum is closed at this time.
Located 3 miles (5 km) west of Desert View, on SR 64, Desert View Drive.
Touring scenic Desert View Drive in your vehicle 23 miles (37 km) here >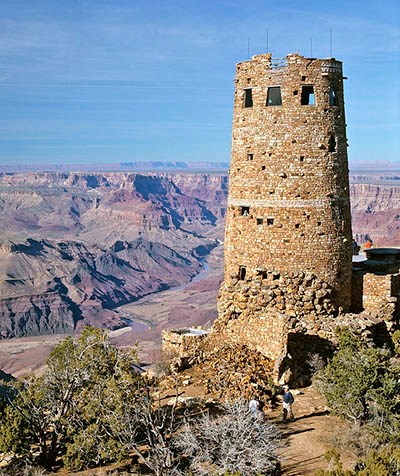 Cultural Demonstration Archive

Videos and Past Schedules
Visit our keyboard shortcuts docs for details
Duration:

5 minutes, 25 seconds
Mary Colter was the Fred Harvey Company's Chief Designer and worked relentlessly to pursue her idea of perfection for the Desert View Watchtower. Join Ranger Amanda as she addresses the many words used to describe this tenacious woman.

Ranger Programs: Additional Locations
Last updated: June 29, 2022