Desert View - Ranger Programs & Cultural Demonstrations
Most Desert View Facilities Remain Closed
Updated April 9, 2021

Visitors traveling to Grand Canyon National Park may enter the park through the East Entrance at Desert View. Details >

The following Desert View areas and services are open for visitors:
• Viewpoints in the Desert View vicinity
• Desert View parking lot and RV parking
• Restrooms located between the Desert View parking lot and the canyon rim.

Most Desert View services remain closed at this time. Be sure to bring enough food and water for everyone in your group.

With public health in mind, the following facilities and areas remain closed:
Desert View Watchtower, including visitor contact station and bookstore

CLOSED

Desert View Visitor Center

CLOSED

Desert View Campground

CLOSED

Desert View Chevron Gas Station

CLOSED

Desert View Trading Post & Ice Cream

CLOSED

Desert View Market and Deli

CLOSED

Tusayan Ruin and Museum

CLOSED

The information below is for reference only.

The park is continuing to evaluate and adapt to changing COVID-19 guidance and adjust operations as needed.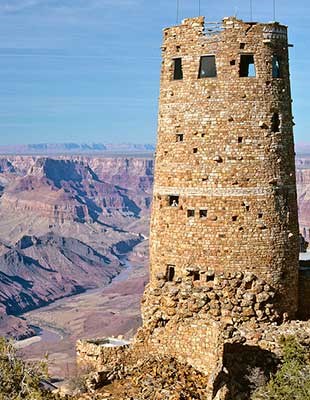 Desert View Cultural Demonstrator Series
Desert View Watchtower: 9 am – 4 pm

------
More about
Visiting Desert View
-
NOTE: Desert View Watchtower Cultural Demonstrations have been suspended until further notice due to concerns about the novel (new) coronavirus (COVID-19).
(Updated 3/13/2020) Grand Canyon National Park is closed until further notice.
Desert View Watchtower, where the cultural demonstrations take place, is located 25 miles (41 km) east of Grand Canyon Village on State Route 64/Desert View Drive.

Park Ranger Interpretive Programs have been suspended due to public health concerns from COVID-19. Park Updates Here >
All outdoor ranger programs are subject to cancellation due to inclement weather or when lightning danger is present.
Note: Children must be accompanied by an adult on all programs. All programs are free of charge.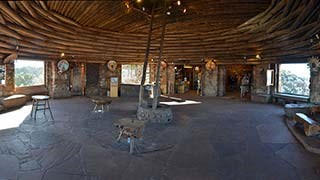 Visit Desert View Watchtower CLOSED
The Watchtower is the official visitor contact station at Desert View.
Climb 85 steps for a 360° view from the observation deck 70 ft (21 m) above.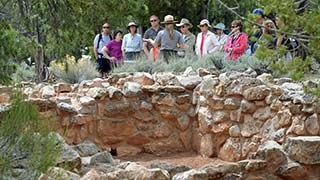 Tusayan Pueblo and Museum CLOSED
Explore an 800-year-old Ancestral Puebloan site and learn about the people who called this place home.

Located 3 miles (5 km) west of Desert View, on State Route 64 (

Desert View Drive

)
Last updated: April 9, 2021