Desert View Ranger Programs

Desert View is a small settlement on the South Rim located 23 miles/ 37 km east of Grand Canyon Village, and near the eastern edge of Grand Canyon. The East Entrance to the park is located here.

Arizona State Route 64, also known as Desert View Drive, is a 23 mile (37 km) scenic road that connects Desert View with Grand Canyon Village. Desert View Drive is open to all vehicles throughout the year.
Desert View Ranger Programs are not being offered at this time.

Tusayan Pueblo Archaeological Site and Museum are closed for the season. There are not tours available.
Desert View Sunset Talks have ended for the season. Talks will resume during the Summer of 2023.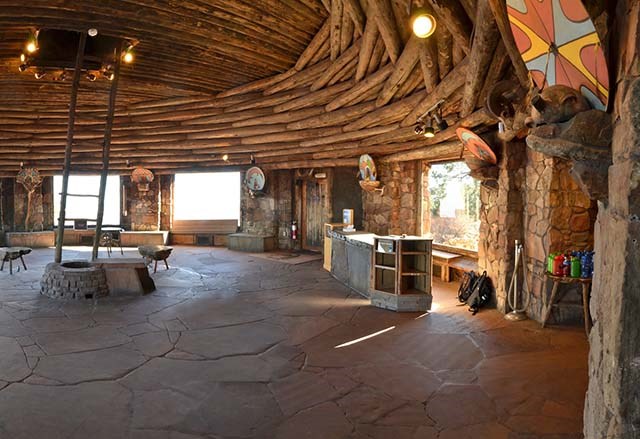 Watchtower
The ground level, Kiva Room of the Watchtower and the Grand Canyon Conservancy Park Store are open. Hours: 8 am to 6 pm daily. Park rangers may be available to answer questions, as staffing allows.
Cultural Demonstrations take place here in the Kiva Room.
The tower itself remains closed at this time.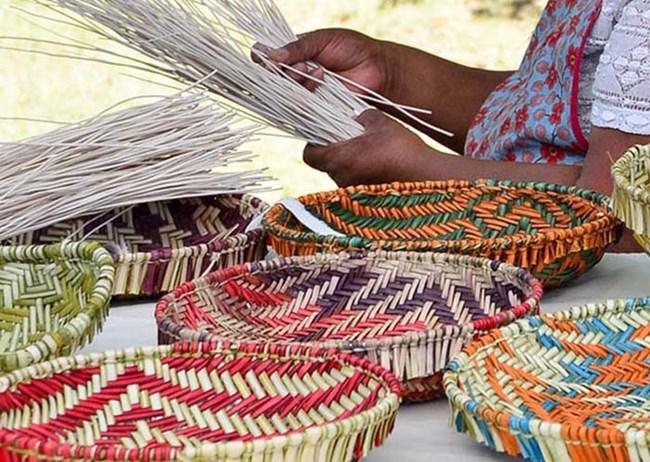 From October 25 through November 24, demonstrations at Desert View Watchtower will take place on Tuesdays, Wednesdays and Thrusdays.

Beginning December 2, 2022, through the end of February 2023, the demonstrations will be held in the lobby of the South Rim Visitor Center. Demonstrations during these months will be on Friday, Saturday and Sunday.
The program provides an opportunity to interact with Tribal artisans from Grand Canyon's Traditionally Associated Tribes, and for them to share their history, knowledge and skills. Details >
Visit our keyboard shortcuts docs for details
Duration:

5 minutes, 25 seconds
Mary Colter was the Fred Harvey Company's Chief Designer and worked relentlessly to pursue her idea of perfection for the Desert View Watchtower. Join Ranger Amanda as she addresses the many words used to describe this tenacious woman.

Ranger Programs: Additional Locations
Return to the Ranger Programs Home Page >

South Rim Village Ranger Programs > (23 miles/37 km) west of Desert View. Programs are not being presented this week. Programs will resume during the Thanksgiving holidays

North Rim Ranger Programs > (187 miles/300 km) northwest of Desert View. Programs are presented during the season, from May 15 through October 15, 2022. CLOSED FOR WINTER
Last updated: October 27, 2022