Desert View - Ranger Programs & Cultural Demonstrations

All outdoor programs are subject to cancellation due to inclement weather or when
lightning danger
is present.
Note:
Children must be accompanied by an adult on all programs.
All programs are free of charge.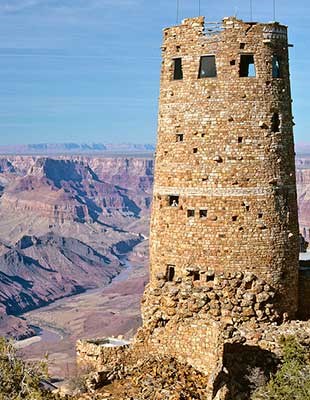 Desert View Cultural Demonstrator Series
Desert View Watchtower: 9 am – 4 pm

---
More about
Visiting Desert View
Saturday, and Sunday, May 25 and 27, 2019
Eileen Yatsattie -
Zuni Potter
Frances Dallasvuyaoma
- Hopi Silversmith
Bennard Dallasvuyoma
- Hopi Silversmith
Saturday, and Sunday, June 1, and 2, 2019
Kevin Horace
-
Hopi Painter
Daniel Powskey
- Hualapai Educator
Janelle Powskey
- Hualapai Beader
-
Desert View Watchtower, where the cultural demonstrations are held, is located 25 miles (41 km) east of Grand Canyon Village on Highway 64/Desert View Drive.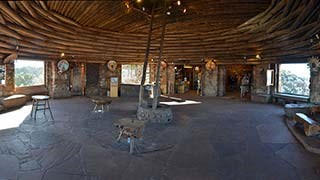 Visit Desert View Watchtower
The Watchtower is the official visitor contact station at Desert View.
Climb 85 steps for a 360° view from the observation deck 70 ft (21 m) above.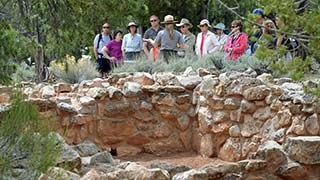 Ranger-led Tusayan Ruins Tour
Tour meets at Tusayan Museum daily at 1:30 pm (May 7 to May 25, 2019)
A self-guided tour booklet is also available at the ruin.
Explore an 800-year-old ancestral Puebloan site on this free 20-minute park ranger program. Learn about the people who called this place home long ago. Tusayan Ruin and Museum is located 3 miles (5 km) west of Desert View.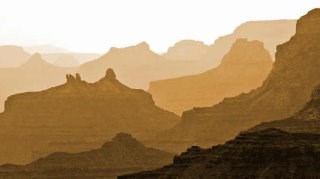 Sunset Talk
During the summer of 2019, enjoy a park ranger program with a beautiful sunset backdrop. Dress warmly for this outdoor event on wooden benches.

Topics may include: Grand Canyon human history, Geology, California condors, the 1956 mid-air collision, bats and other night creatures, and, ranger's choice.
Last updated: May 20, 2019