South Rim Desert View - Ranger Programs

Park Ranger Programs: Desert View

Learn more about Desert View --- Jump to our current schedule of Sunset Ranger Talks

All outdoor programs are subject to cancellation due to inclement weather or when lightning danger is present.
Note: Children must be accompanied by an adult on all programs. All programs are free of charge.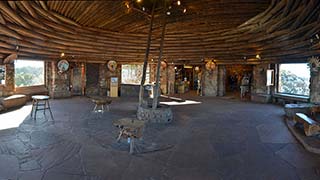 Desert View Watchtower
Modeled after ancient ancestral Puebloans watchtowers found in the Four Corners region, the Desert View Watchtower features murals by Hopi artist Frank Kabotie.
You can climb the 85 steps for a 360° view from the observation deck 70 ft (21 m) above ground level.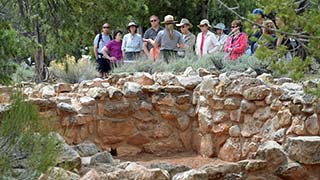 Tusayan Ruins Tour
(Meets at Tusayan Museum) 20 minutes -
11:00 am, 2:00 pm
Daily
Tusayan Ruin is the remains of an 800 year old Ancestral Puebloan village and is located 3 miles (5 km) west of Desert View.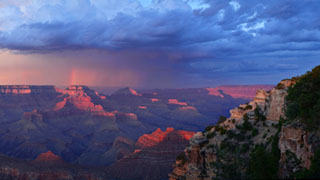 Sunset Talk
(Meets at Desert View Amphitheater) 6:30 pm Daily
(Schedule is subject to change. Check at Visitor Centers to confirm times and locations)

Discover Grand Canyon in the evening! Enjoy a park ranger-led program with a beautiful sunset backdrop.
Desert View Sunset Talks July 20 – July 29, 2017
Join a park ranger at the Desert View Amphitheater

Thursday, July 20, 6:30 pm
The California Condor, Life on the Edge
Take flight and find out about America's largest feathered friend.

Friday, July 21, 6:30 pm
Women of the Canyon
The legacy and mystery behind the women of Grand Canyon.

Saturday, July 22, 6:30 pm
Voices of the Canyon
Zuni fiber artist Chris Lewis will give a talk about how he creates traditional Pueblo attire, focusing on the materials used and the weaving methods passed down through his family.

Sunday, July 23, 6:15 pm
The California Condor, Life on the Edge
Take flight and find out about America's largest feathered friend.

Monday, July 24, 6:15 pm
If These Walls Could Talk
Bringing the canyon ecosystem to you

Tuesday, July 25, 6:15 pm
Hopi River Rafter down the Colorado River
Learn about a young Hopi boy who navigates down the Colorado River through Grand Canyon.

Wednesday, July 26, 6:15 pm
Preserving Grand Canyon Memories
Your memories helping to preserve Grand Canyon.

Thursday, July 27, 6:15 pm
Women of the Canyon
The legacy and mystery behind the women of Grand Canyon.

Friday, July 28, 6:15 pm
If These Walls Could Talk
Bringing the canyon ecosystem to you

Saturday, July 29, 6:15 pm
Hopi River Rafter down the Colorado River
Learn about a young Hopi boy who navigates down the Colorado River through Grand Canyon.


Enjoy a park ranger-led program with a beautiful sunset backdrop
Learn More About Desert View and Tusayan Ruins & Museum
Last updated: July 20, 2017