Historic Kolb Studio Art and History Exhibits
The South Rim's South Entrance is open 24 hours/day. Overnight accommodations, and some visitor services are available.

More



Desert View and the East Entrance remain closed because of COVID-19 lockdowns on the neighboring Navajo Nation. You must enter and exit the park through the South Entrance. (Tusayan)



The North Rim is open for overnight guests at the lodge. The North Rim Campground has closed for the 2020 season.

Details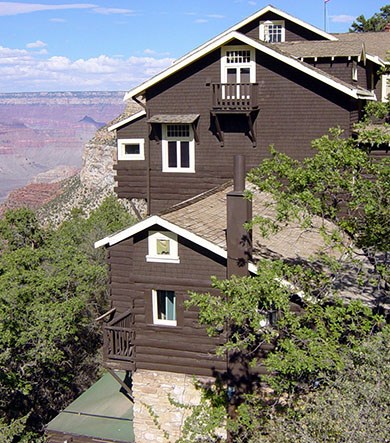 Kolb Studio (1905)

CLOSED
This restored building was a family home and photography studio.

Open daily
8 am – 7 pm (March 3 through May 18)
8 am – 8 pm (May 19 through Aug. 17)
9 am - 8 pm (Aug. 18 through Sept. 7)
8 am – 7 pm (Sept. 8 through Nov. 30)
8 am – 6 pm (Dec. 1 through March 1)
More About Kolb Studio
A home, business, tollgate, and photography studio, this historic building has been rebuilt and reimagined many times in its tenure on the rim of Grand Canyon. From humble beginnings, Kolb Studio grew and changed with the family who called it home to become the multi-storied structure you see today.

Nearly demolished in the 1960s, this structure stands today as a park icon, art gallery, and bookstore for visitors in the vicinity of Bright Angel Trail.

Currently operated by non-profit partner Grand Canyon Conservancy, visitors can purchase artwork, books, gifts, souvenirs, and basic hiking gear, or simply stop by for park information and exhibits on the Kolb brothers' life and adventures on the edge of the canyon.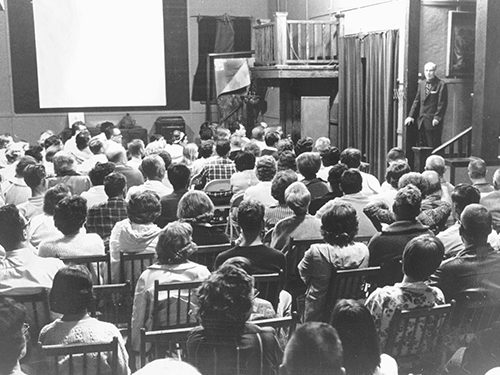 Kolb Studio Exhibits
The Amazing Kolb Brothers:
A Grand Life at Grand Canyon
EXHIBIT TEMPORARILY CLOSED
Exhibit was scheduled to run January 23, through September 8, 2020.
At first glance, Kolb Studio appears to be an old house perched on the rim of the canyon.
However, if you step inside, or see it from Bright Angel Trail on your hike out of the canyon, you get the sense it is much more than that.
This is the Victorian home of the Kolb Brothers who created a lasting legacy of adventure, exploration, family love, and amazing Grand Canyon photography that will last as long as the Canyon itself.
.
Examine Their Antique Cameras
Watch Their Movie That Played Continuously for 61 Years
.
Presented by Grand Canyon Association, Cline Library and Grand Canyon National Park. Additional funding provided by the Babbitt Foundation, Pink Jeep Tours, The cities of Las Vegas and Sedona, and Ms. Penny Schultz.
Exhibits at Kolb Studio are sponsored by the Grand Canyon Conservancy and Grand Canyon National Park.
For more information on this exhibit and the Grand Canyon Association and its programs, please visit
http://www.grandcanyon.org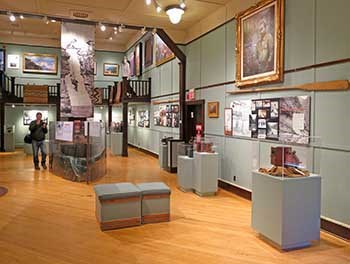 "The Amazing Kolb Brothers" exhibit will run through Sept. 8, 2020.
Take a
virtual tour
of this exhibit
here.

View Photos of Kolb Studio and recent historic renovation work

Learn about the Kolb Brothers Collection at Northern Arizona University
Additional South Rim Visitor Centers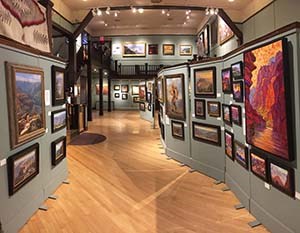 2020 Grand Canyon Celebration of Art
Hosted each year by the Grand Canyon Conservancy, the Grand Canyon Celebration of Art is an annual event that includes 6 days of art related events followed by a
3 month long exhibition in Kolb Studio
on the South Rim of Grand Canyon National Park.
This year's Celebration of Art format will be slightly different due to the COVID-19 pandemic and will take place mostly online, with some on-site events with social distancing protocols in place.
Details and updates here >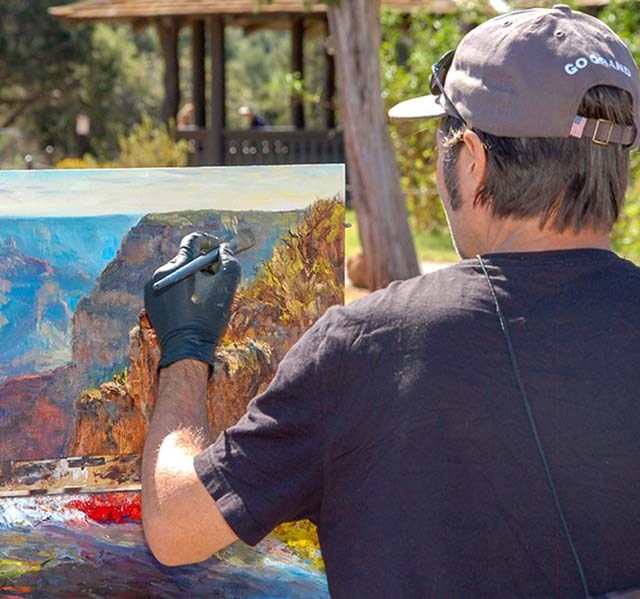 Every September
, park visitors and residents have an opportunity to watch artists paint Grand Canyon as they seek to represent the shifting light and shadow, amazing land forms, and vibrant colors of this vast landscape.
Each artist brings a completed studio piece with them and then spends a number of days creating more artwork on the South Rim, on the North Rim, at Phantom Ranch and at Indian Garden during the
Plein Air at the Canyon Event.
At the end of the week, on Saturday, the
Quick Draw Event
takes place in the historic district of Grand Canyon Village. During the auction that immediately follows the Quick Draw event, park residents and visitors have the opportunity to bid on the paintings that they watched being created that morning, and to bring a piece of Grand Canyon home.
"Plein Air on the Canyon Rim" September 12-19, 2020
Exhibition and Sale: September, 20, 2020 through January 18, 2021.

Proceeds from this event support the goal of funding an art venue at the South Rim of the Grand Canyon. This permanent home will ensure that future generations of park visitors will be able to view the stunning art collection in the Grand Canyon National Park Museum and Grand Canyon Association Collections.
.
Tentative 2020 Celebration of Art Event Schedule*
Friday, September 11 – Artists arrive for orientation and canvas stamping (afternoon)
September 12-18 – Artists paint onsite (in addition, scheduled public demonstrations in the park)
Friday, September 18 – All artists paint along rim between Mather Point and Trailview Overlook
Saturday, September 19 – Quick Draw event and auction (morning)
Sunday, September 20 – Opening Reception (morning)
Exhibition & Sale Sunday, September 20 through January 18, 2021
*Subject to change without notice due to COVID-19.
Visit our keyboard shortcuts docs for details
Duration:

1 minute, 20 seconds
Every September, a group of artists gather at Grand Canyon National Park for the Celebration of Art presented by Grand Canyon Association. Proceeds from the event go towards establishing a permanent art venue at Grand Canyon. Visitors may watch and learn from the Plein Air painters. (Video clip from "Grand Canyon a Journey of Wonder.")
More About the Kolb Brothers
In 1901, Ellsworth Kolb arrived at the rim of Grand Canyon by train. By October 1902, he had persuaded his brother Emery to join him. A year later, the brothers established their photography business near Bright Angel Trailhead after receiving permission from Ralph Cameron, who at the time owned Bright Angel Trail. They camped out in a small tent on the canyon rim before building a small wooden house in 1906, which they called Kolb Studio.
Over the next 12 years, the Kolb brothers established themselves as both photographers and adventurers. From capturing unorthodox photos of hard-to-reach areas of the canyon to documenting their 101 days running the Colorado River on film with a motion-picture camera, Ellsworth and Emery revealed images that few had dreamed of. Selling their images in leather-bound books for three dollars each and touring the country to present their film lecture series, the Kolb brothers made a name for themselves and opened the eyes of a nation to this wonder of the world.
For decades, the Kolb brothers continued to make a living out of Kolb Studio on Grand Canyon's South Rim. Later in life, when their contractual agreements with the park ended, the National Park Service actually wanted to demolish this studio in the 1960s. The architecture wasn't quite in line with the style and theme of other buildings in the park. After several years of quibbling between Emery and the agency, the structure was saved when Congress passed the National Historic Preservation Act in 1966, legislation that effectively protected park structures over 50 years old from being destroyed.
Continue reading
Kolb Brothers, Conflict on the Canyon Rim
,
Last updated: September 23, 2020