Humpback Chub Tributary Translocations
Visit our keyboard shortcuts docs for details
Duration:

6 minutes, 8 seconds
On June 23, 2010, 300 juvenile humpback chub were translocated to Shinumo Creek as part of a multi-year conservation experiment to establish a second spawning aggregation of this endangered fish in Grand Canyon National Park.
Humpback chub are an endangered species of fish
endemic to the Colorado River basin, with the largest remaining population in the world found in Grand Canyon National Park.The main spawning area for the Grand Canyon population is in the Little Colorado River. Humpback chub are specifically adapted to the unique characteristics of the Colorado River-high turbidity, and seasonally variable flows and temperatures. Significant threats to humpback chub survival in Grand Canyon remain, including the presence of non-native fish and parasites, altered temperature and flow regimes, as well as the potential for a large-scale disturbance in their main spawning site.
In 2009, the National Park Service began a project to translocate juvenile humpback chub from the Little Colorado River to other Grand Canyon tributaries. These translocations are part of a comprehensive conservation effort to help ensure that this native fish continues to survive in Grand Canyon. Tributary translocations may lead to satellite spawning populations of humpback chub and may increase the number of humpback chub that live in the mainstem Colorado River.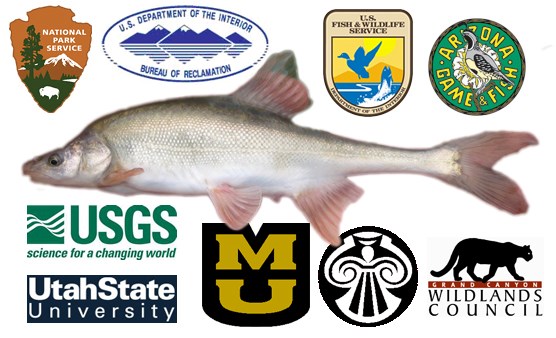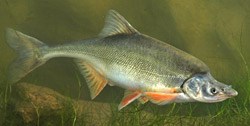 The humpback chub (Gila cypha) is an unusual-looking member of the minnow family that is endemic, or native to the Colorado River basin. These fish, which can live as long as 30 years and reach lengths of almost 20 inches, are characterized by large fins and pronounced humps behind the heads of adults.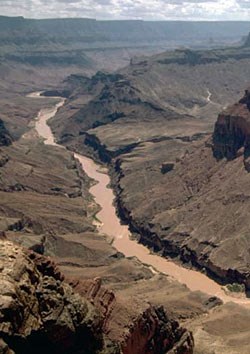 The humpback chub is one of eight species of fish native to the Colorado River in Grand Canyon National Park. Six of these fish species are also endemic to the Colorado River basin. The Colorado River has the highest percentage of endemic fish of any river system in the United States because of the basin's unique geology and hydrology.
Like the other endemic fish, the humpback chub is specifically adapted to natural conditions of the Colorado River-high turbidity, and seasonally variable flows and temperatures. Humpback chub are found in deep, swift canyon reaches of the Colorado River and its large tributaries.
Relatively little is known about the population of this fish in Grand Canyon prior to the closure of Glen Canyon Dam. Today, there are only six significant populations of humpback chub remaining in the Colorado River basin, with the largest remnant population in Grand Canyon.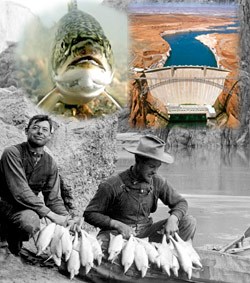 The humpback chub was first listed as an endangered species in 1967 and today is protected under the Endangered Species Act. The decline in the humpback chub populations is due to a variety of significant human-caused changes to aquatic habitat in the Colorado River basin.

In Grand Canyon, humpback chub face a dam-altered ecosystem as well as competition with and predation by non-native fish such as rainbow and brown trout that thrive in the clear cold waters of the post-dam Colorado River. Nonnative parasites such as the Asian tapeworm and the possibility of a catastrophic event such as a hazardous materials spill into the Little Colorado River are also significant threats.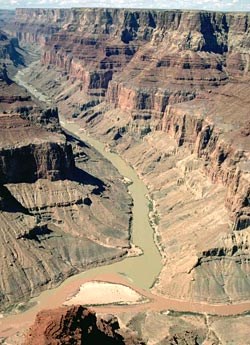 Humpback chub spawn in the Little Colorado River where warm water and suitable spawning habitat is available, while water released from Glen Canyon Dam in the Colorado River is too cold for successful reproduction. The conservation of this endangered species is a critical component of Colorado River management in Grand Canyon, and the establishment of additional reproducing humpback chub populations below Glen Canyon Dam would be an important forward step towards recovery.

Historically, humpback chub would have used other tributaries besides the Little Colorado River, but currently may be excluded from such tributaries due to competition and predation by non-native fish species. Successful translocations of humpback chub within the Little Colorado River into previously unoccupied habitat above a set of barrier falls set a precedent for a potentially successful translocation in other Grand Canyon tributaries that provide suitable habitat.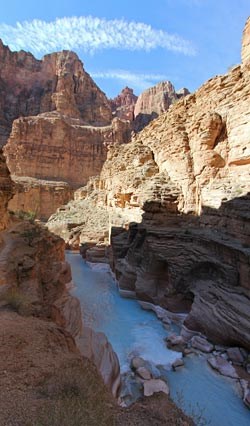 Tributary translocations are a multi-faceted recovery tool for native fish. First, they may lead to the establishment of additional spawning populations of humpback chub in Grand Canyon, thereby increasing the species' odds of survival in the canyon. Tributaries also provide rearing, or grow-out, habitat for young chub. Fish that are larger when they reach the river have a greater chance of survival due to their increased size and may add to the number of humpback chub that live in the Colorado River itself.
Prior to the translocations, researchers identified the Grand Canyon tributaries most likely to support humpback chub. Tributaries were evaluated on the basis of water quality, temperature, flow, fish barriers, and proximity to the reaches of the Colorado River where wild humpback chub are found. Baseline surveys of existing fish populations were also completed in each tributary prior to translocation. Havasu, Shinumo, and Bright Angel creeks were identified as the Grand Canyon tributaries most suitable for humpback chub. Non-native rainbow trout were removed via electro-fishing and angling from Shinumo Creek in order to reduce potential predation on the translocated humpback chub.

The young humpback chub that were released in Shinumo and Havasu creeks were collected the previous years from the Little Colorado River, flown out of the canyon via helicopter, and driven to the Bubbling Ponds Native Fish Facility (operated by the Arizona Game and Fish Department in Cornville, Arizona) or to the U.S. Fish and Wildlife Service's Dexter National Fish Hatchery and Technology Center, in Dexter NM. There, the fish were treated to remove parasites and kept overwinter. Prior to translocation they weregiven flow training to reacquaint them to river life, weighed and measured, and implanted with unique PIT (passive integrated transponder) tags to individually identify them and track their growth and movement. On translocation day, humpback chub were flown via helicopter to the release sites in Shinumo and Havasu Creeks where they were acclimated to creek water and released.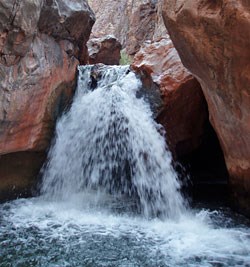 Shinumo Creek is a small, clear tributary stream that joins the Colorado River at approximately River Mile 109. It is fed by springs in the Redwall Limestone and other aquifers and by surface flow from the North Rim, especially during spring snowmelt. Shinumo Creek averages about 13 ft (4 m) wide, has dense vegetation along the shoreline, and a good abundance of aquatic and riparian invertebrates.


One of the most important features of Shinumo Creek for the translocation project is the presence of barrier falls just above its confluence with the Colorado River. The 15 feet (5 m) waterfall isolates acceptable humpback chub habitat in Shinumo Creek from non-native predatory fish in the Colorado River.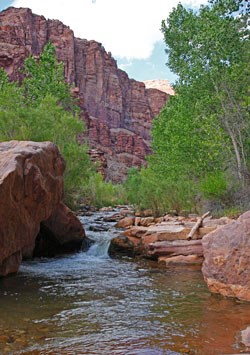 Upstream of the fish barrier, two species of native fish, speckled dace and bluehead suckers, and only one non-native species, rainbow trout, live in the stream. Native fish are more abundant than rainbow trout in Shinumo Creek.

A total of 902 humpback chub were translocated to Shinumo Creek starting in 2009, when 302 young chub were released into the creek in the first translocation of humpback chub within Grand Canyon National Park. In 2010 and 2011, 300 additional chub were translocated each June.
Data collected during monitoring efforts are currently being analyzed to assess the annual survival, growth, and movements of translocated humpback chub
.
Humpback chub released in 2009 and 2010 were recaptured by fisheries crews during monitoring. Data on each fish, including size and weight, is collected prior to releasing the fish back into the stream.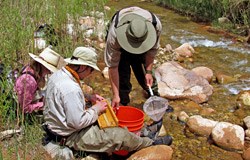 The size and weight measurements reveal that annual growth rates of translocated humpback chub in Shinumo Creek are comparable to, or higher than growth rates in either the Little Colorado River or the Colorado River. As of 2011, some humpback chub released in Shinumo Creek have reached minimum spawning size, which happens at three to four years of age. The next milestone for the Shinumo population will be the observation of spawning behavior or the capture of untagged juvenile fish.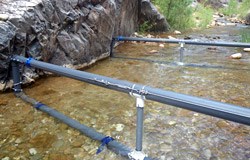 According to data collected by a PIT tag antenna installed in Shinumo Creek, approximately half of the released chub have left the creek since translocation. Most fish that leave do so in the days immediately after translocation, which is to be expected. While the barrier waterfall just above the confluence with the Colorado River keeps non-native predatory fish out of Shinumo Creek, it also prevents humpback chub that go over the falls from returning to the creek.
Emigration out of the creek and predation by non-native rainbow trout in Shinumo Creek remain concerns for long-term success of the project there. Biologists will continue to monitor humpback chub in Shinumo Creek in 2012.
Some translocated fish that left Shinumo Creek appear to be living in the Colorado River. In September 2010, biologists from Grand Canyon Research and Monitoring Center and U.S. Fish and Wildlife Service captured 27 chub from the Shinumo translocations in the Colorado River, suggesting that translocations may contribute to humpback chub numbers in the Colorado River.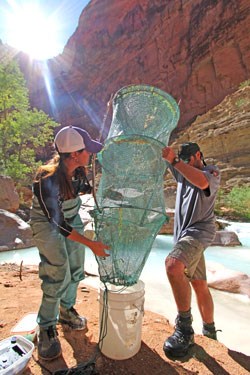 Havasu Creek is very similar in physical habitat and water chemistry to the Little Colorado River, where most humpback chub are found, making it an ideal location to expand on the translocation effort. The Havasu Creek translocation site is below Beaver Falls inside of the national park boundary.
Fisheries biologists completed a baseline survey in Havasu Creek in 2010; native bluehead suckers and speckled dace were captured along with a few non-native rainbow trout. While no humpback chub were found during the 2010 survey or in previous surveys, eight mature humpback chub were captured in Havasu Creek just prior to the translocation of juveniles in June. It is unknown whether these wild fish were spawned in the river or in the creek itself, but their presence demonstrates that Havasu Creek provides good humpback chub habitat.
On June 28, 2011, 243 juvenile humpback chub were translocated to Havasu Creek in the first of three planned releases to take place from 2011-2013. A large number (greater than 40%) of translocated chub were captured during monitoring in October, and preliminary data indicate that the fish have an extremely high growth rate-higher than in Shinumo Creek.
Unlike in Shinumo Creek where a PIT tag antenna array was installed to monitor movement and survival of the translocated fish, no array was installed into Havasu Creek. Instead, fisheries crews are testing the use of portable PIT tag sensors during monitoring trips.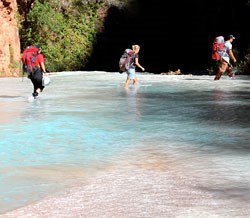 Logistics of the fisheries work in Havasu Creek are designed to minimize interference with boaters at the mouth of Havasu Creek and with the wilderness characteristics of the area.

For field work, crews are either dropped off at the mouth by an already-scheduled river trip and hike out to Hualapai Hilltop, or hike in and out of the field site.

Helicopter transport of the humpback chub was determined to have the least impact to park resources and visitor experience, while minimizing stress to the fish.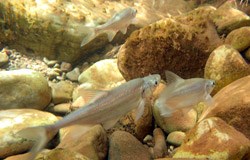 There are no closures at Havasu or Shinumo Creek because of these translocations. Anglers in these creeks should become familiar with the identifying characteristics of humpback chub to avoid any accidental capture of the translocated chub.

Young humpback chub are silver and have small eyes and large fins, but have not yet developed the pronounced hump behind their head. If any endangered humpback chub are incidentally caught, they must be immediately released unharmed.
Flash video: translocated chub swimming in Shinumo Creek
Canyon Sketches Vol 23 - September 2011
2011 Humpback Chub Translocations to Havasu and Shinumo Creeks
In June 2011, Grand Canyon National Park took another major step in the effort to restore native fish populations in the Grand Canyon with the release of 243 juvenile humpback chub into Havasu Creek. Translocations to tributaries may establish additional spawning populations of this endangered species in Grand Canyon or add to the number of humpback chub living in the Colorado River.
Last updated: February 7, 2018