Fisheries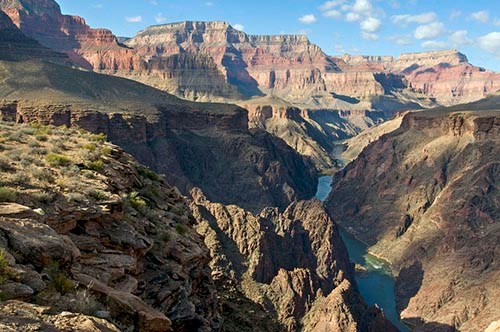 The Colorado River running through Grand Canyon once hosted one of the most distinctive fish assemblages in North America. The wild Colorado River presented fish with a challenging and variable aquatic habitat: very large spring floods, near-freezing winter temperatures, warm summer temperatures, and a heavy silt load.

As a result, only eight fish species were native to Grand Canyon. Of the eight species, six are endemic, meaning that they are only found in the Colorado River basin.

Many of these Colorado River specialists share distinctive physical characteristics: large adult size, small eyes and skulls, thick leathery skin, and a distinctive hump or keel behind the head.
Based on anecdotal reports from early researchers, it is likely that native fish populations in Grand Canyon began to decline as early as the 1890s. Today, only five of Grand Canyon's native fish are still found in the park. The humpback chub, a large and unusual-looking member of the minnow family specifically adapted to the deep swift reaches of the Colorado River, is listed as an endangered species. Razorback suckers, also listed as endangered, are very rare within the park.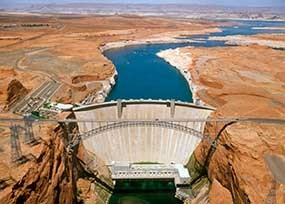 Native fish in Grand Canyon face a myriad of threats today
, including non-native fish and the alteration of their river habitat by Glen Canyon Dam. National Park Service Management Policies require that native species and natural ecosystems are preserved, and that recovery actions are taken when park resources have been damaged or compromised.
Furthermore, a variety of laws, including the Endangered Species Act, require the protection of threatened and rare species.

The National Park Service and its cooperators have initiated a multi-faceted program to restore native fish in Grand Canyon.

This program includes translocating humpback chub to Shinumo and Havasu Creeks, which are Grand Canyon tributaries that provide suitable habitat for the species.

Park biologists are removing non-native trout in Bright Angel Creek and Shinumo Creek in an effort to restore native fish and habitat to these larger perennial tributaries.

Grand Canyon's native fish are an integral and unique part of the canyon's natural ecosystems. Robust populations of native fish are important indicators of an aquatic system's overall health.

Restoring native fish to the extent possible in the Colorado River and its tributaries in Grand Canyon is essential to maintaining and enhancing the ecological integrity of Grand Canyon National Park.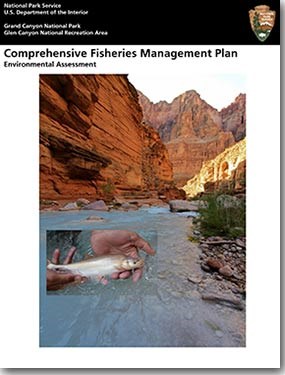 Fisheries Management Plan
The National Park Service (NPS) released a Finding of No Significant Impact (FONSI) on December 9, 2013 for the Comprehensive Fisheries Management Plan for the Glen Canyon reach of the Colorado River below Glen Canyon Dam within Glen Canyon National Recreation Area (GLCA), and for all waters within Grand Canyon National Park (GRCA).

The plan takes a long-term comprehensive approach for fisheries management in waters between Glen Canyon Dam and Lake Mead within GRCA and GLCA, with the goals of maintaining a balance between a quality recreational fishing experience in the Colorado River below Glen Canyon Dam, known as the Lees Ferry area, while preserving and restoring the unique native fisheries within GRCA.

https://parkplanning.nps.gov/projectHome.cfm?projectID=35150
Last updated: February 14, 2021