Air Quality at Grand Canyon National Park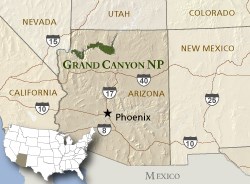 Most visitors who come to national parks expect clean air and clear views.
However, Grand Canyon National Park (NP), Arizona, world-renowned for its breathtakingly iconic views, lies downwind of polluted air from coal-fired power plants in the Four Corners region, nearby mining, and urban and industrial pollutants from Mexico and California.

Air pollutants carried into the park can harm natural and scenic resources such as forests, soils, streams, fish, and visibility.
How is air pollution is affecting Grand Canyon National Park, and what is the National Park Service doing about it? __ Learn more here...
The
Grand Canyon National Park
Webcam
(top left) offers a window into the sights, weather, air quality and seasonal changes that the park is experiencing.
The two images on the right, are of the
San Francisco Peaks
about 60 miles southeast of the Grand Canyon, and just north of Flagstaff, Arizona. The San Francisco Peaks may be seen from both the North and South Rims of Grand Canyon National Park. The I-40 webcam (lower left) provides a view of current freeway conditions in the Flagstaff, Arizona area. Many visitors to Grand Canyon travel on Interstates 40 and 17 and pass through Flagstaff during their trip.
Last updated: February 24, 2015