Policy & Planning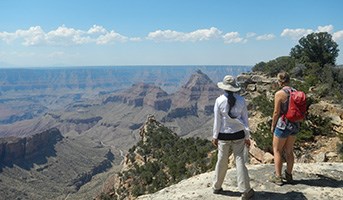 The National Park Service (NPS) is responsible for controlling air pollution sources within NPS boundaries. And, because the majority of air pollution affecting parks comes from outside NPS boundaries, we also have a role in the nation's air quality management.
NPS air specialists and resource managers participate in stakeholder forums to review and advise development of air quality management policy. We also review proposed regulations, air pollution permits, and state and federal plans related to air pollution. Policies, regulations, and partnership activities are the main ways that the NPS is able to reduce and avoid harmful effects of air pollution on parks.
Regulations & Policies
U.S. laws, including the Clean Air Act, seek to reduce or eliminate air pollution in parks. National Ambient Air Quality Standards are designed to protect human health and welfare. Emissions reductions to meet the national standards have improved visibility and air quality in national parks. The Clean Air Act Amendments of 1977 provide special protections for 48 NPS Class I areas. As part of this, the prevention of significant deterioration (PSD) program outlines permitting requirements including NPS evaluation of potential air pollution impacts to Class I areas. (See the NPS Role in Permit Review section to learn more.) The 1977 Amendments also emphasized visibility protection in Class I areas and have resulted in additional emissions reductions and visibility improvements. Learn more about visibility and regional haze programs »
The 2006 NPS Management Policies provide an additional layer of support for NPS air quality protection stating that we will seek to "perpetuate the best possible air quality in parks" (Section 4.7.1).
NPS and Other Agency Planning
Based on NPS management policies, internal park planning should identify air pollution impacts, and solutions for making sure that clean air and clear views are protected unimpaired for future generations. In addition, we work with federal, state, and local agencies so that that their planning, permitting, and regulatory decisions do not harm park resources. Learn more »
Partnerships
The NPS has successfully reduced air pollution effects on park resources by working with air regulatory agencies, stakeholders, and other federal land managers. Cooperative conservation partnerships are key for success in these efforts.
Last updated: January 29, 2018