Selected Artists - North Rim - 2013
Archive of Past Artist - for reference only

At the close of the 2017 Season, Both North Rim and South Rim AiR Programs will be been suspended indefinitely.
You may check this webpage periodically for updated information. If you have further questions, you may email us at GRCA_AiR@nps.gov
Click HERE for south and north rim News Release announcing selected artists for our upcoming Artist-in-Residence season!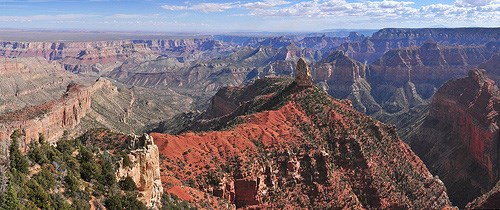 The North Rim Jury Panel
Gaelyn Olmstead - NPS Ranger; jewelry/beadwork
Jacob McFee - NPS Ranger; musician
Jessica Pope - NPS Ranger, musician
Nancy Varga - NPS - VIP Ranger, photographer
Heidi Blankenship - NPS Ranger, writer/poet
Mary Telles - Grand Canyon Association, jewelry/beadwork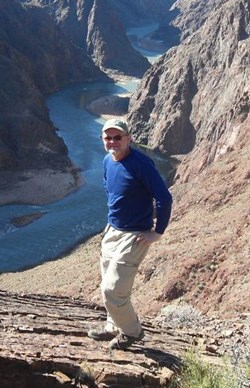 Writer Rick Kempa from Rock Springs, Wyoming, will be in-residence from June 19th - July 9th, 2013.
A poet and essayist, Rick has been hiking in and writing about the Grand Canyon since 1974. Rick has published two collections of poetry, Ten Thousand Voices (Oakland: Littoral Press, 2013) and Keeping the Quiet (Shoreline, WA: Bellowing Ark Press, 2008). A letter-press broadside "What the Canyon Teaches," featuring one of his poems and artwork by Sharon Dolan, was published by Littoral Press in 2011. He is currently editing two anthologies of Grand Canyon writing, one of poetry with colleague Peter Anderson, the other of essays about hiking in the Canyon, which will be published by Vishnu Temple Press. Rick served as Artist-in-Residence at the South Rim in August 2010 and at Hubbell Trading Post in Ganado, AZ in July 2011. He teaches writing and philosophy and directs the Honors Program at Western Wyoming College.
While in residence, Rick will be working on a collection of essays about his lifetime of Canyon hiking, as well as, he says, "writing the inevitable poems." In addition, he will give three performances of his program, "Beneath the Rim: Stories and Pictures from Inside the Grand Canyon."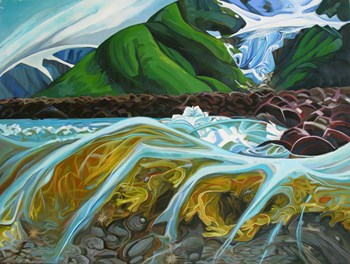 Oil, charcoal, gouache/watercolor artist Kathy Hodge from Riverside, Rhode Island, will be in-residence July 17th - August 6th, 2013.
Kathy's rich and lush mixed media landscape paintings are influenced by the stark organic forms of the salt marshes and the natural landscape which surrounds her home. Kathy has a love for wilderness, and spanning 20 years beginning in 1993, she has been an artist-in-residence at nine National Parks; Rocky Mountain National Park, Colorado; Cape Cod National Seashore, Massachusetts; Acadia National Park, Maine; Apostle Island National Seashore, Wisconsin; Glacier National Park, Montana; Badlands National Park, South Dakota; Mesa Verde National Park and Great Sand Dunes National Park, both in Colorado; Petrified Forest National Park, in Arizona. She also was in residence in the Chugach National Forest as part of a Forest Service artist-in-residence program, which was spent in the back-country of the Prince Williams Sound ecosystem. In addition to painting the astounding natural landscapes of our public lands, Kathy has done a series of architectural paintings of Rhode Island historic churches, and has an on-going series of paintings focused on early American industrial equipment and machinery. Her work as been broadly exhibited in Rhode Island and nationally, in both solo and group shows.
While in-residence, Kathy will be offering one all-ages charcoal workshop (materials provided) focused on helping people learn how to capture the complex landscape of the north rim. She will also conduct informal, drop-by plein air painting demonstrations, and will present one evening program artist talk.

Kathy will spend the bulk of her residency time co
ntinuing her series of National Park residency landscape paintings, exploring the north rim ecosystem, and plans an inner-Canyon hike.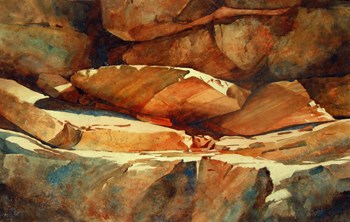 Watercolor and mixed-media artist Gloria Miller Allen from Idaho Falls, Idaho, will be in-residence August 14th - September 3rd, 2013.
Gloria's richly colored and keenly observed landscape paintings capture both the intimate and the grand details of place. Gloria pursues a great variety in her choice of subjects, ranging from a pile of rocks to a crowd of people, and prefers to work in Plein Air. Whatever the subject, her main interest is focused on formal elements such as design, value and color. Her work is often large-scale, and although her main medium is transparent watercolor, she also works in acrylic, and creates mixed-media pieces. Largely self-taught, Gloria's work has been exhibited nationally and internationally since 1977. Gloria is also the author of a painting, original poetry and inspirational art-making book titled I Think, Therefore I Art (2012). She's been an Artist-in-Residence at Zion National Park's and has participated in their annual Plein Air festival for the past two years.
While in-residence, Gloria intends to do small plein air studies of Grand Canyon landscape, which she will use as sketches for larger studio pieces. These small daily paintings will serve as a visual journal of her residency, and will include her original poetry. For her public programs, Gloria will present family-friendly and informal power point artist talks, during which she'll discuss her residency experience and share her poetry and visual art, showing sequential images of her paintings in-process.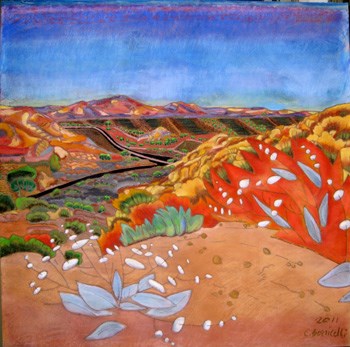 Dyes and pastels on silk artist, Carole Bonicelli from Brewster, New York, will be in-residence from September 4th - 24th, 2013.
Carole's gorgeous, jewel-tone, mixed-media silk paintings reflect her love of wilderness and her on-going interest in examining humanity's place in the world. She's interested in the idea that a lifetime spent in keen observation of landscape is much like being a time traveler who witnesses geologic events. The layers of rock formations, dotted with trilobites show the profound changes that have occurred in places like the Grand Canyon, and are evidence of the continued evolution of our planet. The universal human impulse to create mythology, invent rites and perform ceremonies that explain the mysteries of life, are evidence of how people create cultural context of their world, and result in environment stewardship and preservation. Carole paints the landscape, but her intention is to express the thrill any person experiences when they have deep engagement with the minute and the monumental. Carole's work is about these heady ideas, and also expresses what she sees is a social imperative to speak to the future by reinterpreting the powerful primordial images of our collective past into a visual language that contemporary society finds relevant. Her dazzling paintings capture this moment in time and place, with the idea that one day they'll allow future generations to do some time travel of their own.
While in-residence, Carole will present a formal artist talk about her work, offer opportunities for park visitors to meet and with her during informal plein-air sessions on the rim, and will lead one all-ages hands-on workshop, allowing participants to play with the materials she uses in her landscape paintings.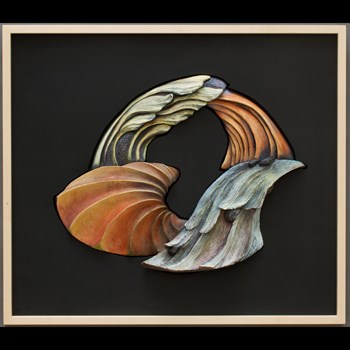 Ceramic sculptor and photo journalist Maria Simon, from Portland, Oregon, will be in-residence from September 25th - October 15th.
Maria's elegant and lyrical ceramic bas-relief sculptures evoke the rhythm, light, sensuality, and color found in the landscapes that inform her work. Her large-scale, low-fire pieces are both bold and quiet - their meditative presence has made her work a natural fit for health care facilities, creating a stillness that is both emotionally charged and quietly calming. In her youth Maria attended classes at Chicago Art Institute, and later earned her BFA in sculpture and printmaking at Washington University's Steinberg School of Fine Arts in St.Louis, Missouri. While studying in Florence, Italy, she studied classical sculpture at L'Accademia d'elle Arte; an experience that taught her "how to see".
Maria's work is widely collected by both private individuals and corporate clients, appearing in permanent collections that include Hyatt Regency in Chicago, Skamania Lodge in the Columbia River Gorge, Stevenson, WA; and Barran-Liebman Attorneys-at-Law, Portland, OR. Her work has been commissioned for public art projects, including the City of Portland, Oregon's Columbia Water Treatment Plant; and NW Housing Alternative's Oakridge Senior Housing Development in Lake Grove, OR. Maria exhibits her work nationally and internationally, including the prestigious Festival of Clay and Fire, hosted at the Contemporary Art Museum of Sapporo, Japan.
An arts educator, Maria spent 21 years working with school-age children as an artist-in-residence through Young Audiences and The Regional Arts and Culture Council. She now conducts free-lance workshops for adults and loves most to invite students to eschew their judging minds, and to really play.
While in-residence, Maria will present one artist talk Evening Program, a family-friendly hands-on workshop on mask-making, and an informal artist-led photo/sketch walk. While at the North Rim, Maria intends to create sketches and to keep a daily photo journal, which she'll then use to create ceramic work inspired by the natural forces that have carved the Grand Canyon landscape.
Last updated: September 28, 2016