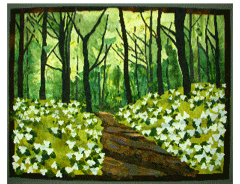 Fiber artist Terry Kramzar (www.terrykramzar.com) is the artist-in-residence May 20th through June 9th.
Terry is an art quilter living in Kennett Square, Pennsylvania. Originally from the mid-west, Terry received a BS degree in Education from Northern Illinois University and teaches workshops at the adult level. She exhibits widely in juried and invitational shows and her quilts can be seen in numerous publications including QuiltArt Calendar and the recently released Lark Books, 500 Art Quilts: An Inspiring Collection of Contemporary Work. She has garnered many awards and recognitions, and her work is in private and corporate collections in the U.S. and Europe. Terry maintains a studio in the beautiful Wyeth country of the Brandywine Valley.
Terry: "Art is about connections, and fiber art is a particularly comfortable platform for visual and verbal communication because it builds on traditions so close to human needs. People are drawn to the scale, color and composition and are curious and fascinated by the process. My work is about immersion in the natural world, projecting a peaceful, reminiscent quality of journeys, both inner and outer travels. Constructing the quilt becomes a meditation about where I've been and what I've seen. I'd like to show viewers my experience of the beauty of our natural world."
While in residence, Terry will conduct three hands-on workshops, inviting park visitors to capture an impression or experience of the Grand Canyon by creating a fabric postcard that could be mailed through the U.S. Postal Service or framed or saved as small personal works of art. This project will introduce fabric as an art medium and focus on the unique canyon environment as a place of wonder.
Terry has been asked to contribute an art quilt depicting a full size condor to hang in the North Rim Visitor Center. She plans to spend her time in-residence hiking and backpacking in the canyon, taking photographs, sketching, recording colors and gathering information to become acquainted with these majestic birds and the landscape they inhabit. She will take thse visual images and impressions home to work in her studio, where she will complete this ambitious project.