Marin Headlands Accessibility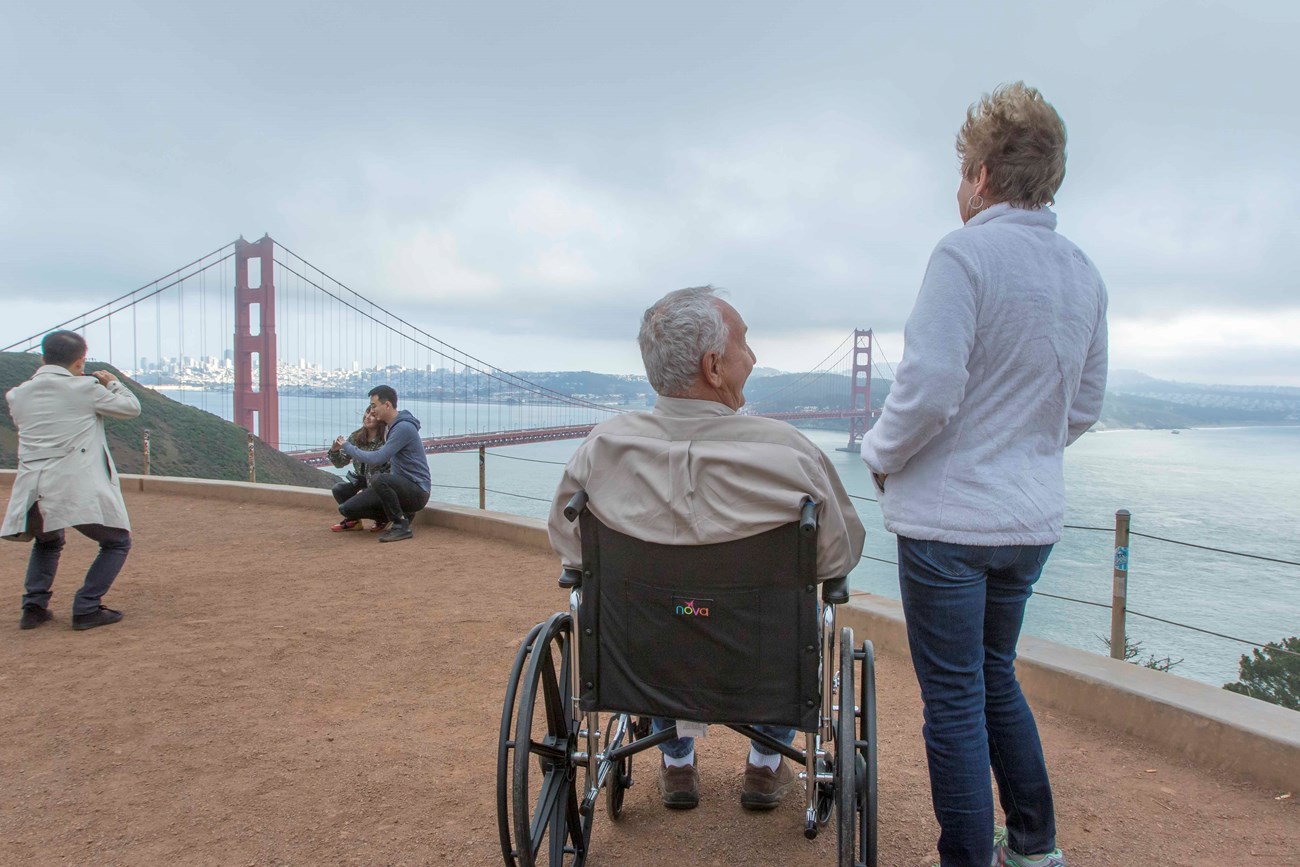 Accessible Features
Accessible Parking at Many Locations

Accessible Restroom Facilities, Vault Toilets and Portable Toilets

Accessible Overlooks

Accessible Picnic Area

Beach wheelchairs are available upon request.
Upon Arrival
Marin Headlands is a vast area located just North of the Golden Gate Bridge. To obtain hiking or driving directions, as much of the park is accessed by vehicle, call rangers at 415-331-1540. Click here for a map.
Inside the Park
Northwest Bridge Parking Lot:
This parking lot contains two accessible parking stalls.
Battery Spencer:
Battery Spencer is a heavily visited site. There are two accessible parking stalls and the overlook adjacent to the parking area contains an accessible surface and accessible benches. The trail beyond is this area is usable. On your right, you will encounter an accessible vault toilet. As you proceed along the trail the running slope will increase drastically, please proceed with caution.
Overlooks:
If you continue past Battery Spencer there are accessible overlooks that contain accessible parking stalls and benches.
Kirby Cove Campground:
Kirby Cove contains an accessible camp site which includes accessible parking, raised tent pads, accessible picnic table and firepit. The surface material around the site and to the accesible vault toilet is firm and stable. There is also an accessible Day Use area which contains accessible parking, picnic tables and grills. Adjacent to the Day Use area is an accessible overlook area with beautiful views of the Golden Gate Bridge. To make reservations please call 1-877-444-6777 or go online: https://www.recreation.gov.
Conzelman Road Roundabout:
Adjacent to the roundabout is a parking lot that contains an accessible parking space and an accessible vault toilet.
Hawk Hill Overlook:
Hawk Hill provides visitors with accessible parking stalls, curb ramps, accessible portable toilet and accessible routes throughout the overlook.
Upper Fisherman's Parking Lot:
The area contains an accessible parking space and accessible vault toilet
Point Bonita:
As you arrive at Point Bonita turnaround you will find accessible parking stalls and accessible vault toilets. The trail leading to the Point Bonita Lighthouse contains extreme running slopes. Point Bonita offers a cell phone tour. Click here for more information about Point Bonita.
Battery Mendell:
Accessible parking is available at the Point Bonita turnaround along with an accessible portable toilet. The trail leading to Battery Mendell is generally accessible.
Battery Alexander and Battery Smith-Guthrie:
There are two accessible parking spaces, an accessible vault toilet, accessible outdoor route to the trailhead and an accessible trail loop that is approximately 1/2 of a mile. About half along the trail there is a viewing area which includes an accessible bench. Here you will see beautiful views of the ocean and Fort Cronkhite.
Battery Wallace:
There is an accessible parking stall, vault toilet and picnic area at Battery Wallace. The picnic area contains three accessible picnic tables located in accessible routes. There three additional accessible tables located on concrete pads that are not connected to accessible routes. There are accessible bbq grills as well.
Nike Site:
Click here to visit the Nike Missile Site Accessibility page.
Fort Barry Bathrooms:
As you arrive at the parking lot off of Field Road, you will find a designated accessible parking space. To the left is a restroom facility that is generally accessible. On your right is a ramp leading to some picnic tables. This ramp has an excessive running slope, please proceed with caution.
Rodeo Valley Trail:
This is an accessible trail that is approximately 1.5 miles. The surface is a compacted chert. The trail contains grades less than 8.33% and cross slopes less than 3%. There is no designated parking for this trail; however, there is a usable area for which a visitor can park adjacent to building T1111, northeast of the Rodeo Lagoon.
Rodeo Beach:
As you pass the Rodeo lagoon you will arrive at a large paved parking lot. Here there are accessible parking stalls, an accessible restroom facility and an accessible picnic area. There are additional accessible parking stalls located near the beach entry point.
There is an accessible trail leading to the Lagoon Bridge. At the top of the trail is a lookout point with two accessible benches. Besides this trail, you will find beach wheelchairs available upon request. Across the Lagoon Bridge you will find a season beach access mat. Beach mats provide a firm and stable surface on top of the sand. Due to the dynamic coastal environment the slopes of mats may be steep at times. Please proceed with caution.
Fort Cronkhite:
Click here to request a beach wheelchair.
Most of the historic buildings within Fort Cronkhite are not open to the public or are managed by our park partners. If you are trying to access one of our park partner buildings, please contact them directly.
Departure
Click here for more information about the Marin Headlands. Golden Gate National Recreation Area strives for full and equal participation for all visitors and continually upgrades facilities to make them more accessible. Please feel free to e-mail us comments and suggestions.
Upcoming Projects:
Hawk Hill:
A project is underway that will provide an accessible route and trail to Hawk Hill. The project will also address the accessibility issues pertaining to the waysides. Design Documents have been created.
Point Bonita:
Golden Gate National Recreation Area is investigating programmatic alternatives to increase access to the Point Bonita Lighthouse.







Last updated: April 14, 2022