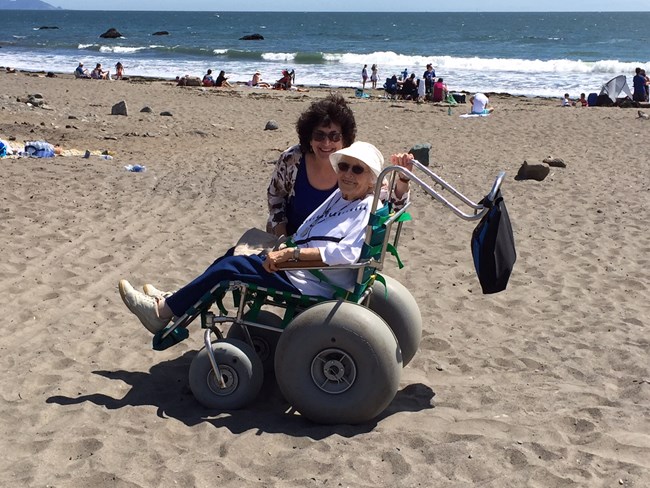 Beach Wheelchairs are available upon request, please provide at least 5 days advanced notice. We will try our best to accommodate day of requests; however, we cannot make any guarantees that the staff or chair itself will be available. Please call or email us to make arrangements. We have beach wheelchairs available on-site at Stinson Beach, Muir Beach, Rodeo Beach, and Baker Beach. You may also make arrangements to pick up a chair at our headquarters building in Fort Mason, San Francisco Monday - Friday 8:30am - 4:00pm.
At Stinson Beach there are two beach wheelchairs located in the central parking lot. Due to recent storm activity the safest access point on to the beach is located at the Northernmost entry in the North Parking Lot. This entry provides a smooth transition from the parking lot to the beach. Dogs, other than service animals who are performing a service, are not allowed on the beach.
At Muir Beach there are two beach wheelchairs located in a storage shed attached to the restroom building. To access the beach cross over the pedestrian bridge, turn right onto the accessible trail. Where the accessible trail ends, beach mats begin. Proceed with caution on the beach mats, the dunes are steep. Dogs are allowed on the beach on leash or under voice control.
Rodeo Beach provides two beach wheelchairs which are located in lockers adjacent to the accessible parking spaces. Once you retrieve the chairs you will proceed down an accessible trial which leads to a pedestrian bridge, past the bridge are seasonal beach mats. The ocean waves at this beach can be dangerous, proceed with caution.
At Baker Beach there are two beach wheelchairs located in the North Parking Lot near the entrance to Battery Chamberlin. The beach access point located next to the Battery Chamberlin entrance provides entry that is approximately 8% in grade.
Crissy Field has two beach wheelchairs located at East Beach in the parking lot near the Crissy Education Center. The storage sheds are located next to two accessible parking spaces. East Beach also has a seasonal beach mat available.
Other Beaches:
Beach Wheelchairs are not available on-site at Ocean Beach. Chairs can be picked up at Fort Mason in San Francisco. To access the beach in a beach wheelchair there is a very steep ramp located at Stairwell 15 near the intersection of John F. Kennedy Dr. and the Great Hwy, proceed with caution.
For more information, please contact Richard De La O, Accessibility Program Manager, 201 Fort Mason, San Francisco, CA 94123.
Voice: (415) 561-4958
Individuals who are deaf, hard-of-hearing, deaf/blind or have speech disabilities may use the following Federal Relay Service numbers:
(800) 877-8339 Federal Relay Service
(877) 877-6280 VCO
(877) 877-8982 Speech to Speech
(800) 845-6136 Spanish
(866) 893-8340 TeleBraille
Click here to email us at goga_accessibility@nps.gov