News Release
Golden Gate National Recreation Area Reclaims Highest Annual Visitation in 2018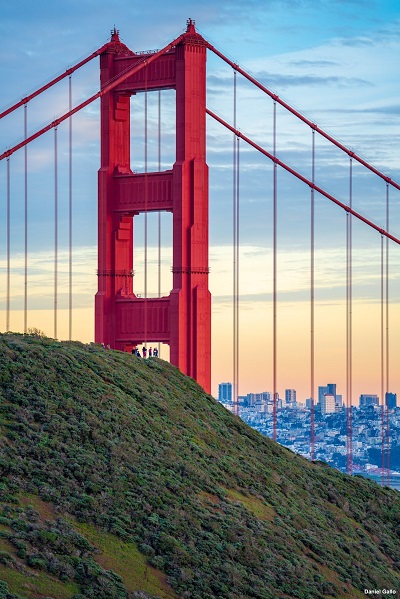 News Release Date:
March 11, 2019
Contact: GGNRA Public Affairs, 415-561-4732
Golden Gate National Recreation Area's natural scenery, significant historical sites, and proximity to bustling cities make it a prime destination for tourists and locals alike. In 2018, 
Golden Gate National Recreation Area
 was the highest visited national park site in the country at 15,223,697 visits.
Golden Gate National Recreation Area also manages iconic sites such as Muir Woods National Monument, Alcatraz Island, Fort Point National Historic Site, Crissy Field, Marin Headlands, Stinson Beach, Fort Mason, Ocean Beach, Fort Funston, Sweeney Ridge, Mori Point, and more.
Said General Superintendent Laura Joss, "We are thrilled to provide an exceptional national park experience to our communities and visitors from all around the world. Our talented National Park Service staff and thousands of dedicated volunteers are committed to providing a wide range of experiences at park sites and in our communities.You can see spectacular views of the Golden Gate Bridge, visit Alcatraz Island, have a picnic by the bay, or go for a quiet walk. Our parks are for everyone, and it is great to see our visitation reflect that. We invite our visitors to bring their family for Junior Ranger activities or volunteer for a beach activity sometime soon."
To meet the needs of local communities, as well as national and international visitors, Golden Gate National Recreation Area works with volunteers, park concessions, and partners to provide amazing national park experiences. An important partner, the
Presidio Trust
, manages almost 1200 acres of the historic Presidio, and provides important historic preservation and visitor services on this former military post, within view of the Golden Gate Bridge. The
Golden Gate National Parks Conservancy
, a nonprofit membership organization, was created to help preserve the park, enhance the experiences of park visitors, and build a community dedicated to conserving the parks for the future. "Our national park system is often called America's best idea," said Greg Moore, President and CEO of the Golden Gate National Parks Conservancy. "Over nearly 40 years of our partnership with the National Park Service, our staff and volunteers have been honored to help bring this idea to life in the Golden Gate National Parks. Through this partnership, we have worked together to create remarkable experiences for visitors from around the globe and here at home, and steward the parks for the next generation of visitors. These experiences at iconic places provide enjoyment and inspiration, help us grow, and connect us to our history and to each other." In 2018, more than 20,000 community volunteers supported park cleanup and restoration projects, and this number continues to increase.
Stretched across 86,000 acres north and south of the Golden Gate Bridge, this amazing park constitutes one of the largest national parks adjacent to a major metropolitan area. All within significant landscapes which create a "biodiversity hot spot" designated by UNESCO, in 19 separate ecosystems within 7 distinct watersheds and 91 miles of bay and ocean shoreline. The parks feature 37 distinct park sites, amazing coastal landscapes and vistas, more than 130 miles of trails, over 1,400 historic structures, and 3,947 plant and animal species.
The 418 national parks throughout the country provide a vast array of opportunities for recreation and inspiration for visitors of all ages. With at least one located in every state, many units of the national park system are easily accessible and affordable destinations. In the past five years, there have been about 1.6 billion recreational visits to national parks.
Join us for your next national park visit to San Francisco's backyard national park. For more information visit 
www.nps.gov/goga
, 
www.nps.gov/muwo
, and 
www.nps.gov/fopo
 to plan your next experience.
Last updated: March 12, 2019