Visitor Centers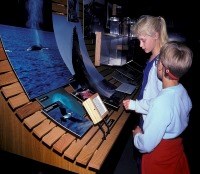 Glacier Bay National Park Visitor Center
Location: On the second floor of Glacier Bay Lodge in Bartlett Cove, 10 miles from Gustavus.
Hours: Staffed by a Glacier Bay Park Ranger daily 11:00 am to 4:30 pm. Desk may be closed from 1:15 pm to 3:15 pm during guided ranger walk. Exhibits open 24 hours.
Special Programs: Daily throughout the summer, park rangers show films about the park, lead walks, and offer a Healing Totem Talk in the evening in conjunction with the program at Xunaa Shuká Hít (Huna Tribal House). Check the activities schedule.
Exhibits that explore the park's natural and cultural history are available in the Visitor Center.
Other Features: Information desk, underwater hydrophone listening station, an Alaska Geographic bookstore, and quiet reading area.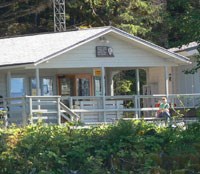 Visitor Information Station
The "VIS". This is where required orientations are held for campers and boaters (in-person orientations may not occur in summer 2021, check our website for video orientations).
Location: Head of the public-use dock in Bartlett Cove, 10 miles from Gustavus.
Hours: Daily from 8:00 am to 5:00 pm.
Phone: (907) 697-2627
Special Programs: Information, backcountry permits, and orientations for campers and recreational boaters.
Other Features: Rest rooms, potable water, trash and recycling containers, Alaska geographic books, gifts, and maps.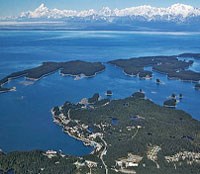 Yakutat District Ranger Office
This facility is operated jointly in the small town of Yakutat with neighboring Wrangell-St. Elias National Park and Preserve. Yakutat is approximately 220 air miles northwest of Juneau, 218 miles southeast of Cordova, and 342 air miles south of Anchorage.
Physical Location: 951 Airport Access Rd, Yakutat AK 9968
Mailing Address: PO Box 137
Yakutat, AK
(907) 784-3295


Last updated: August 2, 2021