Private Boating in Glacier Bay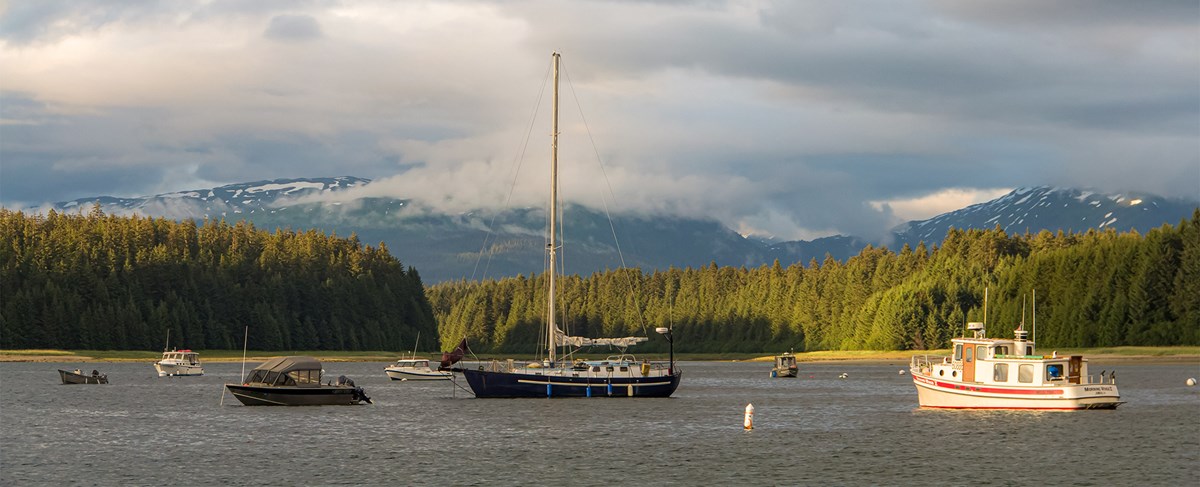 Imagine waking to the sound of a whale blow! You fix your coffee and sit on the back deck while your boat gently rocks, looking out over the magnificent expanse of water and mountains. Suddenly, up pops a curious harbor seal only a few yards away! These are only a couple of the common occurrences while visiting Glacier Bay National Park on your own boat.
---
Vessel use in Glacier Bay is regulated by the National Park Service to protect park wildlife and other resources while providing a range of recreational opportunities to park visitors.
Detailed boater regulations are available here
.
Between May 1 and September 30, motorized vessels are required to notify KWM20 Bartlett Cove before "entering" the Bay. Entering the Bay means crossing the imaginary line between Point Gustavus and Point Carolus and again when crossing the imaginary line extending across Bartlett Cove from the fuel dock.
Between June 1 and August 31, all motorized vessels are required to obtain a permit before entering the Bay. Permits are issued to the operators of vessels and are free but limited in availability. Vessels entering without a permit may be denied access to the bay, asked to leave, and issued a citation. A permit is required before navigating to Bartlett Cove through the entrance of Glacier Bay.
Between June 1 and August 31, all boat operators operating in the Bay are required to have confirmation of a yearly boater orientation with the Visitor Information Station before activating a permit.
Step 1: When to Apply for a Permit
Park regulations allow 25 private vessels to obtain permits to travel inside Glacier Bay each day (June 1 through August 31). Thirteen permits are designated as advance notice permits, while the remaining 12 permits are available as short notice permits. All permits have a 7-day (6-night) maximum duration for a single operator.
Advance notice permits may be issued to boaters applying 60 days in advance of your anticipated entry date. Check our Advance Notice Date Reference Guide to determine the earliest day to apply. Advance applications are strongly advised, particularly from June 20 through July 20. You may reserve up to 7 consecutive days, counting the first day of your permit (7-day/6-night maximum). It may be difficult to receive a permit during the peak of the summer season. If you are denied an advanced notice permit, you may try to apply for a short notice permit.

Short notice permits may be issued to boaters 48 hours in advance of the requested entry date. You may reserve up to 7 consecutive days, counting the first day of your permit (7-day/6-night maximum).

---

Boater Application: Complete this application and email it back to us at glba_vis@nps.gov. Applications will be accepted again in Spring 2021. Check back for updates on exact dates.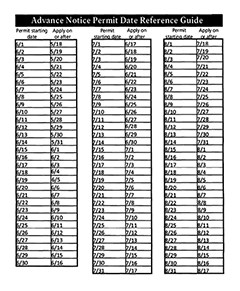 ---
Advance Notice Permit Guide
Please refer to the Advance Notice Date Reference Guide for help deciding your application date.
---
Step 2: How to Apply for a Permit
Applications are processed by the Visitor Information Station (VIS) in Bartlett Cove. The VIS will begin processing permits at 0800 on a first come, first served basis. Permits received before operating hours will not receive preference. The permit that you will be issued, advance notice or short notice, will depend on a permit's availability and the timeframe in which we receive an application. This is done in order to allow the best possible access into the bay for all visitors.

Vessel operators may apply for permits by email, phone, fax, VHF radio, USPS mail, or in person at the Bartlett Cove Visitor Information Station (VIS) (a permit is required prior to traveling to Bartlett Cove by boat).

When your application is submitted to the VIS, it is reviewed by staff and processed into the boater permit system. Applications are handled in the order in which they are received. The VIS will begin accepting permits starting at 0800 each day (for permits within 60 days of arrival date). The VIS will be open May 1 to September 30 from 0800 to 1700. If you are applying for permits from April 2 to April 30, you may experience a short delay.
Step 3: Receiving your Permit
After an application has been processed, a response will be sent to the applicant. We reply to all applications that are received; if you do not receive a response, please call the Visitor Information Station at (907) 697-2627.

Permits are issued to the vessel operator, and an operator may hold up to 2 permits at any given time. Each permit may be issued for up to 7 days and 6 nights, for a maximum of 14 days out of each 21 day period. Permits are valid at 00:01 on the first day and end at 23:59 on the last day of the permit. Boaters are required to exit the park before the permit expires. If you are in need additional days, please contact the VIS upon your arrival for permit availability.

To ensure that permits do not go unused, permit holders must confirm their permit with the VIS within 48 hours before arrival. If a permit has not been confirmed by 10:00 AM on the day the permit begins, it will be canceled. In addition, if the VIS does not receive confirmation of a vessel's arrival into the park by 10:00 AM the day after a permit is set to start, the permit will also be canceled. In both cases, canceled permits will be made available to the public.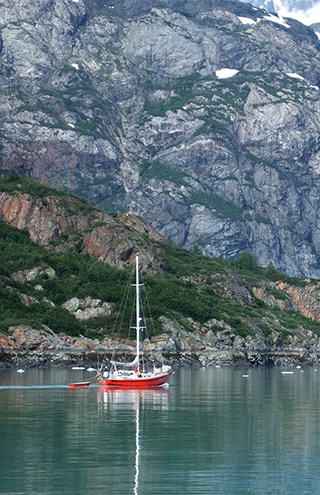 Step 4: Prepare for your Trip - Required Orientation
Step 5: What to Do Once You're Here
Between May 1 and September 30, all boaters are required to call in to "KWM20 Bartlett Cove" on VHF channel 12 or 16 immediately upon entering the bay. Boaters will then be instructed on entrance proceedures, closures and restriction. Please call the VIS at (907) 697-2627 for more information.
Familiarize yourself with the park's boater regulations. This includes whale waters regulations, as well as restrictions due to other wildlife.
Please note that pets are not allowed on land anywhere in Glacier Bay, except on-leash in the Bartlett Cove developed area.
Contacting the Visitor Information Station
To submit completed applications, or to request additional information, contact the Visitor Information Station by email, phone, fax, VHF radio, or USPS mail.

Email: glba_vis@nps.gov
Phone: (907) 697-2627
Fax: (907) 697-2654
VHF marine radio: KWM20 BARTLETT COVE on channel 12 or 16
Mailing address:
Visitor Information Station
Glacier Bay National Park and Preserve
PO Box 140
Gustavus, AK 99826

The Visitor Information Station is open May 1 through September 30 from 8 am to 5 pm.
Last updated: July 1, 2021