Greetings from Glacier Bay National Park!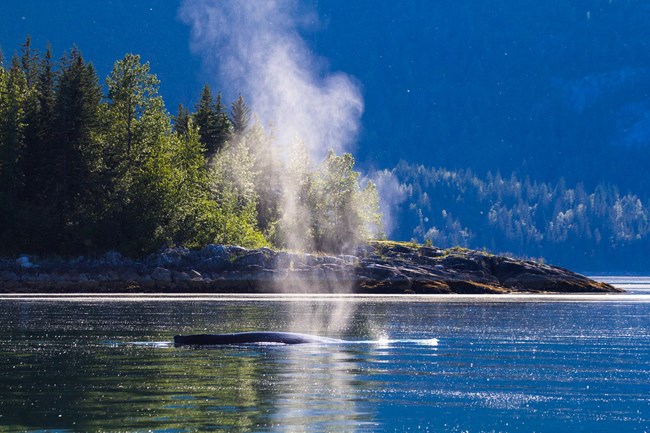 Dear Student,

Greetings from Glacier Bay! On this page you will find information about Glacier Bay National Park and Preserve. Glacier Bay National Park is a special pleace because Glacier Bay is:
Home to many glaciers and has seen glaciers advance and retreat quickly.
The ancestral and spiritual homeland of the Huna Tlingit people.
A park for scientists to learn about animals, glaciers, plants, oceans, and more.
A wild protected place where wild animals live, nature rules, and people visit.
Hundreds of years ago, the Huna Tlingit people lived in Glacier Bay. In the 1700s, a glacier made of ice and rock thousands of feet thick and several miles wide moved forward rapidly. The Tlingit had to flee as the ice and rock covered their villages. Today, many Huna Tlingit live in Hoonah, a village they built after they left Glacier Bay.
By the late 1700s, explorers from around the world began to meet and describe the people, landscape, and glaciers of Southeast Alaska. Early explorers mapped the glacier that filled all of Glacier Bay. The maps and journals of later explorers, like Captain George Vancouver and naturalist John Muir, showed that the glacier retreated steadily since 1794. Today, Glacier Bay is a 65-mile long fjord. A fjord is a valley that was carved by a glacier but filled in with water after the glacier melted. More than a thousand smaller glaciers can be found in Glacier Bay National Park today. All of these smaller glaciers were once part of the huge glacier that covered Glacier Bay 250 years ago. What happened in your community 250 years ago?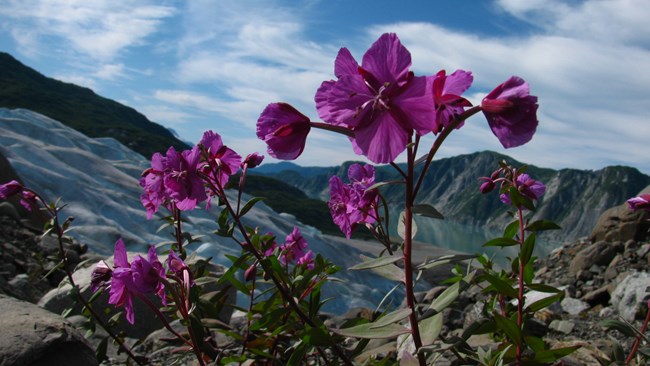 After the glacier retreated, plant and animal life returned to the land and water. In the beginning, the land was bare rock and gravel. Some plants like fireweed or beach strawberries and animals like Arctic terns and brown bears like this habitat. Later willow and alder bushes and cottonwood trees grow and give homes to moose and willow ptarmigan, the state bird of Alaska. Finally, spruce and hemlock trees grow and black bears, porcupines, and coyotes live among them. This process is called plant succession. Other animals such as mountain goats, wolves, bald eagles, ravens, and wolverines also live in the park. The water is home to giant kelp, humpback whales, orcas, sea otters, harbor seals, Steller sea lions, tufted puffins, ducks, and much more.
President Calvin Coolidge protected Glacier Bay as a national monument in 1925 after years of hard work by scientists, including William Skinner Cooper. Cooper studied plant succession and realized that the changing habitat, wildlife, and glaciers made Glacier Bay an excellent place to do research. Today, Glacier Bay is a National Park and all the animals, plants, glaciers and more are protected. National Parks are places for all people to enjoy, share, and discover. What national parks are near your home?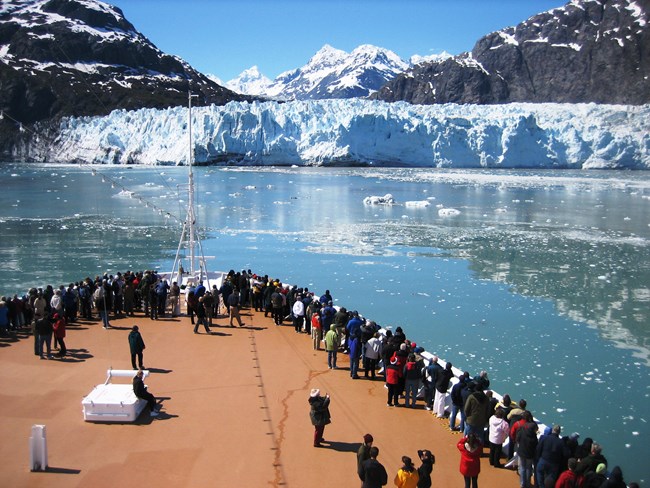 A team of National Park Service employees care for Glacier Bay National Park for all people. Over half a million visitors discover Glacier Bay each year. Most visitors come by cruise ship or smaller tour boats, but some visitors kayak and camp in Glacier Bay. Rangers work to protect the people and the park. As more people visit and learn about Glacier Bay, they also want to care for Glacier Bay and other wild places.
We hope this information helps with your project. You can learn more about the glaciers, plants, wildlife, and geology of Glacier Bay by exploring our website. You can also discover other parks closer to your home at nps.gov.
Keep exploring!
Last updated: March 21, 2023