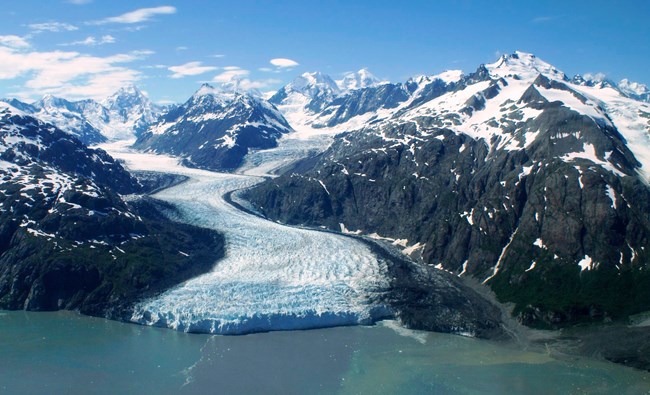 Glaciers are Rivers of Ice
Snow falls in the mountains, compacts into ice, and slides downhill. Each year, snow must fall to replenish the glacier.
Glacier Bay's Glacier Statistics
Number of glaciers: 1,045
Longest glacier: Grand Pacific Glacier, 40 miles
Fastest glacier: Johns Hopkins Glacier can move up to 15 feet per day.
Area of Glacier Bay National Park covered by ice: 2,055 square miles, or 27%
A Dramatic Glacial History
A few hundred years ago, an enormous glacier, several miles wide and several thousand feet thick, covered most of Glacier Bay National Park. In the past 250 years, that glacier retreated 65 miles, creating Glacier Bay. Today, Glacier Bay National Park is home to more than 1,000 glaciers, most of them small pieces of the enormous glaicer that once filled the bay.

Calving Glaciers
Ice breaks off from the front of glaciers in a process known as calving. Visitors come from around the world to see calving, what the native Tlingit people call "white thunder."