Huna Tlingit Tribal House Proposed for Glacier Bay National Park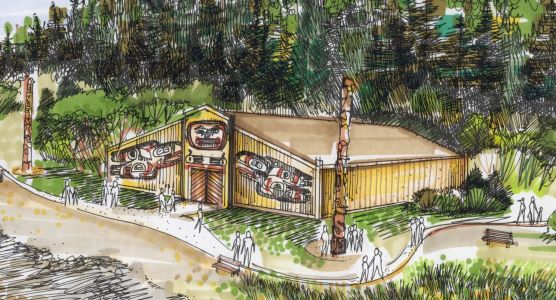 News Release Date:
February 23, 2012
Contact: Allison Banks, Environmental Protection Specialist, 907-697-2230
The National Park Service is proposing to construct a 3500 square foot replica of an 18th century Tlingit tribal house near Bartlett Cove in Glacier Bay National Park, Alaska.
The Tribal House concept was included in the 1997 Comprehensive Design Plan and Environmental Assessment (EA) for Bartlett Cove to provide park visitors with opportunities to learn about Huna Tlingit history and culture through educational and interpretive displays and to strengthen the Huna Tlingit's ongoing connection to their ancestral homeland by providing a venue for cultural events, workshops, and retreats.
Follow the links below to view various components already under construction by carvers in Hoonah:
https://www.nps.gov/glba/historyculture/huna-tribal-house-project.htm

https://www.nps.gov/glba/historyculture/tribal-house-project-photogallery.htm

www.facebook.com/glacierbaynationalpark
to enjoy extensive photogalleries of this project
The structure would showcase traditional design, construction, decoration and furnishings, as well as use of green-certified local forest products and sustainable utilities. The building and access would cover approximately one acre located along the shore northeast of the Glacier Bay Lodge in Bartlett Cove.
The environmental effects of several alternative designs will be evaluated through an EA process. Potential impacts on Bartlett Cove shorefront habitats, mature spruce/hemlock forest, wildlife, other park visitor activities, park utilities, cultural resources, and adjacent concession operations will be evaluated. The public review EA is planned for release in June 2012. Construction would begin in 2013.
We invite your comments and questions about the proposed Tribal House project. Full design and details about each alternative will be presented in the upcoming EA. For more information or to submit comments and questions, please contact Allison Banks, Environmental Protection Specialist, at 907-697-2611 or e-mail us.
Comments will be accepted until close of business on March 24, 2012. You may read more about the proposal and submit comments by visiting the NPS Planning, Environment, and Public Comment website at https://parkplanning.nps.gov/
Or by email to: e-mail us
Or by regular mail at the following address:
Susan L. Boudreau, Superintendent
Glacier Bay National Park and Preserve
P.O. Box 140
Gustavus, AK 99826
Last updated: April 14, 2015