News Release
Healing Totem Dedication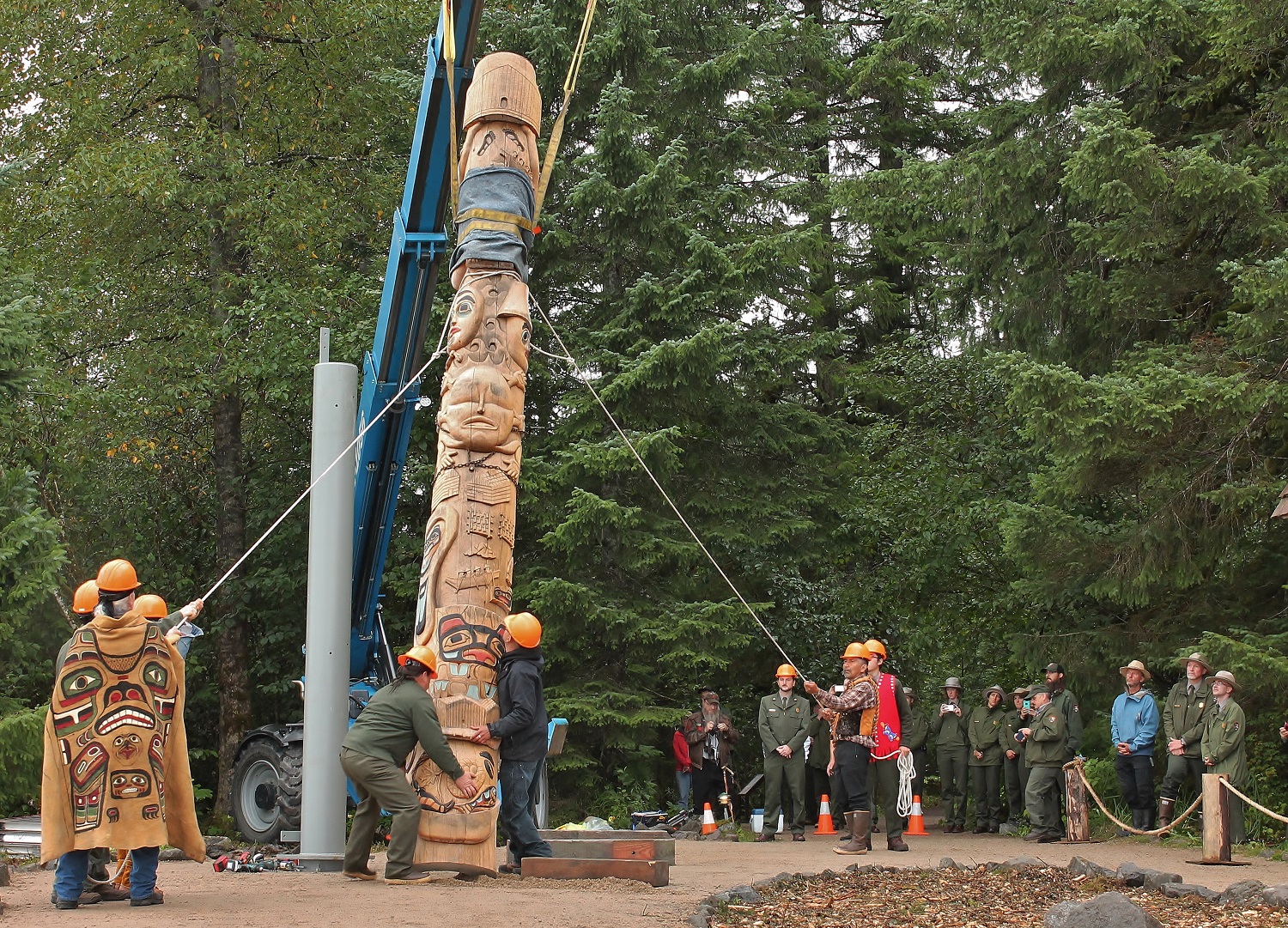 News Release Date:
August 25, 2018
Contact: Philip Hooge, 907-697-2230
Contact: Matthew Cahill, 907-697-2619
The Healing Totem Dedication — Commemorating the Evolution of Park and Tribal Relationships
On August 25, 2018, Glacier Bay National Park and the Hoonah Indian Association (HIA) ceremonially dedicated the Healing Totem Pole – a hand-carved monument commemorating the evolution of park and tribal relationships. The totem eloquently compresses centuries of history into 20 feet of yellow cedar, depicting the Huna Tlingit's tragic migration from their Glacier Bay homeland, a painful period of alienation, and the more recent collaborative efforts to forge a true partnership. Capped by two human figures symbolically holding Xunaa Shuká Hít, Huna Ancestors' House - one wearing a woven cedar hat, one wearing the iconic ranger hat - the totem has become a focal point for conversations about effective partnerships. Today it was installed at the head of the Bartlett Cove dock, in Glacier Bay, to memorialize the journey from strained relationship to healthy partnership. The event was attended by hundreds of tribal members, park staff, and community members as well as dignitaries including Lt. Governor Byron Mallott, National Park Service Alaska Regional Director Bert Frost, Representative Jonathan Kreiss-Tomkins, and retired Park Superintendent Jim Brady.
The day's events began at 9:30 am adjacent to the Bartlett Cove dock with the ceremonial "pulling in" of Hoonah's two dugout canoes. The totem pole raising and reflections from the Hoonah Indian Association and the National Park Service on partnerships, collaboration and healing followed.  "The next generation is why we do this today" said Hoonah Indian Association President, Frank Wright Jr. The celebration continued into the afternoon at Xunaa Shuká Hít with traditional oratory, songs, and dancing.
The raising of the healing totem pole follows decades of renewed commitment to open, respectful communication; joint efforts to find common ground on programs and projects of mutual interest to both partners; and willingness to explore innovative solutions to challenging issues. In the words of Glacier Bay National Park and Preserve Superintendent, Philip Hooge, "This pole–the Healing Totem–embodies a living relationship which will continue to require nurturing." Cooperative programs such as the Huna Ancestor's House, Journey to Homeland place-based educational programs, and diverse ethnographic and archeological studies have served as springboards for healthy communication about how to move forward on other more complex issues related to park management and resource uses.
Background:
Glacier Bay National Park is the ancestral homeland of the Huna Tlingit who sustained themselves on the abundant resources found throughout the Bay prior to the Little Ice Age. Although villages inside the Bay were overrun by glacial advances in the 1700's, the Huna Tlingit re-established numerous fish camps and several seasonal villages soon after glacial retreat. Establishment of Glacier Bay National Monument (and later National Park) and implementation of laws and park regulations led to a period of alienation and strained relationships between tribal people and the National Park Service.
The Huna Tribal House Dedication, held August 25, 2016 and a 2017 totem pole raising ceremony on Tribal House grounds attracted hundreds of tribal members, other native representatives, and the visiting public. Today's Healing Totem raising, a shared celebration between the National Park Service and the Hoonah Indian Association also brought hundreds from the Tribe, the Park, and the adjacent communities.  These events, and other ongoing collaboratively developed cultural programs, have attracted regional and national attention. The process of working together on these common dreams has ensured the preservation of traditional skills and knowledge, encouraged intergenerational learning, engendered communication on a range of issues, and healed and strengthened relationships between the park and the tribe. 
Xunaa Shuká Hít opened for its second season in May 2018. In 2017, it served as a venue for numerous tribal gatherings and a focal point for cultural interpretation in Glacier Bay National Park. The National Park Service and the tribal government jointly completed Strategic and Interpretive plans, and now offer daily interpretive programs to thousands of visitors during the summer season, and are cooperatively developing interpretive films and media. We continue to explore ways to build federal career pathways for tribal members interested in sharing their culture and expertise at the Tribal House and in their Glacier Bay homeland.
UPDATED:

New webpage for the Healing Totem Pole: Learn more about the Healing Totem Pole and see detailed imagery on NPS.gov
Last updated: December 4, 2020