Photo Tips
Glacier is a photographer's paradise, but proper etiquette and protocol should be followed while you're out capturing the beauty preserved here. Before you plan where to take photographs, make sure to read through our tips and guidance for responsible practices in the park.

Follow us on Instagram, Facebook, Steller, and Flickr for more photos of Glacier.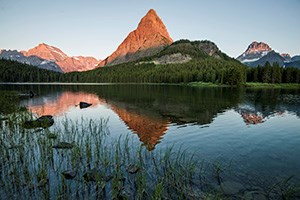 Sunrise on the East Side
Facing the plains, you'll see the sun rising; then turn to the west as dawn's rays light up the prominent peaks of the Rocky Mountain front. This can cause fluorescent alpenglow that makes the mountains look like they're on fire. Make sure you have warm clothing layers if you're up with the sun on the east side.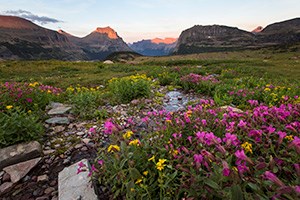 Wildflowers at Logan Pass
Dramatic mountains flank colorful carpets of wildflowers as a succession of rapid blooms burst throughout the short growing season between mid-June and mid-August. Expect congestion in the Logan Pass parking area at most times of the day, even at dawn. The vegetation is extremely sensitive, so adhere to the no off-trail travel restrictions while hiking the Hidden Lake Trail and Logan Pass climbing routes.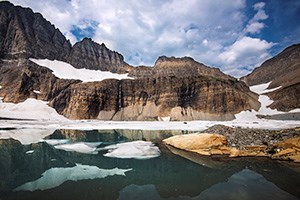 Glaciers Before They Are Gone
When the park was first established in 1910, it was much easier to see a glacier. Getting close to one today requires a bit of strenuous exercise. Be sure to explore
how to see a glacier
if that's a goal for your visit. Our
repeat photography
project documents the drastic changes between glaciers past and present.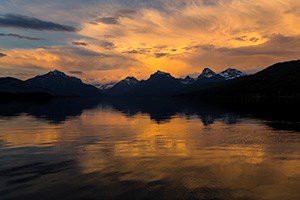 Sunset From the West Side
As the sun beams say goodnight to the mountains, the alpenglow smolders on the landscape in warm oranges, pinks, and lavenders. If you want to capture silhouetted peaks as the sun disappears on the horizon, park in a pull-out on the high-elevation parts of Going-to-the-Sun Road and face west.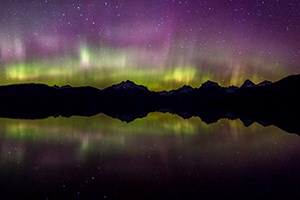 Night Sky
As indicated by our official International Dark Sky Park certification, you can photograph the night sky in a way uncommon throughout much of the contiguous 48 states. If you're lucky enough to be here during a showing of the northern lights, Lake McDonald and the North Fork offer open views to the north. Check the University of Alaska's
Aurora Forecast
and look for a KP rating of 5 or above, with forecasted clear weather through the night.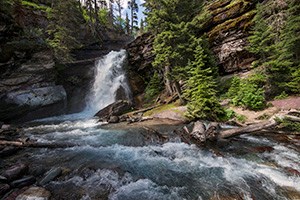 Waterways
Whether it's near the road, on a trail, or in the backcountry, Glacier has a plethora of beautiful, clean, and clear waters. Popular water features include waterfalls, which are best from spring through early summer, turquoise waters, which can be found in many glacier-fed lakes like Avalanche Lake, and the famous colorful pebble shorelines, which are all over the park. Popular spots to capture these multicolored rocks are along the southeastern edges of Lake McDonald.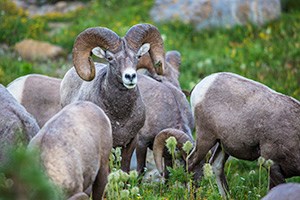 Wildlife
Keep the "wild" in wildlife by maintaining a safe distance and using a telephoto lens. Generally, it's best to look for animals in the morning or evening – at high elevations for goats and sheep, open meadows for bear and elk, creek sides for moose and deer, and forests for songbirds. Make sure to learn about the diversity of
wildlife
Glacier has to offer, as knowing their habits and habitats will help you understand where to look.
Photography Guidance
Trails are Best
Stay on trails while taking photographs to help maintain the pristine setting you came to enjoy. If stepping off the trail, snow and rocks are durable surfaces that can withstand human impact over time. Choosing a durable surface helps to keep our trails from widening and helps protect vegetation.

Never Duck the Rope
Certain areas specifically prohibit off-trail travel, such as the beautiful alpine meadows at Logan Pass. Help protect and preserve the sensitive, rare, and endangered vegetation that grows here. While your freedom to photograph the scenery is important to us, no photo is worth jeopardizing vegetation, wildlife, or visitor safety.

Zoom with the Lens, Not the Feet
Never approach or pursue animals to take their picture. All wildlife can become aggressive without warning if startled, threatened, or confused. Animals may carry infectious diseases, and they could be euthanized if they have harmed a person. Stay safe and take part in conservation by maintaining 100 yards (91 m) distance from bears and wolves, and 25 yards (23 m) from everything else.

Consider Not Taking the Photo
As most visitors use their phone as their camera (instead of a powerful telephoto lens), it's very challenging to snap a detailed photo of wildlife while exercising the legal viewing-distance protocols. Putting your phone away will allow you to focus on maintaining proper distance, keep you and the wildlife safe, and help you observe the animal without distraction.

Park in Pullouts
Don't stop and block driving lanes while trying to view or photograph wildlife or scenery. There are many paved pullouts to use along our scenic roads where you can stop and enjoy the views for as long as you like. Do your part in conservation and refrain from driving or parking on vegetation.

Responsible Social Media Influence
Check yourself before you post. Was your photo taken with all the above considerations and proper practices in mind? Make sure you're positing with integrity and setting a good example for others who admire and may be inspired by your photography.

Leave Your Drone at Home
Launching, landing, or operating a drone is prohibited in Glacier. Be sure to learn about the National Park Service's policy on unmanned aircraft in national parks.

Commercial PhotographyIn most cases, a permit is not necessary for casual visitor photography. However, there are some circumstances when a permit is needed for professionally photographing, filming, or recording. Make sure that you learn about filming and photography permit information in the park before planning such activities.
Last updated: March 30, 2023