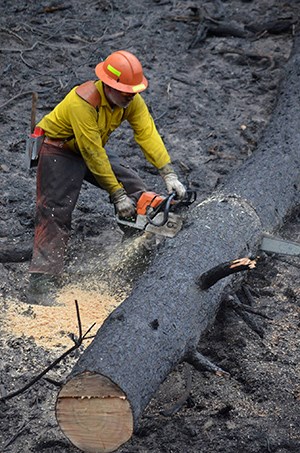 Attitudes and strategies toward fire management in national parks have evolved over time. The agency's first plans called for full fire suppression and exclusion. Park managers wanted to detect fires immediately and put them out just as fast. However, this strategy required more resources than the young National Park Service had. This proved a blessing in disguise, as their inability to suppress all fires had unexpected ecological benefits. Over time, the park service developed a broader understanding and approach to fire. Now a variety of tactics are used, combining fire operations, prescribed fire, and fire ecology to maintain fire as part of the natural ecosystem.
In Glacier, as in other national parks, some fires will always be
suppressed
(put out). These circumstances include a fire burning too near developed areas, a fire started when weather conditions could lead to major fire growth, or when fire activity is intense nationwide and limited national fire-fighting resources are available for the park to call on for assistance. Any human-caused fire will be suppressed, as will any fire that poses a serious risk of burning outside of the park.
Naturally ignited (lightning-caused fires) are closely
monitored
and
managed
within limits in order to benefit park resources to the maximum extent possible. While it is a park goal to allow fire as a natural process whenever possible, the highest priority will always be firefighter and public safety.