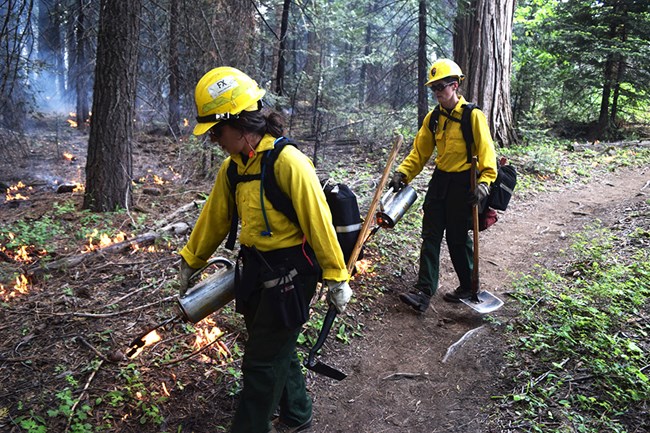 Employment with the National Park Service offers a variety of exciting opportunities. The
National Park Service Fire and Aviation Managemen
t program requires talented people working safely together to be successful. These interagency wildland firefighters are the best trained and the best equipped firefighters in the world.
A large number of
people
support firefighters in their roles as dispatchers, fire scientists, budget analysts, purchasing staff, program assistants, communication and education specialists, electronic technicians, safety and prevention managers, and more. They all have a place in making
wildland fire managemen
t successful. Together, they work for the common goals of fire management, fire prevention, and fire suppression.
The National Park Service's fire program includes nearly 400 permanent employees and 600 seasonal employees. The Service both assists and receives assistance from
our partners
to fight fires, and to enhance the resources through fuels reduction projects. Whether directly fighting fires on a fire crew or providing support on an Incident Management Team (IMT), NPS employees spend thousands of hours supporting the nation's fire fighting efforts.