Winter Ecology Field Trip (Grades 6 to 12)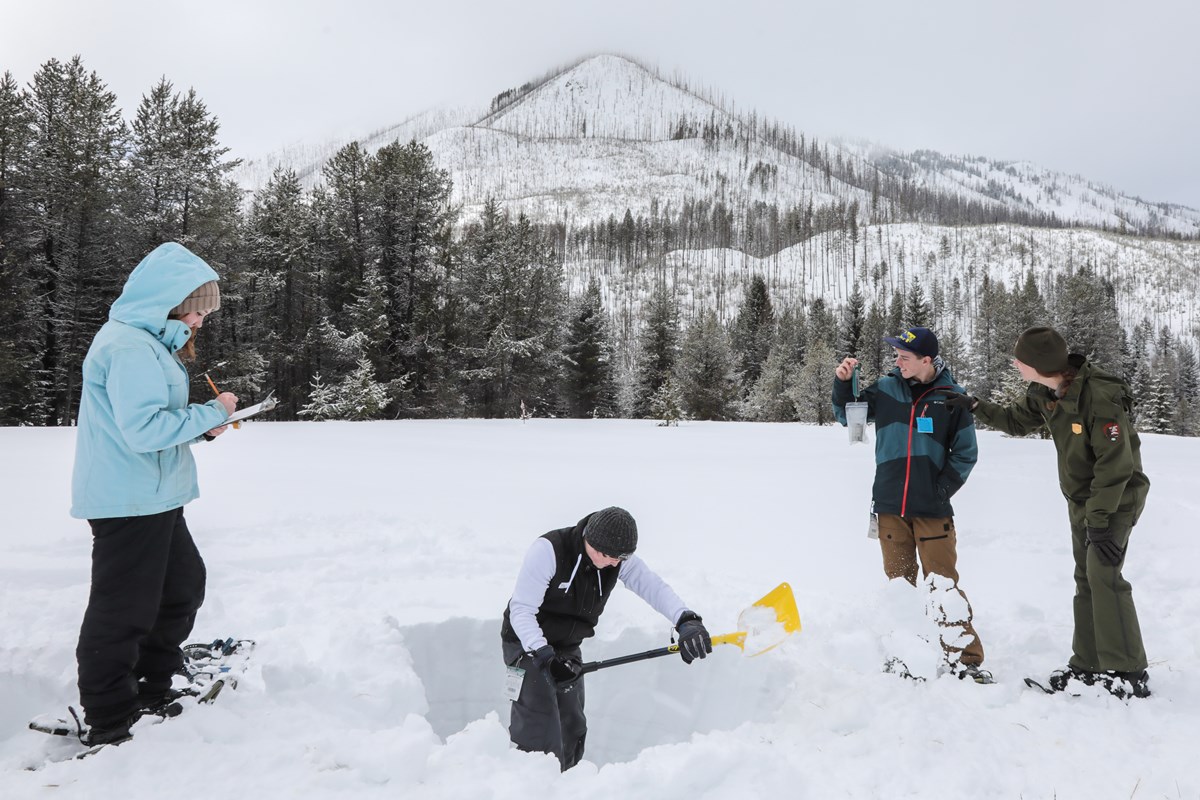 Students will snowshoe the Beaver Pond Trail in St. Mary or an extended off-trail route from the Oxbow Trail. Throughout the day, they will use a worksheet to collect and record data for wildlife/insect signs, snow density and snow crystal shapes, and record weather observation readings. Winter ecology programs on both west and east sides of the park include snowshoe hikes. The park provides all the snowshoes for students and chaperones free of charge.
Grade: 6-12
Locations: St. Mary or off trail in Apgar
Duration: 5 hours, view our Winter Ecology Field Trip Schedule to see a basic outline for the day
Group Size: 30 students total, 2 groups of 15 students
Skills: Observe, communicate, identify, classify, collect & analyze data
Vocabulary: Preserve, protect, sun, heat, earth, seasons, water cycle, migrate, hibernate, resist, insulation, predator, prey, camouflage, snowpack
State Standards:
Montana Content and Performance Standards
MT.SCI.K-12.1 Students, through the inquiry process, demonstrate the ability to design, conduct, evaluate, and communicate results and reasonable conclusions of scientific investigations.
MT.SCI.K-12.3 Students, through the inquiry process, demonstrate knowledge of characteristics, structures and function of living things, the process and diversity of life, and how living organisms interact with each other and their environment.
Objectives
(Depending on grade level and weather conditions)
Students will be able to:
Identify the 3 major watersheds that Glacier contains the headwaters for.
Use a map to locate Glacier, the Continental Divide, and other significant features surrounding the park.
Assemble a puzzle-map of the Crown of the Continent Ecosystem and explain why it is important that neighbors work together toward shared goals.
Record a variety of temperatures (air, snow), compare/contrast them and discuss temperature's relationship to heat and energy.
Explain how the abiotic and biotic components of the winter environment are inter-related.
Communicate why the continuously changing state of water (between solid, liquid, and gas) can be helpful as well as harmful to winter organisms.
Recognize track patterns and record wildlife signs/sightings.
Name at least 2 factors that make winter a challenge for living organisms to survive and give 2 examples of adaptations to cope with these factors.
Dig a snow pit, collect snow cores, calculate density and snow water equivalent for each sample, and analyze the results.
Tell why measuring and monitoring snow water equivalent is important to people living in the watersheds originating in Glacier National Park.
Observe and classify snowflake shapes. Explain the importance of snow as a natural resource and its role in the water cycle.
Field Trip Logistics
Teachers wishing to have their students participate in the winter ecology field trip should plan to arrive in the park between 9:30 - 11 am and stay until 1:30 or 2 pm. Everyone in the group must be prepared to be outside the entire time and ready to snowshoe for a distance of about 2 miles on gently rolling terrain.
Reserve Your Trip
Visit the Scheduling & Guidelines page to find the reservation form as well as tips for a successful day in the park.
If you have questions, email or call the Education Specialist at 406-888-5837.
Preparing for Your Trip
Students that spend time preparing for their visit get more out of a field trip to the park. Activities post-visit also help to reinforce information learned during the trip.
MUST READ! This Preparing for Your 6th-12th Grade Winter Field Trip (pdf) packet should have everything you need.
Suggested activities and supplementary materials:
Last updated: April 13, 2018