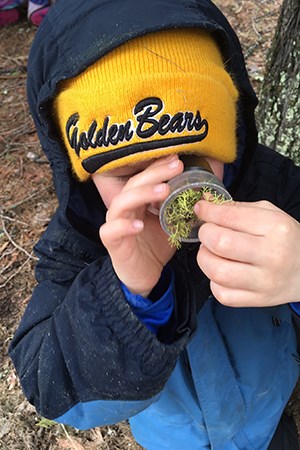 This is a half-day program on sensory exploration and making observations of natural items. All activities should focus on helping the students think about answering the question "What are 'senses' and how do they help me and other living things to survive?" The students will practice using their senses out in nature or with natural objects to make observations and realize that this is a key way for people to learn—the main way that Blackfeet, Salish, Pend d'Oreille and Kootenai people learned before there were books or school. They'll also wonder at how other living things have different senses (sometimes much better!) than ours.
Grade: Kindergarten
Location: Apgar Village or St. Mary
Duration: 3 hours, view our Sensory Exploration Field Trip Schedule to see a basic outline for the day
Group Size: 40 students total, 2 groups of 20 students
Skills: Observe (using all senses), sort/classify, compare & contrast, match, count, communicate findings
Vocabulary: Senses: sight, taste, touch, smell, sound; living/non-living; nature; mountains, valleys, lakes, rivers; animals, plants
Essential Questions:
How do senses affect behavior?
Why are senses important?
How do senses develop?
How do scientists use their senses?
Why do we have multiple senses?
Why do animals "need" all of their senses?
Why do animals have multiple senses?
What would life be like without senses?
National and State Standards:
Montana State Standards:
MT.SCI.K-12.1 Students, through the inquiry process, demonstrate the ability to design, conduct, evaluate, and communicate results and reasonable conclusions of scientific investigations.
MT. SCI.K-12.2 Students, through the inquiry process, demonstrate knowledge of properties, forms, changes and interactions of physical and chemical systems.
MT.SCI.K-12.3 Students, through the inquiry process, demonstrate knowledge of characteristics, structures and function of living things, the process and diversity of life, and how living organisms interact with each other and their environment.
MT.SCI.K-12.1 K-LS-1-1 Use observations to describe patterns of what plants and animals (including humans) need to survive.
Next Generation Science Standards:
LS1.A All animals need food in order to live and grow. They obtain their food from plants or from other animals. Plants need water and light to live and grow.