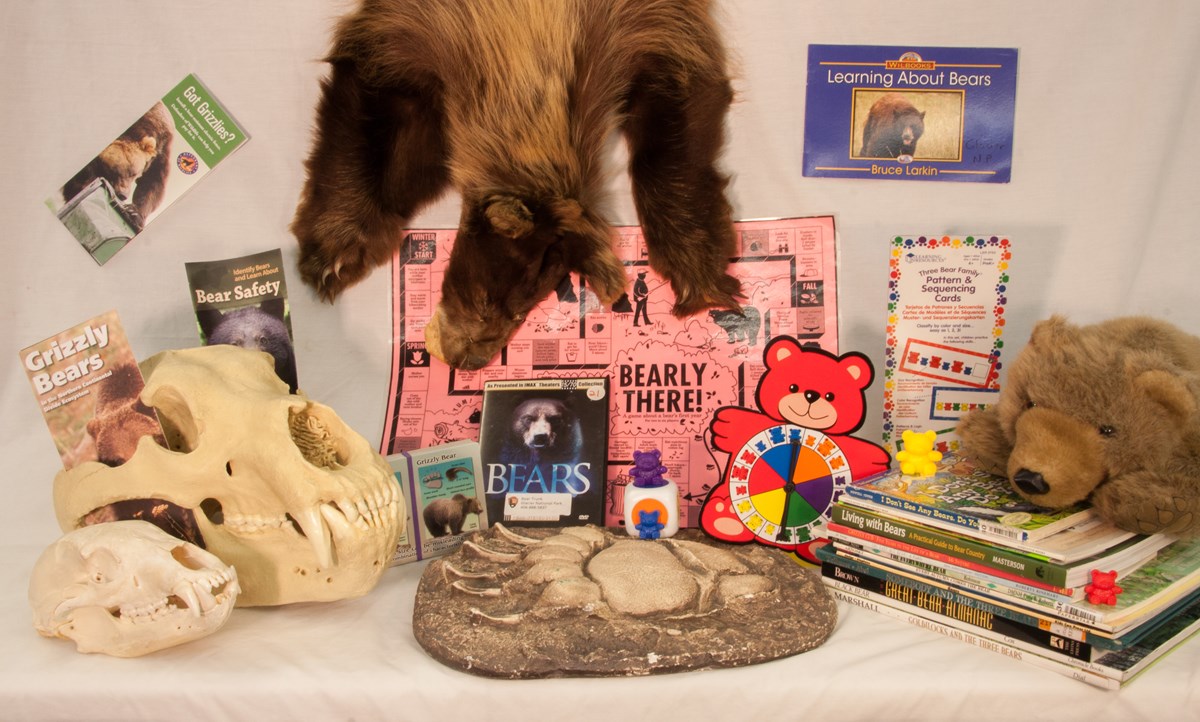 Grizzly bears and black bears, oh my!
Background material, research guides, and props in the bear trunk facilitate discussions about bears, their habitats, and food sources. Emphasis is on black and grizzly bears, including how to tell them apart and how to play safely in bear country. Activity guides and sample lessons are included. Upper grades benefit from additional materials available on the web.
Grades
K-12
Contents
This trunk contains all the resources needed to facilitate learning about bears in your classroom! Discussions focus on bear biology, habitats, and food sources with an emphasis on identifying bears and playing safely in in bear country.
Lesson Plans
There are lesson plans and activity ideas for K-12 in the bear trunk. Many of the materials are copyrighted but for upper elementary and middle school, here is the table of contents of The Bear Connection which is included in hard copy in the trunk. Also in the trunk is a printed copy of the curriculum created in conjunction with an exhibit at the Science Museum of Minnesota, Bears: Imagination and Reality (upper elementary level). For high school students, both of these can be supplemented with the handouts from the bear DNA research study in the park. For grades K-3, teachers have helped us put together and include some of their favorite story books, songs, art, drama, and additional activities to make this trunk pertinent to all ages.
Check out the Bear Essentials Curriculum for additional materials not found in the trunk.
Books
Bears and Their Dens. Tagliaferro, L. 2004. (ISBN: 0736851216)
Bears: Polar Bears, Black Bears and Grizzly Bears. Hodge, D. 1996. (ISBN: 1550743554)
Every Autumn Comes The Bear. Arnosky, J. 1996. (ISBN: 0698114051)
Grizzly Cub. McIntyre, R. 1990. (ISBN: 0882403737)
I Don't See Any Bears, Do You?. Howell, T. 2005. (ISBN: 087358886X)
The Last Bit Bear. Chisholm deYounge, S. and Ditzler Meloy, E. 2004. (ISBN: 157098431X)
The Manmade Bear. 1980
Somebody and the Three Blairs. Tolhurst, M. 1995. (ISBN: 0590539604)
Audio/Visual
Glacier. Reader's Digest. VHS video
The Great Bears of North America. VHS video
Bears. IMAX DVD
Bear PowerPoint CD-ROM with script (two versions, one for older students and one for younger students)
Other Resources
Grizzly bear track cast
Skulls-black bear and grizzly bear
Claws-black bear (reproduction) and grizzly bear (reproduction)
Pelts-black bear (young)
Puppets-grizzly bear hand puppet
Be Bear Aware (coloring book for distribution)
Jewels of Glacier poster and key
Bears of the Rockies poster
Three bear family sort, pattern, play activity set