Glacier: Nature's Classroom
Wildlife, wildlands, mountains, and snow—Glacier holds adventure for you and your students! Find curriculum and lesson plans specially developed for learning in Glacier. Come to the park and hike with a ranger, or bring a ranger into your classroom through our distance learning program.
For a PDF copy of Glacier's Educational Opportunities Mailer, click here.

Here are a few other resources for connecting kids with Glacier:
Kids & Youth
Looking for kid-friendly activity materials or information on becoming a Junior Ranger? Check out this section for some park fun.
Current Research
Visit our Crown of the Continent Research Learning Center's website, providing information on research and citizen science programs.
Science & Learning Videos
Join the staff and volunteers of the Research Learning Center as they discuss their scientific research projects.
Read More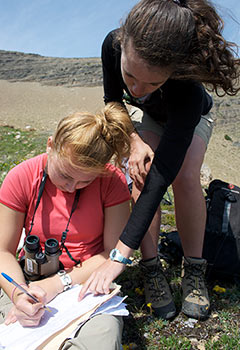 Last updated: May 2, 2019