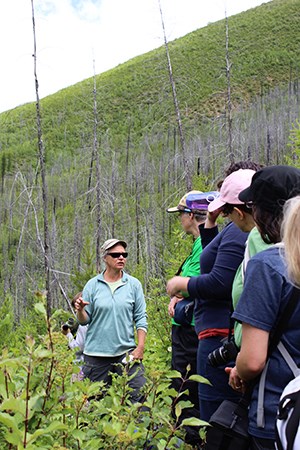 Fire can be a powerful force of change that impacts a forest in surprisingly beneficial ways. It also poses a particular challenge to park managers, whose goal is to maintain natural systems while protecting humans, cultural and historic resources and park infrastructure. Glacier's cultural resources chronicle the evolving history of human activities, interactions, and experiences in the American West, that reveal changes in societal attitudes about land and its uses.
Grades: 4–5
Locations: Fish Creek Area and St. Mary
Duration: 4.5 hours, view our Fire Ecology Field Trip Schedule to see a basic outline for the day
Group Size: 60 students, 2 groups of 30 students
Skills: Communicate, Observe, Identify, Model
Vocabulary: Adaptation, coniferous, dichotomous, disturbance, fire scars, fire triangle (fuel, oxygen, heat), interrelationships, tree cookies
Essential Questions:
What impact does fire have on a landscape?
What views do people have about fire?
How have Native Americans felt about fire?
How does the National Park Service protect and preserve the landscape if fires occur and are even started on purpose?
National and State Standards:
Montana State Standards
MT.SCI.K-12.1.1 Students, through the inquiry process, demonstrate the ability to design, conduct, evaluate, and communicate results and reasonable conclusions of scientific investigations.

A proficient student will be able to identify a question, determine relevant variables and a control, formulate a testable hypothesis, plan and predict the outcome of an investigation, safely conduct scientific investigation, and compare and analyze data

MT.SCI.K-12.3.2 Students, through the inquiry process, demonstrate knowledge of characteristics, structures and function of living things, the process and diversity of life, and how living organisms interact with each other and their environment.

A proficient student will be able to explain how organisms and systems of organisms obtain and use energy resources to maintain stable conditions (e.g., food webs, photosynthesis, respiration)
Next Generation Science Standards
MS-LS1-6. Construct a scientific explanation based on evidence for the role of photosynthesis in the cycling of matter and flow of energy into and out of organisms.