FireWorks Trunk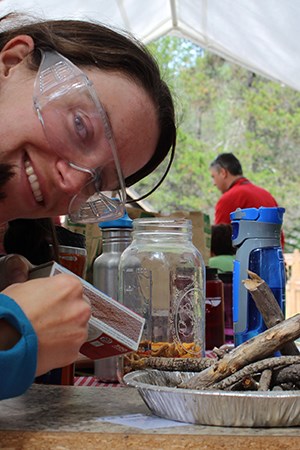 Spark your students' interest in wildland fire!
The FireWorks trunk teaches students about the physical and chemical properties of fire as well as the role of wildfire in our western landscape. This trunk is packed with exciting experiments, a felt board, wall posters, powerpoints, curriculum about how and why the Pikunni (Blackfeet) people carried fire, and much more!
Grades
K-12
Contents
Developed by the Fire Lab in Missoula, MT, this curriculm features ponderosa, lodgepole, and whitebark pine forests, and provides students with interactive, hands-on materials to study the forces that cause change in forests, particularly wildland fire.
Lesson Plans
The U.S. Forest Service - Missoula Fire Sciences Lab website has a page that describes the curriculum and its effectiveness in teaching about wildland fire. Choose a program for grades K-12. You can download or view all of it by choosing the "Fire in the Northern Rocky Mountains and Northern Cascades" link at the Fire Sciences Lab website about FireWorks.
Books
Book of Fire. Cottrell, W.H. 1989. (ISBN: 0878424911)
Rocky Mountain Tree Finder. Watts, T. 1972. (ISBN: 0912550058)
Tree Basics. Shigo, A. 1996. (ISBN: 094356316X)
Audio/Visual
FireWorks Curriculum Flash Drive
Videos related to experiments (on FireWorks Curriculum Flash Drive)
Video: "Carrying Fire the Pikunii Way" (on FireWorks Curriculum Flash Drive)
Other Resources
Posters/Cookies -Laminated tree cookies (cross-cuts), fire triangle, fire safety, etc.
Matchstick Forest Kit-(Masonite boards, nuts, washers) used to demonstrate how terrain, weather, and fuel effect how a fire burns
Feltboard Kits-lodgepole pine, ponderosa pine, whitebark pine, and mystery tree
Thermometer
Fire extinguisher
Safety goggles
Fuels-dead, dry needles of ponderosa pine, fine branches, thick branches, duff (peat), mineral soil (sand), pine cones
Cone specimens (9 species)
Tree cookies (cross-cuts from 2 species)
Tree trunk sections (7 species)
Borrowing Instructions
All of Glacier's traveling trunks are free of charge and can be borrowed for 2-4 weeks at a time, but must be picked-up and dropped-off in person. (Sorry, it is not possible to mail the trunks.) To arrange to borrow a trunk, please email us.
The Flathead National Forest also has a copy of this same trunk for loan. The contact information is on our additional trunks in the Flathead Valley list.
Last updated: May 27, 2020