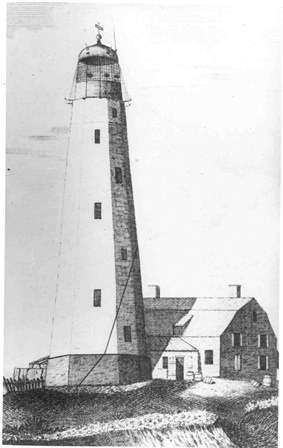 Prequel: Sandy Hook, Key to The City
To enter New York Harbor, ships need a deep channel. Until the 1900s, that meant sailing next to the shore of Sandy Hook. This gave the small peninsula a big role in the safety and defense of New York Harbor for more than a century before Fort Hancock was built.
In 1764, the Colony of New York built Sandy Hook Light to assist navigation. Because the lighthouse helped ships sail safely to New York Harbor, the structure has always had inherent military value. As a result, a military presence quickly followed its construction and has remained more or less since the American Revolution.
In early 1776, Sandy Hook peninsula was easily captured by the British. In June 1776, Continental Army Lt. Col. Benjamin Tupper led his artillery to destroy the lighthouse, "but found the walls so firm I could make no Impression." Unlike most of New Jersey, both the Sandy Hook Lighthouse and New York City remained in British and Loyalist hands until the war's end in 1783. Loyalists guarded the Light for the remainder of the War, using the Hook to stage raids on patriot-held areas in New Jersey. The cannonball-dented remained visible until repairs took place just before the Civil War, when the walls were thickened considerably.