New York Harbor Defenses 1907-1945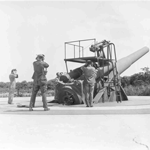 While many portions of the Endicott Defenses continued to deter the enemy into World War II, newer weapons and technology would eventually supplement or replace them.
In 1905, the Taft Board, headed by Secretary of War, William Taft recommended upgrading the Endicott defenses and adding fortifications to the new U.S. possessions obtained in the Spanish-American War. The Taft Era, beginning in 1907, added to existing defense fortifications electric lights and motorized ammunition hoists, searchlights and telephone communications. Fire Control Stations (observation posts) were now added at coastal defense forts to provide a target's direction, bearing, and speed to soldiers in a plotting room where this range information was used to triangulate on and target a moving enemy ship with great accuracy. Soldiers in the plotting rooms relayed via telephone to the artillery gun crews what elevation and direction to fire their guns.
By 1915, with Europe involved in World War I, the U.S. realized its disappearing guns were no match for new battleships capable of longer firing ranges. The result was 12-inch gun batteries on new fixed barbette carriages with a 17+ mile range that could out range battleships.
In the post-World War I period, it became apparent that airplanes were to become the top threat during war. This prompted the Army to make additions to the defense system, including rapid-fire anti-aircraft guns and camouflage. Some 16-inch gun batteries were constructed in this period and could be covered with netting, but if detected, they remained vulnerable to aerial bombing. The Army developed a solution to this threat.
During World War II, new 16-inch gun batteries were constructed and existing 12 and 16-inch barbette guns were casemated with thick concrete enclosures covered by tons of sand and camouflaged with natural vegetation to make them virtually invisible from above and impervious to most aerial bombs. The 16-inch guns were the largest defensive guns used and the primary coast defense weapons during World War II. They fired 2,240 pound projectiles to a maximum range of 26 miles. These guns could keep battleships from reaching striking range.
A vast change in the nature of warfare occurred during World War II. The War was fought for the first time with airpower as a critical tactical element. Carrier based aircraft became extremely important. By 1943, the Allies had put the Axis on the defensive and the possibility of a large scale naval attack on the U.S. became remote. Also, radar, which was developed by the Army on Sandy Hook only a few years earlier, was able to provide an early warning of enemy aircraft approaching.
Click here to read a report about the radar developed at Sandy Hook.
Even before the war ended, seacoast guns were scrapped to become new weapons, and soldiers of the Coast Artillery converted over to a variety of anti-aircraft weapons. By the war's end and to this day, no nation's naval forces could threaten our shores.
In southern New York Harbor, Fort Tilden and Fort Hancock were the primary defenders of New York, while Fort Wadsworth and Fort Hamiliton also played a role.
Click here to learn more about Fort Tilden from 1917-1945.
Click here to learn more about Fort Hancock from 1907-1945.
Click here to learn more about Fort Wadsworth from 1907-1945.
Learn more about the next generation of defenses during the Cold War.
Last updated: February 10, 2020