Fort Hancock Defenses 1907-1945
Fort Hancock's defenses benefitted from the Taft Board's recommendations. Not only were the recommended improvements implemented, but some new gun batteries were constructed during this era.
Battery Arrowsmith with its three 8-inch disappearing guns was completed in 1908 at Camp Low. This bayside gun battery was capable of covering Sandy Hook Bay, which was beyond the other disappearing guns field of fire. The guns emplaced here were removed from Fort Wadsworth's Battery Duane. The battery was disarmed shortly after the completion of Battery Kingman and Mills.
Battery Kingman and Battery Mills constructed from 1917-1919 were 12-inch barbette gun batteries with two guns each. They shot 975-pound armor piercing projectiles 17+ miles and had a 360 degree range of fire. These guns, casemated in 1942, were Fort Hancock's primary defense against naval attack in World War II.
The underwater mine system was an active component of the defenses until 1945. Batteries Urmston, Morris, Peck and Gunnison with their rapid fire 3 and 6-inch guns were assigned to protection of the minefield for most of these years.
Shortly after World War I ended, Anti-Aircraft (AA) guns were positioned at Fort Hancock. Four AA batteries consisting of two 3-inch guns each were completed in the early 1920s.
From 1930 to 1943, Fort Hancock was home to the 52nd Coast Artillery Corps. They worked with 8 and 12-inch railway guns. Click here to read oral history interviews from this time.
In 1937, Fort Hancock's AA defenses were improved. The AA batteries of the 1920s were reconfigured into three batteries with three 3-inch guns each. Seven AA machine gun platoons with four .50 caliber machine guns were positioned near gun batteries. An additional sixteen .50 caliber machine guns were dispersed to defend searchlight and fire control stations. There were five AA searchlights to help augment these defenses.
In World War II, additional 37 mm, 40 mm, and 90 mm AA guns were added to Fort Hancock's defenses. In addition, radar units were employed to assist in the defenses. It was realized during this war that the sky and not the sea was the greatest threat to the coastlines of the U.S.
Fort Hancock in 1942, became the location of the Headquarters Harbor Defenses of New York (HDNY). From here, all defenses in lower New York Harbor were coordinated. This included Fort Hancock, Fort Tilden, Fort Hamilton and Fort Wadsworth.
By June 1944, all of the fort's disappearing guns were removed and scraped. Battery Gunnison was reconfigured from a disappearing gun to a barbette gun battery.
The Army added the Navesink Military Reservation, also known as the Fort Hancock Annex, in what is today's Hartshorne Woods Park in Highlands, N.J. to the defenses roles. Two batteries were constructed. Battery Lewis, a 16-inch casemated gun battery was completed in 1943. Construction Battery 219, a 6-inch battery was completed in the same year.
Want to learn more about Fort Hancock in World War II, click here.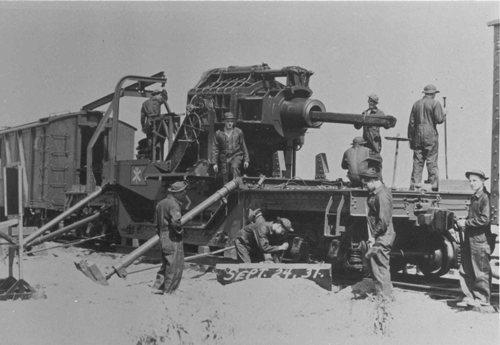 Last updated: February 26, 2015