Second System Fortifications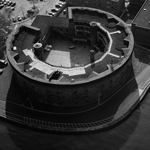 Beginning in 1807, incidents on the seas between the U.S. and Great Britain occurred. The U.S. response was to create new coastal defenses. This new program of defense became the 2nd system and was constructed between 1807 and 1815.
The fortifications of the 2nd system were open batteries built of earth and wood and casemated masonry structures. The primary defensive positions for New York Harbor were in the inner harbor close to and on Manhattan.
The southern New York Harbor 2nd system defenses included Castle Clinton (on Manhattan), Castle Williams and Fort Jay also known as Fort Columbus (on Governors Island), Fort Wood (on today's Liberty Island), Fort Gibson (on Ellis Island), Forts Hudson, Morton, Smith, Tompkins, and Richmond (on Staten Island), Fort Gates (on Sandy Hook) and a blockhouse on Rockaway Peninsula.
These fortifications were used in the War of 1812. The forts fired canonballs that could cover approximately one mile. An example of the enemy that these forts were built to defend against would be the British HMS Victory, a wooden sailing ship with smoothbore canons.
All of the fort locations mentioned above are today managed by the National Park Service. Within Gateway NRA, the Staten Island forts were within today's Fort Wadsworth, and Fort Gates was at Sandy Hook.
Learn more about Fort Wadsworth's 2nd system forts.
Learn more about Fort Gates on Sandy Hook.
Learn more about the next generation of fortications, the 3rd system of defenses.
Last updated: February 26, 2015