Private Estates and Homesteads (Cont.)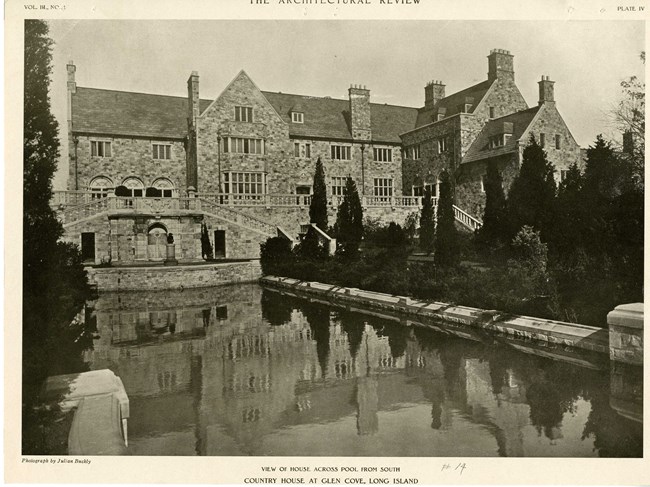 Welwyn (Glen Cove, NY)
Olmsted Brothers work on the Pratt Estate of Glen Cove, New York, also known as Welwyn, was done in two phases, with the first from 1906 to 1909. The earliest work done by Olmsted Brothers was the grading of the site, as well as planning approach drives and service courts, all highlighted by extensive planting lists.
In 1908, Frederick Law Olmsted Jr did an analysis of the Pratt holdings, advising on boundaries between to decide the common land amongst the family. The second phase of Olmsted Brothers involvement was in 1934, when firm member Carl Rust Parker planned a subdivision on the Pratt's property, as well as reshaping and replanting the Pratt Family Cemetery.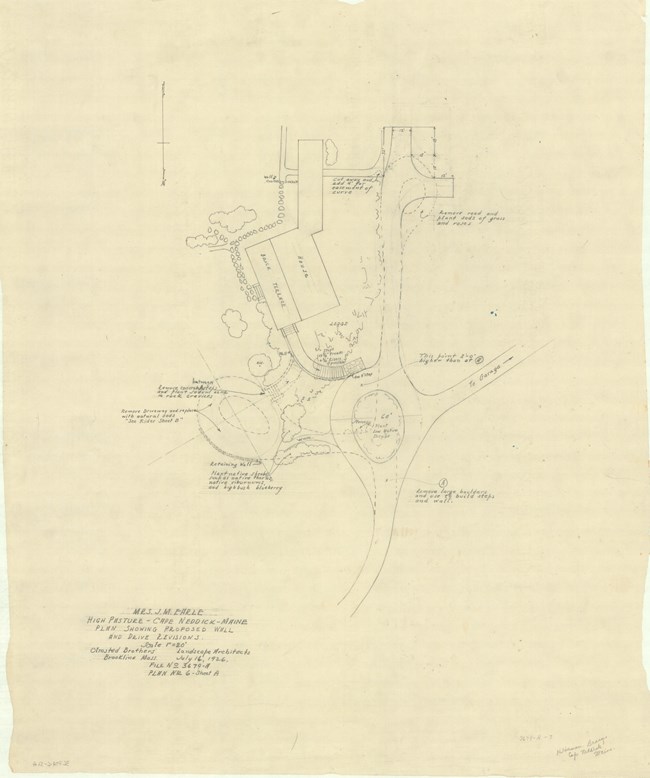 High Pasture (Camp Neddick, ME)
In 1905, Philadelphians James and Alice Pardee Earle made the move to Cape Neddick, Maine, where they purchased treeless, rocky pasture overlooking the ocean to place their estate. In 1910, the Earle's hired Olmsted Brothers to design their carriage drive, woodshed with an adjacent laundry yard, and flower garden. James Dawson was chosen to lead the design, working with the Earle's daughter Elinor to design a walled garden to protect plants from the harsh ocean winds.
After buying additional land in 1926, the Earle's again reached out to Olmsted Brothers, with Carl Rust Parker getting to lead this section of the design. Parker assisted in creating a new drive to accommodate automobiles, with Dawson's original drive becoming a formal garden with stone paths and stairs leading to the house.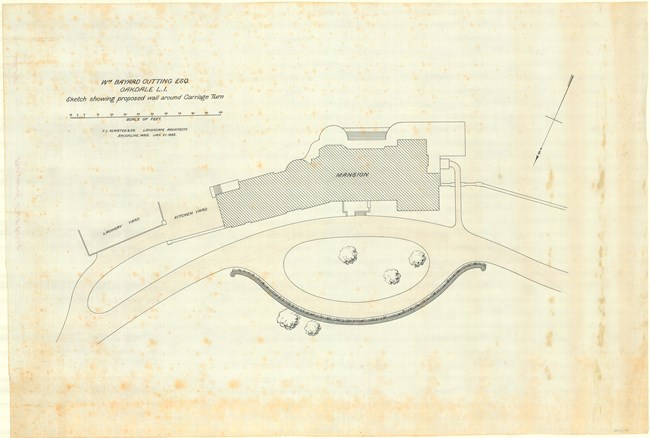 Westbrook (Oakdale, NY)
In 1886, William Bayard Cutting hired Frederick Law Olmsted to provide landscaping advice around his picturesque, Tudor style mansion, which he called Westbrook. Olmsted wanted to highlight the already natural beauty of the site, like the dense woods, marshy lowlands, and rolling meadows, which gave the site an English park-like effect. Closer to the home, Olmsted advised against formal plantings, but instead the inclusion of varied shrubs, to take advantage of river views.
While limited plans exist for Westbrook, an 1887 preliminary plan shows a densely planted perimeter with scattered shrubs around the lawn. Correspondence from 1893 reveals Olmsted suggested pushing back the entrance gate from the road and planting white flowers and evergreens along the gate. In 1936, the estate was donated to the Long Island Park Commission, and now serves as an arboretum and farm open to the public.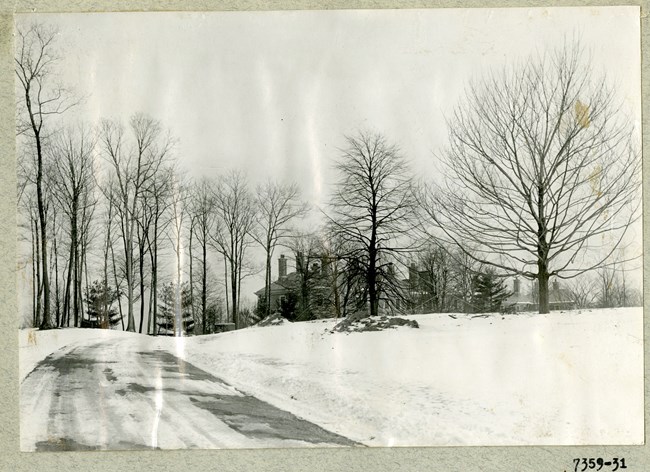 Caumsett (Lloyd Neck, NY)
Beginning in 1921, Marshall Field purchased more than two thousand-acres of abandoned farmlands and woodlands to transform into his country estate. He named his estate Caumsett, which in the local Matinecock Tribe, translates to place by sharp rock. Field chose architect John Russell Pope to design his Georgian Manor house, with Pope turning to Olmsted Brothers to assist in landscaping the mansion's surroundings.
Percival Gallagher was chosen to lead this design, and beginning in 1925, he began planting a courtyard and northern terrace edges with massive specimen trees. To the west, Gallagher created a circular garden with broad steps leading to another garden, this one focused on flowers enclosed by hedges. Gallagher also transformed a natural ravine into a picturesque pond, adding a shrub lined path leading to the water.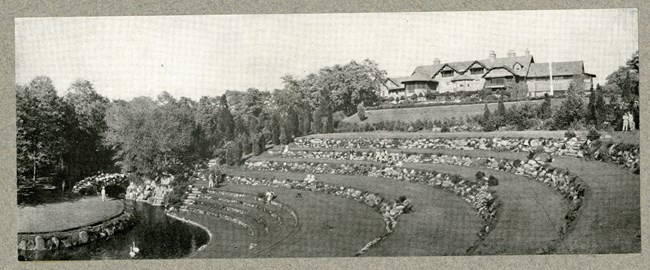 Rosemary Farm (Huntington, NY)
Kansas City, Missouri based entrepreneur and financier Roland Ray Conklin moved back to his ancestral home of Huntington, New York, purchasing significant acreage in 1893 to build his estate, which he called Rosemary Farm. It wasn't until 1912, that Conklin asked Olmsted Brothers to transform a sloping bowl on their property into an amphitheater, with semi-circular, turf-covered tiers to seat an audience of nearly three thousand.
Frederick Law Olmsted Jr. took lead on the complicated engineering project, which Conklin envisioned would be an attractive landscape feature when not used for performances. In addition to the difficult engineering, the significant financing put a strain on Olmsted Jr., who saw this as a problematic commission.
Conklin took Olmsted Brothers' plans and chose to construct the amphitheater on his own, with Olmsted Jr. occasionally providing consultation, however Olmsted Jr. did not approve of Conklin's material selection. After the death of his wife in 1919, Conklin sold the property to the Brooklyn Diocese, who built the Seminary of the Immaculate Conception on the grounds in 1924.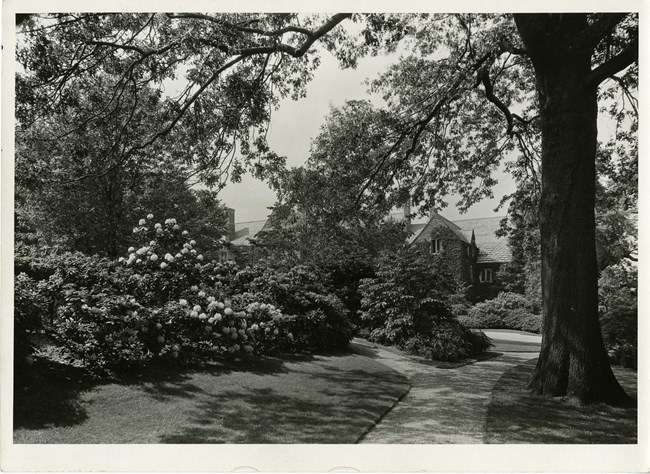 Ormston (Glen Cove, NY)
John E. Aldred, a public utilities magnate, hired Olmsted Brothers to landscape their mansions along the north shore of Long Island. Working with architect Bertram Goodhue, Olmsted designed the grounds for the estate, known as Ormston, from 1912 to 1918. Aldred requested the land to be modeled after an English garden, with one hundred and twelve acres to work with.
Olmsted Brothers' plan included a covered bathhouse, "two tennis courts…just south of a clump of oak trees", and a greenway extending from the vicinity of the bathhouse across the field to a point where it enters the woods." In 1944, the Tudor-style home and grounds were purchased by the Ukrainian Catholic Rite Basilian Fathers Josaphat, and now serves as a monastery.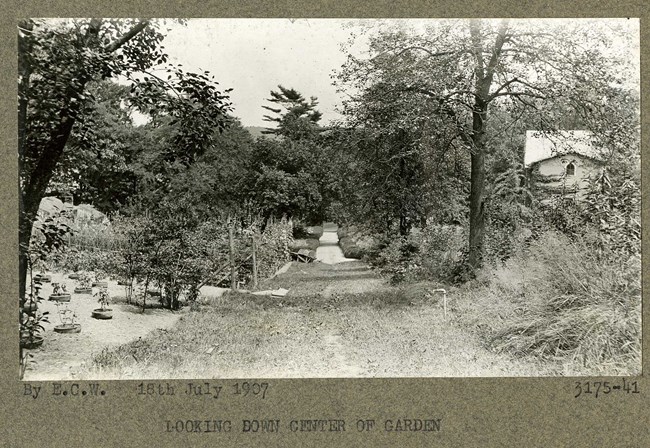 Nethermuir (Cold Spring, NY)
Named after a village in Scotland, Olmsted Brothers worked to enhance the landscape of Nethermuir in 1906 by introducing a substantial regrading plan for the steep terrain, rearranging trees to provide a sense of privacy, and creating lawns and gardens. Frederick Law Olmsted Jr., with the assistance of Edward Clark Whiting, designed large stone enclosing walls, which they draped with plants and vines. Today, diverse tree groupings, with some mature trees, remain on the site, which was acquired by the Cold Spring Harbor Laboratory by the 1990s.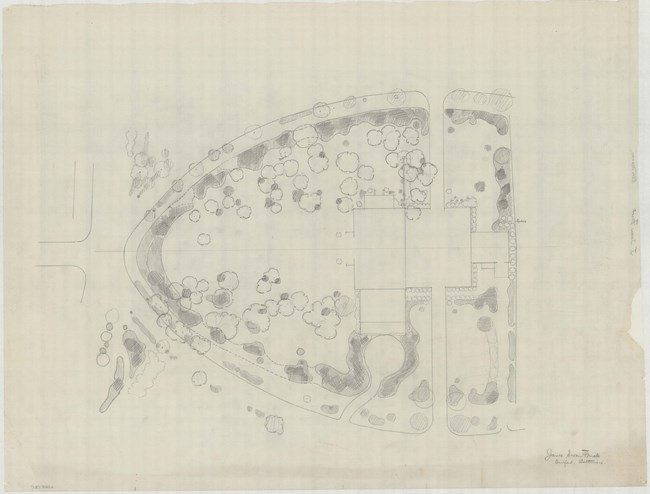 Charlcote Place (Baltimore, MD)
James Swan Frick's Baltimore estate, known as Charlcote House, was built in 1914 as part of the newly established Guilford suburb. Olmsted Brothers were hired to design not only Charlcote House, but many sections of the community. Guildford was designed to be a prestigious residential suburb, with curving streets, landscaped parks, and large single family lots for wealthy owners.
Charlcote House was an important feature in the suburb, as it was originally meant to be the entrance to a small, more secluded residential section. Olmsted Brothers' planting plan contained large trees and groups of shrubbery, as well as large magnolia trees by the Southern portion of the house.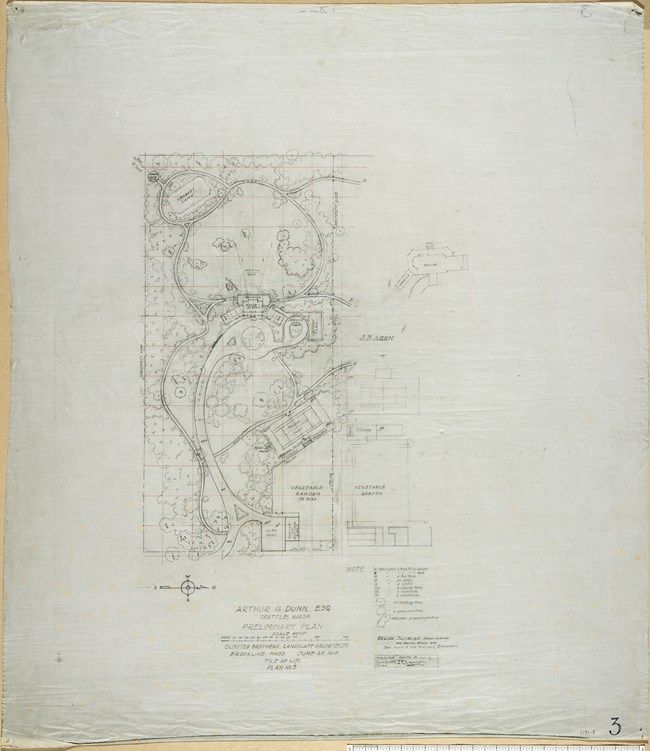 Arthur G Dunn Estate (Seattle, WA)
In 1915, Arthur Dunn hired Olmsted Brothers to choose a location for his summer cottage on his 10-acre tract in Seattle, as well as develop a landscape plan for it. Olmsted Brothers got lucky as they were already designing Dunn's neighbors' property, and the two ended up sharing an entry drive. Olmsted Brothers worked to enhance existing features of the site by implementing a curvilinear drive through the on-site native conifer forest, as well as providing views of the Puget Sound, and paths through the woods and along a natural ravine at the edge of the property.
Today, Olmsted Brothers' design is still visible. The border of the Great Lawn follows the original plan, and deciduous trees planted by Dunn himself are still present. The curvilinear drive and footpaths still remain as well, and, now known as Dunn Gardens, it is the only private Olmsted-designed gardens in Seattle open to the public.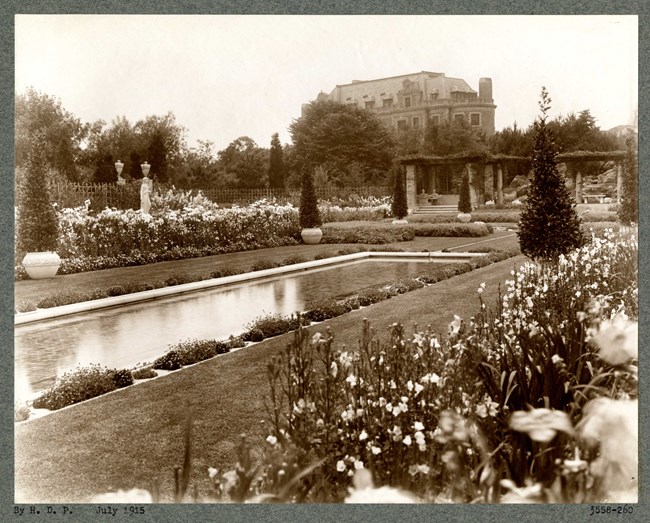 Beacon Hill House (Newport, RI)
In 1909, railroad magnate Arthur Curtiss James purchased a new estate, named Beacon Hill House, and four years later, hired Olmsted Brothers to design a garden inspired by the medieval secret gardens. Leading design on what would be known as The Blue Garden, Frederick Law Olmsted Jr would work for two years to carry out James' vision.
The secret, Italianate style garden is surrounded with low walls covered in vines. A blue tiled pool and blue plantings are where the garden got its name, and set on a hill surrounded by rock outcroppings, the garden is laid out in a cruciform shape. The central axis is highlighted by water features and rows of planting beds, and potted plants were artfully arranged to enhance the garden's classical effect.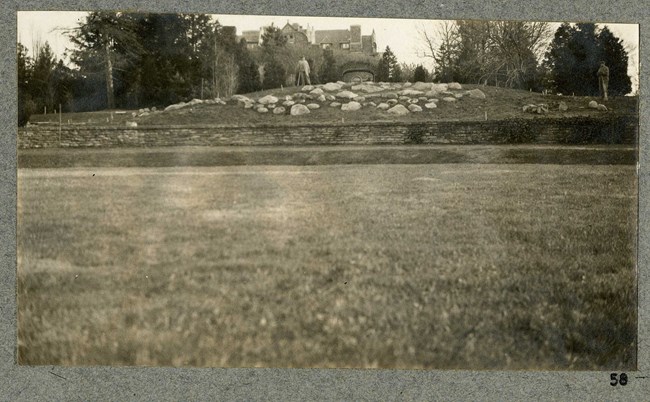 Stoneleigh (Villanova, PA)
In 1908, Samuel Bodine hired Olmsted Brothers to consult on the development, maintenance, and future subdivision on his estate. In addition to advising Samuel, they also gave landscaping advice to his son William, who built his own home on the northern edge of the property. After Sr. Bodine's death in 1932, Otto Haas bought the land, again calling Olmsted Brothers back to Villanova, making it one of the firm's longest associations with a single estate, spanning half a century.
Olmsted Brothers attempted to soften the Beaux Art style home, with work being overseen by firm member Percival Gallagher. Olmsted Brothers were again brought back in 1937 for minor landscape adjustments and to advise on selectively thinning overgrowth, and one last time in 1958 following a severe winter.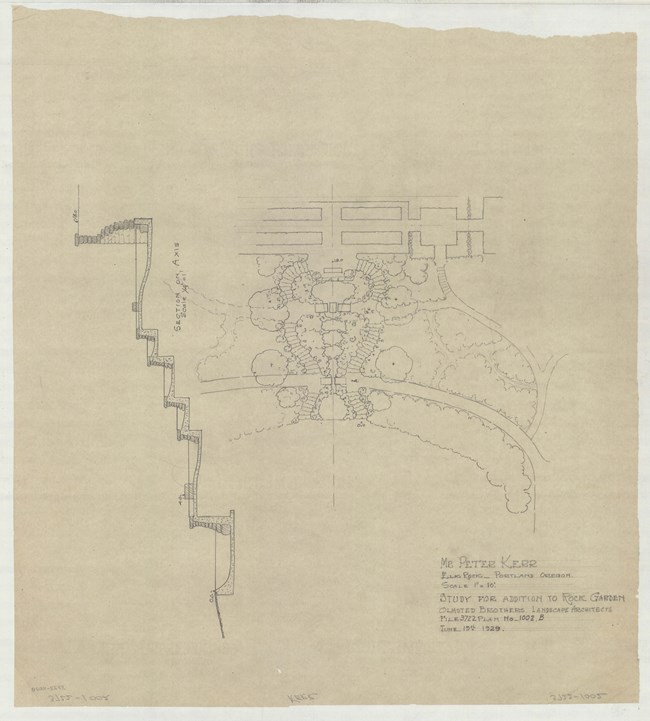 Elk Rock (Portland, OR)
In December 1909, Scottish immigrant and entrepreneur Peter Kerr hired Olmsted Brothers to landscape the grounds of his estate. As with many Pacific Northwest designs, John Charles Olmsted was tasked with working on the estate, laying out roads and pedestrian paths, as well as choosing an orientation for the house to provide the best views of Mount Hood.
From 1916 to 1919, John Charles and Kerr, an avid amateur gardener, began planting a sprawling hillside garden, utilizing intertwining paths and streams to give off a wild essence, though it was highly manicured. While John Charles ended work in 1919, Kerr spent another thirty-eight years planning and maintaining his garden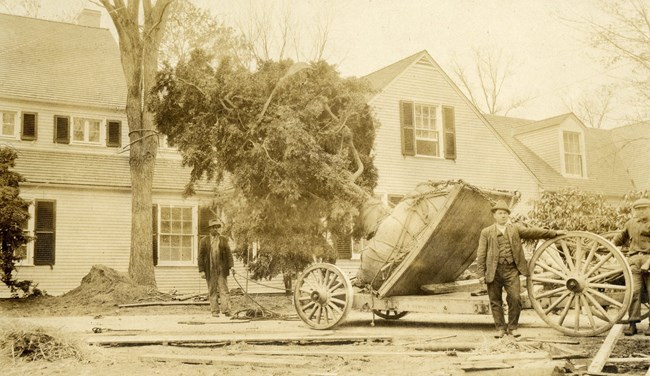 Whitney Hall (Old Westbury, NY)
Olmsted, Olmsted & Eliot were hired by W.C. Whitney to consult on where to place his home on his 530-acre estate. Writing to Frederick Law Olmsted in 1895, Whitney indicated he wanted to work with Charles Eliot, who he had a personal relationship with. At the time Eliot was ill, so Warren Manning was chosen to visit the site and write an extensive report.
Oddly enough, the next communication was in 1923, when Whitney's son decided to build a new residence, known as Whitney Hall, on his fathers' grounds. Olmsted Brothers provided sitting recommendations, choosing one of the higher hills on the estate, as well as landscaping plans. In 1960, the Whitney estate was sold and is now the Old Westbury Golf & Country Club, though Whitney Hall remains.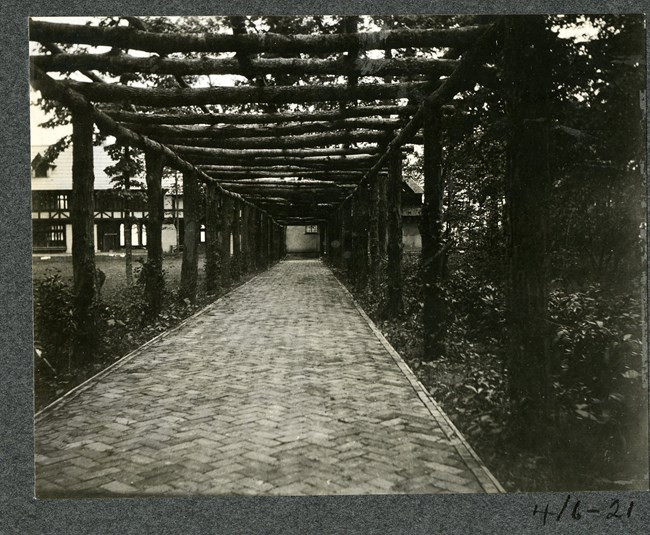 C.L. Hutchinson Estate (Lake Geneva, WI)
In 1901, John Charles Olmsted visited the estate of businessman Charles L. Hutchinson, set back three miles from Lake Geneva. John Charles appreciated the changing topography of the forested property and proposed adjusting the orientation of the house for better views.
To ensure privacy while also maintaining the water views, John Charles recommended lining the shore with "wild grapes and bittersweet, instead of bushes, so as to not unduly interrupt the view of the lake." As for the lawn, John Charles included mostly shrubbery and perennial plants.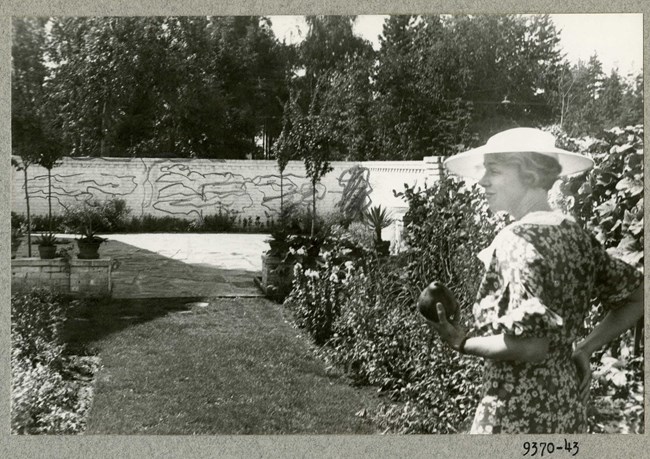 W.W. Powell Estate (Spokane, WA)
The Powell Estate in Spokane was one of the last projects Olmsted Brothers designed in Washington, with James Frederick Dawson playing a leading role in the siting and architectural design of the house, as well as the landscape integration and orientation.
In the pits of the Great Depression, Dawson wrote on November 12
th
, 1934, that "we won't get much out of it but then it might help out a little." Surprisingly, the project became one of Olmsted Brothers most extensive residential designs in the Pacific Northwest. Olmsted Brothers provided advice on the house's siting, floorplan, and exterior appearance, before the architect began developing plans.
Plantings at the estate were rich and varied, with flowering, fruit, shade, and evergreen trees, as well as native pines, evergreens and flowering shrubs. While Dawson was a skilled planter, he spoke to Spokane Park Superintendent John Duncan for advice on which species were best adapted to grow in local conditions.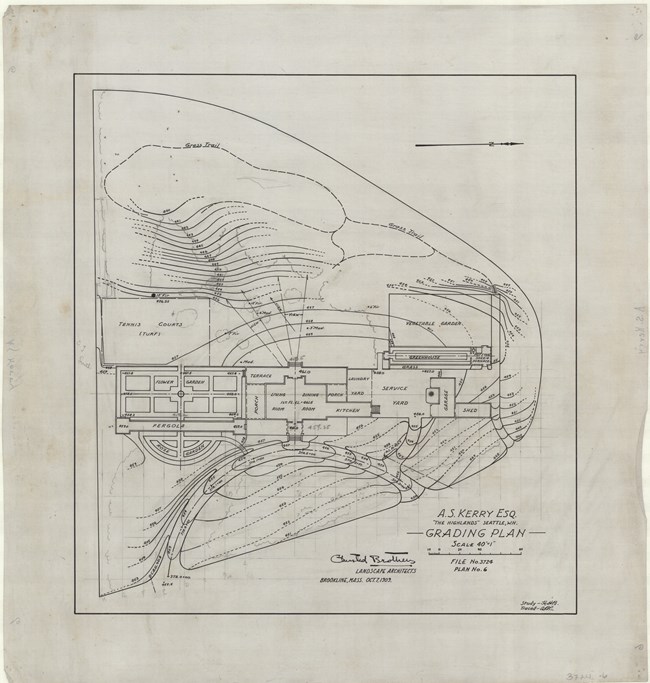 A.S. Kerry Estate (Seattle, WA)
Civic leader and businessman Albert Kerry hired Olmsted Brothers to landscape the grounds of his estate in the Seattle neighborhood of The Highlands on a triangular wooded lot. Olmsted Brothers created their landscaping plan in partnership with the architects, occasionally influencing the estate's orientation and building placement, as well as designing exterior structures, the approach drive, and extensive plantings.
Olmsted Brothers included a graceful oval loop drive to go through the forest from the street, opening at the estate's front entrance. To separate the formal garden and rose garden, a wooden arch was installed. To not distract from nature, the arch "should be covered with vines which have been chosen with care and thought on the one side to combine with the colors of the flowers in the flower garden, and on the other side to harmonize with the rose garden. Plants…are to be set in the planting beds between the posts in the pergola, which gives a charming effect."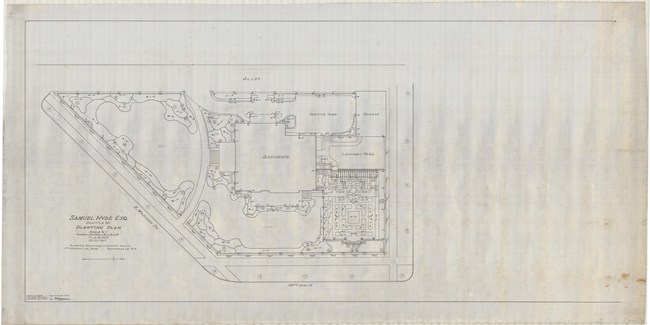 Samuel Hyde Estate (Seattle, WA)
Working closely with the architectural firm of Bebb & Mendel, John Charles Olmsted developed the landscaping plan for Samuel Hyde's Seattle estate. Beginning in 1909, John Charles was in communication with Bebb & Mendel, agreeing to prepare the planting plan, as well as location of walks, offering his opinions on the brick enclosure wall, and advising the approach drive be widened.
Olmsted Brothers' planting plan provided several distinct garden areas, such as a small formal garden near the entrance and a rose garden "with white roses in center, then changing to pink, then deep reds on the outer edges". A large open lawn area was also included, defined by flowering evergreen shrubs along its edges. Over time, the original property was subdivided, though today the original home, adjacent lawn, and brick wall remains.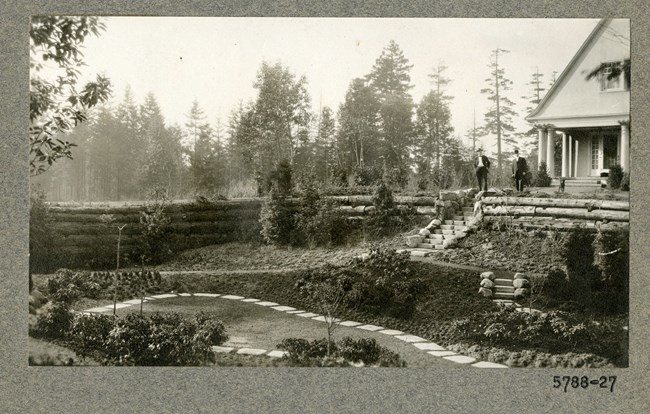 D.E. Frederick Estate (Seattle, WA)
Of the many residential designs by the Olmsted Firm in the Pacific Northwest, D.E. Frederick's Estate is one of the best known and most thoroughly planned. From 1913 to 1939, Frederick and his wife built two houses on their lot and consulted with Olmsted Brothers on both broad concepts and small details.
John Charles Olmsted led the design, with James Frederick Dawson being second in command, though many other Olmsted Brothers' staff participated in either planning or drafting. The French influence of the house is reflected in the garden furniture around the site. Dawson had a strong interest in horticulture, and the large formal gardens are typical of his design style. Picturesque pools in the site's ravine were designed and constructed to simulate that it was a natural condition.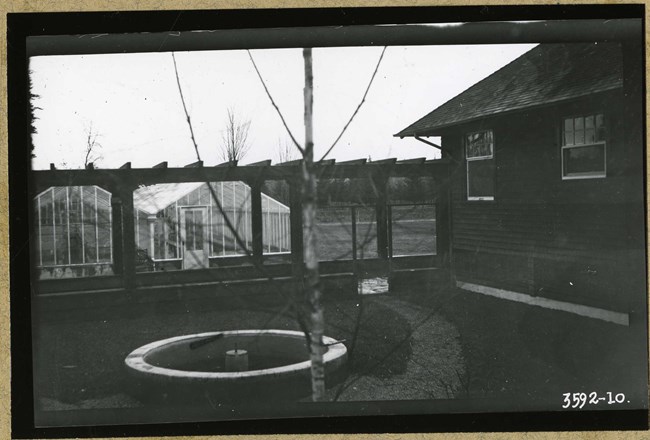 Willowmoor Farm (Seattle, WA)
J.W. Clise's 393-acre estate, known as Willowmoor Farm, was a successful dairy, cattle, and horse breeding operation, but in 1908 Olmsted Brothers were hired to prepare a planting plan to frame the expansive lawn, as well as create formal gardens and a bird pond. Olmsted Brothers delivered their planting plan in 1909, though it was never fully implemented.
Many believe the tree plantings were started, but Olmsted Brothers were never able to install their shrub plantings. Vines and shrubs were installed, which Olmsted Brothers are given credit for. Today, the property is part of Marymoor Park.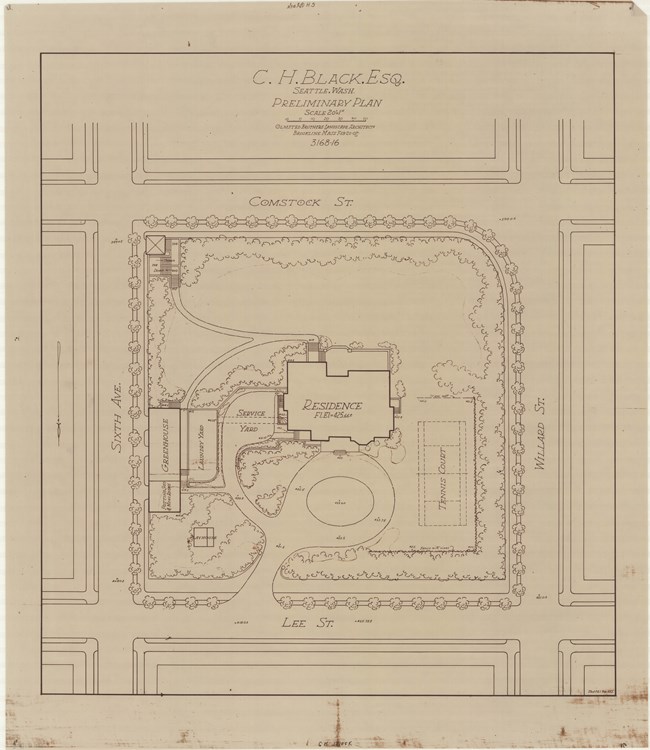 C.H. Black Estate (Seattle, WA)
C.H. Black's Seattle estate covers a full city block at the summit of Queen Anne Hill, providing commanding views of the downtown area, Puget Sound, and the Olympic Mountains. Black's home was already completed in 1907 when John Charles Olmsted was asked to design the landscape, handling a loop drive, walls around the perimeter, grading, garage and stable placement, as well as plantings.
Black valued the views from his estate, and so did John Charles, writing that "the close proximity of your site to the Sound gives you an unobstructed view of this picturesque sheet of water, enlivened as it is by many steam and sailing crafts.". John Charles also noted that Black "does not want to be secluded by hedges or plantations or walls or parapets and wants everyone to enjoy views over the place", so he recommended street trees that wouldn't grow too tall.
John Charles faced very little challenges while working on the estate, because he and Black had similar ideas in keeping the landscape open but informal. While plantings have changed over the century since John Charles' involvement, defining landscape features like the graceful driveway, hidden garage, retaining walls, open lawn and unobstructed views still remain.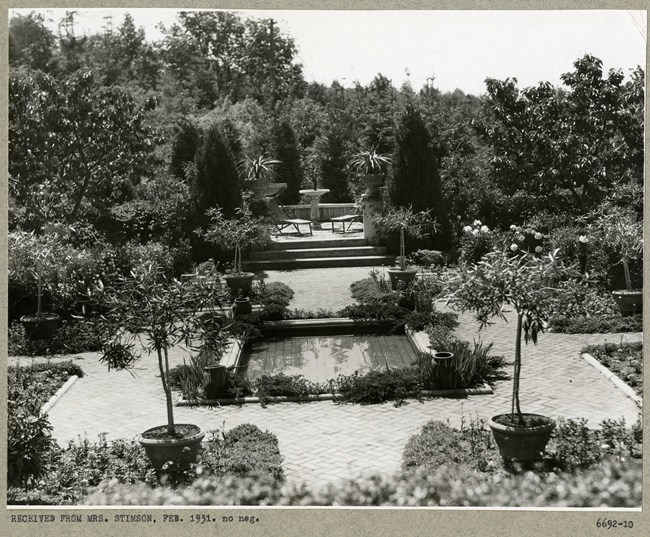 J.H. Ballinger Estate (Seattle, WA)
J.H. Ballinger's garden, known as Belfagio, is one of the best preserved Olmsted Brothers landscapes in Washington's The Highlands neighborhood. Inspired by Italian hillside gardens, Olmsted Brothers partner James Frederick Dawson used strong axes and sloping vistas to capture the hillside.
Ballinger's wife Alma took great interest in the design, writing to Dawson in April 1920 that "We are all working for the "finished whole" and your interest in the house as well as the grounds is very much appreciated." The design would end up fulfilling Alma's wishes, with perennial borders and shrub-lined lawns.
Dawson struggled with the landscape plan due to the property's steep topography, draining issues, unrealistic expectations for access and the expanding size of the home on only 2.5 acres. Dawson had to adjust his layout several times to fit all the elements. Today the fountain vista is intact, though overgrown. Views of the on-site gardens and distant Puget Sound are still memorable.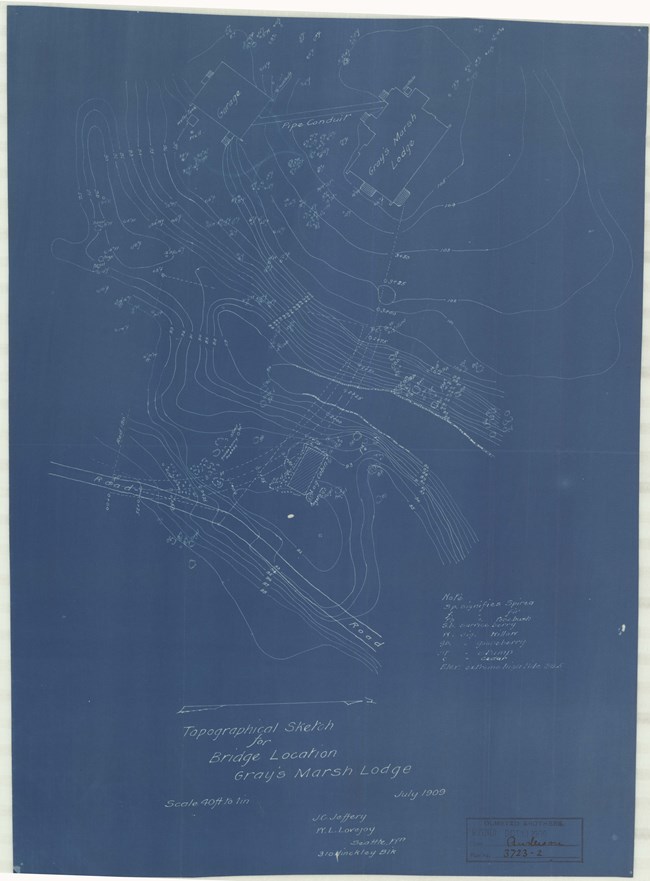 A.H. Anderson Estate (Port Williams, WA)
A.H. Anderson owned 1,000 acres along Washington's Strait of Juan de Fuca, which he used as a fishing and hunting retreat. Olmsted Brothers partner James Frederick Dawson recommended a preservation and enhancement plan for the native vegetation, as well as a practice golf course and pools, but Anderson never requested the firm to draw any plans.
While little was done at Anderson's estate, it shows how much Olmsted Brothers, particularly John Charles Olmsted, appreciated the natural beauty of the Pacific Northwest. In 1909, Anderson did consult with Olmsted Brothers on landscape improvements, with Dawson making a visit that summer. Dawson wrote that "Mr. Anderson's house is beautifully located, nestled into the edge of the timber land and commanding fine views looking out across the sea."
Respecting the natural setting Dawson recommended "development in a modest way, such as properly arranging drives, court yards and walks, together with planting…of the native sort such as the Dogwood, wild roses and syringas [mock orange]…to strengthen the character of the present growth." Known today as Graysmarsh Farm, it is used as a commercial berry farm and private hunting retreat, far more rustic than Anderson ever envisioned.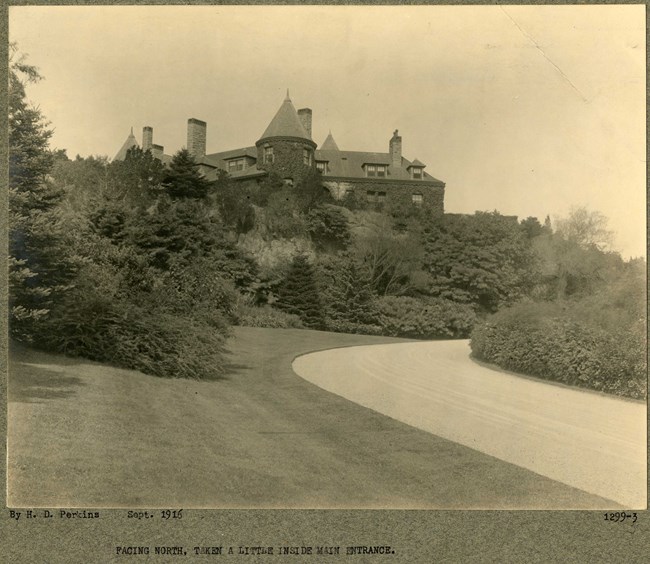 Wrentham (Newport, RI)
William Dorsheimer and Frederick Law Olmsted had a close relationship as the two worked to preserve Niagara Falls and provide Buffalo, New York with a linear park system, however in 1885 Dorsheimer asked Olmsted to draw plans for his summer home in Newport, Rhode Island. Dorsheimer's untimely death would delay plans for the estate, until it was purchased by Joseph Busk.
Working with architect Richard Morris Hunt, Olmsted landscapes the grounds around the Queen-Anne style estate, known as Wrentham. An 1892 preliminary plan shows a horseshoe driveway at the end of a long, winding approach road surrounded by evergreen shrubs. The approach road followed the steep grade of the property, which separated the hose and road by fifty feet.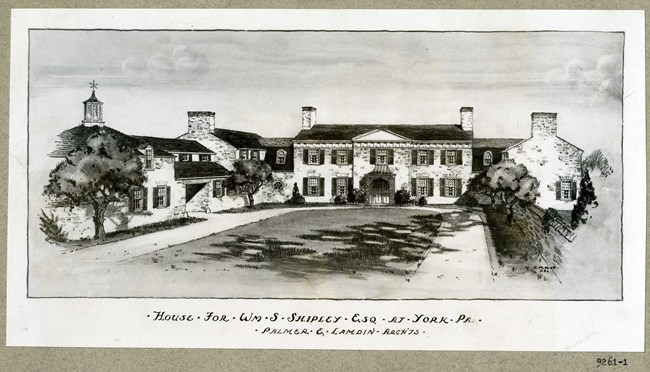 W.S. Shipley Estate (York, PA)
In 1931, William S. Shipley hired Olmsted Brothers to design the elegant grounds of his mansion in York, Pennsylvania. With 11.7-acres to work with, Olmsted Brothers were challenged to cohesively fit a quarry, which already dominated the site, into their plans. Olmsted Brothers suggested that the quarry be utilized to create a sunken garden.
Surviving plans show Olmsted Brothers' focus on elevation details on the grounds, such as creating a pond and an overlook section within the sunken garden. In addition to the sunken garden, Olmsted Brothers also recommended a formal and rock garden, as well as large sections set aside to grow vegetables and fruit.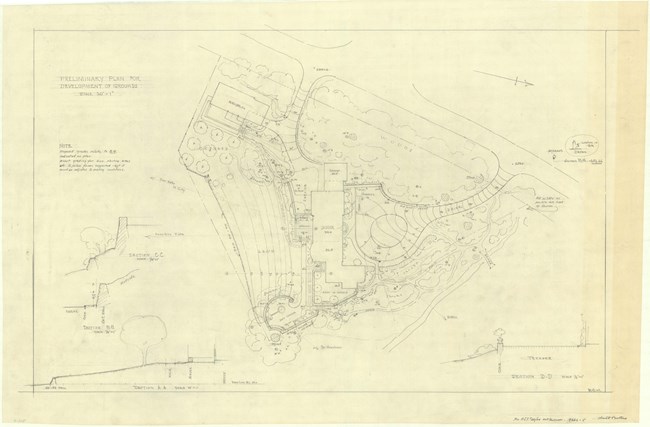 A.J.T. Taylor Estate (West Vancouver, BC, CAN)
In 1931, Olmsted Brothers partner James Frederick Dawson met with engineer, entrepreneur, and Vancouver native Alfred J.T. Taylor to discuss his purchase of 4,000 acres of land. Dawson advised Taylor not only on his private estate, but also on the idea of creating a community with the remaining land.
From 1931 to 1937, Olmsted Brothers laid out Capilano Estates, and the Capilano Golf and Country Club on the remaining land not being used by Taylor's estate. Dawson, still at Olmsted Brothers, recommended curving roads to complement the steep graves, which would cut through forests, providing views to both the mountains and the water. Acreage was also left aside for schools and community amenities. Today, the Olmsted Brothers layout is essentially still intact.
Last updated: March 27, 2023