Grounds of Commercial and Industrial Buildings
As the nation's economy expanded in the final decades of the nineteenth century, the Olmsted firm gradually added both commercial and industrial landscape projects into its portfolio, although such jobs constituted a late addition and focus to the firm's design work. This aspect of the firm's work is particularly diverse in scope, ranging from early civic improvements focused on transportation systems and utility projects to a broad sector of commercial enterprises such as banks, nurseries, laboratories, life insurance companies, corporate headquarters, shopping centers and manufacturing facilities. There are more than 175 projects included in this category, of which approximately 70% advanced into design plans, with the vast majority completed after Frederick Law Olmsted's retirement in 1897.
A notable early exception is the substantial project for the Boston and Albany Railroad, which consisted of some ninety-five plans between 1880 and 1884 and was later completed by Olmsted, Olmsted & Eliot. This project represents an important evolution in the urban fabric of Boston, for it provided a new public transportation system that connected the growing suburbs to the city. Although listed only as Boston, this single job represents distinct design elements for multiple stations, primarily in Wellesley, Newton and the Allston/Brighton section of Boston, Massachusetts, that address site grading, track layout, platform location, bridge design and planting. At the same time, the Olmsted firm's work on behalf of the Ames family in North Easton, Massachusetts, included plans completed in 1883 for the North Easton Train Station designed by H.H. Richardson, which coincided with a distinctive body of work nearby. This category also includes a significant design project for Rockaway Point on Jamaica Bay in Queens, New York, (listed as New York City), completed in 1879 to create a summer resort in association with the new rail service.<
During the first decades of the twentieth century, the Olmsted firm's commercial projects increased substantially. The list includes a significant number of projects completed for the growing utility and communication industries (e.g., Western Electric Company in Chicago, Illinois, and Baltimore, Maryland; the Wyman and Androscoggin Dams for the Central Maine Power Company; Bell Telephone Labs facilities in Deal, Holmdel, Mendham, Summit and Whippany, New Jersey; and sewage treatment plants in Fitchburg and North Adams, Massachusetts). This period of affluence prior to the Depression also generated demand for landscaped grounds associated with commercial buildings, especially financial institutions and insurance companies, evidenced by several projects undertaken by the firm (e.g., Aetna Fire Insurance Company in Hartford, Connecticut; the First Brunswick Federal Savings and Loan Association in Brunswick, Maine; the Maryland Casualty Company in Baltimore, Maryland; and the Massachusetts Mutual Life Insurance Company in Springfield, Massachusetts).
Several jobs included in this section relate directly to more extensive work referenced in other thematic categories, or which came about because of the Olmsted firm's involvement nearby. For example, on Mount Desert Island, Maine, the work of Frederick Law Olmsted Jr. with John D. Rockefeller Jr. in the development of the motor road systems for Acadia National Park may have led to the firm's involvement from 1942 to 1950 in the Jackson Laboratories, located in Bar Harbor, adjacent to the park. Following World War II though the later years of the Olmsted Associates, the firm experienced a surge in commercial and industrial projects that included continued work for insurance companies (e.g., John Hancock Mutual Life Insurance Company in Boston and Brookline, Massachusetts; State Mutual Life Assurance Company in Worcester, Massachusetts; and the Berkshire Life Insurance Company in Pittsfield, Massachusetts) as well as corporate offices, retail centers and manufacturing complexes (e.g. , Crane and Company in Dalton, Massachusetts; Sears, Roebuck and Company in Saugus, Massachusetts; General Motors Frigidaire Division in Dayton, Ohio; and the Jack Daniel Distillery in Lynchburg, Tennessee). This period also included noteworthy projects related to hospitals and medical research centers such as Ledgemont Laboratory in Lexington, Massachusetts, and the Sloan-Kettering Foundation in Rye, New York. Finally, an interesting aspect of the firm's later commercial and industrial work includes design plans for nurseries and garden centers, such as Weston Nurseries in Hopkinton, Massachusetts. These businesses may have provided plant material for the firm's other projects.
Text from The Master List, written by Lauren Meier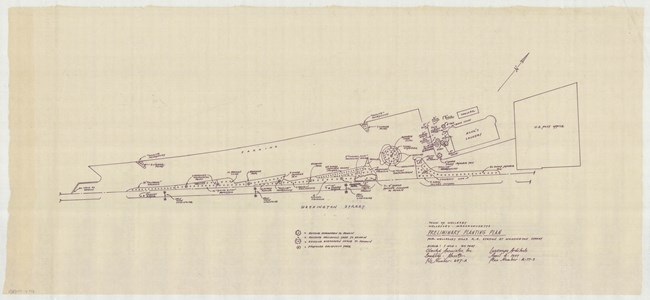 Boston and Albany Railroad (Boston, MA)
Before his work in the City Beautiful movement, Frederick Law Olmsted would first take part in the Railroad Beautiful movement, and the challenges a landscape architect faces when designing for those viewing their landscape from a train.
Olmsted would get to tackle those challenges in the 1880s, when the Boston and Albany Railroad hired him to design the grounds for several stations, and work with B&A to establish a landscape beautification program for other stations.
Work for the B&A Railroad would provide Olmsted the opportunity to work on train stations and their grounds with several friends: H.H. Richardson and Charles Sprague Sargent. Olmsted had already worked closely with Sargent on the design of the Arnold Arboretum, and was a good friend of Richardson's. Another connection was that Sargent had been serving on the Board of Trustees for B&A since the 1860s and had been a Harvard classmate of Richardson.
Before Richardson's death at the age of forty-seven, he had completed nine stations. His successor firm of Shepley, Rutan and Coolidge completed another twenty-three. Of the Olmsted/Richardson collaboration, Wellesley Farms is their best surviving example. An entrance drive curving around a tranquil pond, ornamented with red oaks, white pines, forsythia and rhododendrons.

North Easton Station Grounds (North Easton, MA)
North Easton owes much of its development to the Ames family. A family of businessmen, investors, philanthropist, and politicians, the family commissioned a town hall, library, and train station, all of which they wanted designed by Henry Hobson Richardson, with Frederick Law Olmsted working on the grounds.
In 1881, the Brookline neighbors and frequent collaborators, began work. The North Easton Railroad Station would feature the same architectural details often found in other train stations in the area designed by Richardson. Olmsted's simple landscape provided harmony between the built and natural world.
The landscape around North Easton Railroad Station is a longstanding part of the town's history, with sycamore trees standing tall outside. The station was in active operation from 1883 to 1959 and has since been converted to the Easton Historical Society and Museum.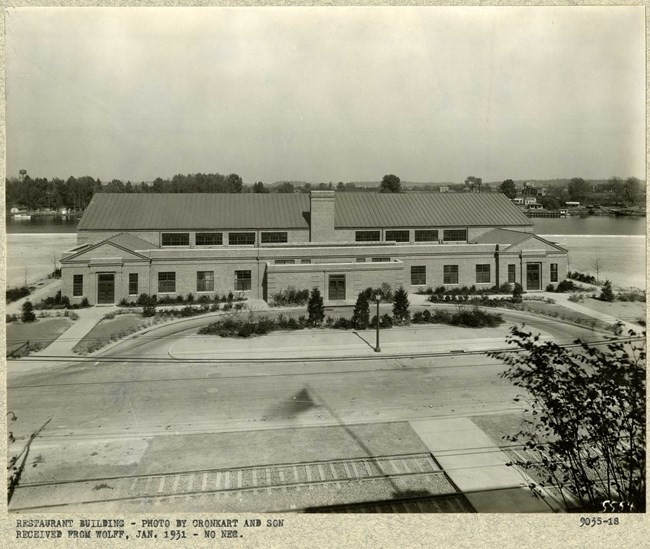 Western Electric Company Cable Factory (Balitmore, MD)
From 1928 to 1931, Olmsted Brothers prepared roughly 256 plans for Western Electric Company's new Maryland site, known as Point Breeze. In addition to a comprehensive master plan detailing the layout of buildings, Olmsted Brothers were also asked to create detailed landscaping plans.
The land Western Electric chose was formerly used as an amusement park, and once the park was razed, construction at Point Breeze got the nickname "The Playground That Went to Work". In addition to planning the siting of the Company building, Olmsted Brothers also included in their plan enhancements for employees like recreational facilities, landscaped gardens, tree-lined boulevards, and underground pedestrian tunnels.
Last updated: April 3, 2023