Parks, Parkways, Recreation Areas, and Scenic Reservations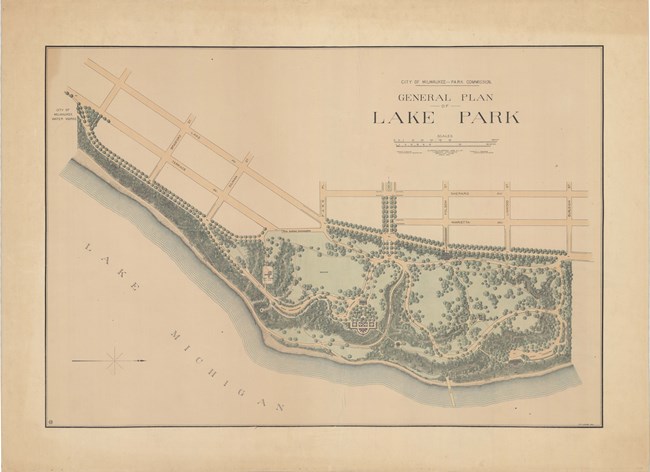 Lake Park (Milwaukee, WI)
In 1889, Milwaukee began acquiring lakefront land for a new park, asking Frederick Law Olmsted to help with the design. Olmsted agreed, as he was close by in Chicago planning the grounds for the World's Columbian Exposition. Olmsted believed that greenspaces should be emphasized by the area's best features, which for Lake Park was a forested, towering lakefront bluff cut deep by ravines.
Olmsted organized the park to provide visitors with spectacular views of Lake Michigan, with winding paths going inland and back out to the lake. Olmsted enhanced viewpoints to exaggerate distance and scale, making the park seem much larger than it is. Lake Park's boundary is thickly planted to shut out the city and by preserving the forest and enhancing streams, Olmsted made the park seem as natural as possible.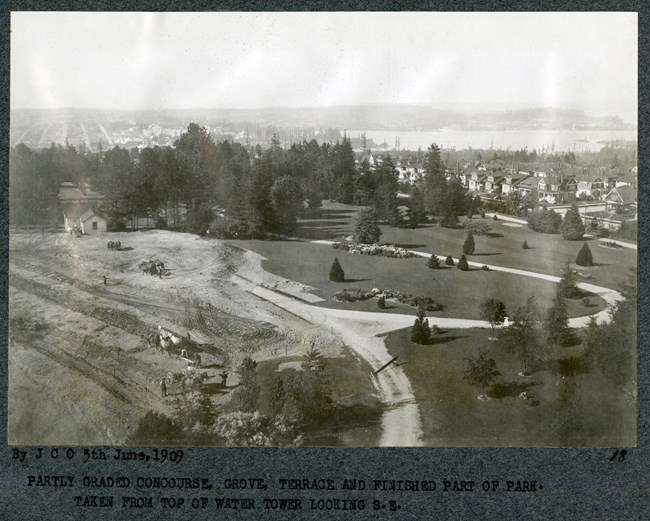 Volunteer Park (Seattle, WA)
To honor veterans of the Spanish-American War, Seattle chose to honor their new park, and the site of the city's first reservoir, as Volunteer Park. John Charles Olmsted of Olmsted Brothers helped guide development of Volunteer Park in 1903, making recommendations for the placement, style, and potential future of a water tower as an observation deck.
John Charles incorporated the reservoir as a prominent visual feature, promoting the construction of an observation deck on the top of the tower, completed and opened in 1908. Except for the water tower, John Charles intended Volunteer Park to be free of all man-made features, allowing the area's beautiful and refreshing landscape to dominate. Today, Volunteer Park is often known as the crown jewel of John Charles' Seattle Park System, as is the most complete and best-preserved of the Olmsted parks in Seattle.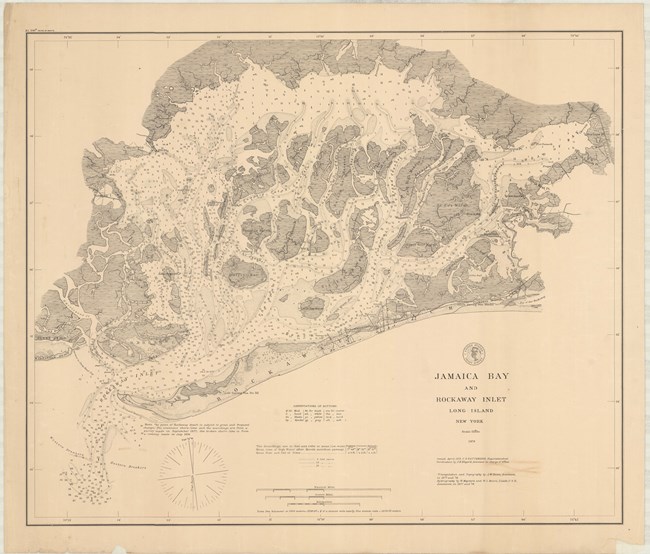 Rockaway Beach & Jamaica Bay (New York City, NY)
Rockaway Point was designed by Frederick Law Olmsted in 1879 to rival Coney Island and become the new summer resort destination. Olmsted wrote that "there is no place as near and easily & cheaply accessible from New York as Rockaway Point which is also as far removed from conditions of the same class, barring the liabilities which I have pointed out, conditions exist as favorable for recovery and the working off of malarial and diarrhetic trouble."
Preliminary Plans show Olmsted provided a variety of recreation activities like a bath house, pavilion, concert garden, and dancing hall, as well as locations for a hotel and summer cottages. While the area Olmsted proposed now includes several small parks such as Rockaway Park, Breezy Point Tip and Jacob Riis Park, his plans weren't carried out due to financial problems.
Last updated: April 3, 2023